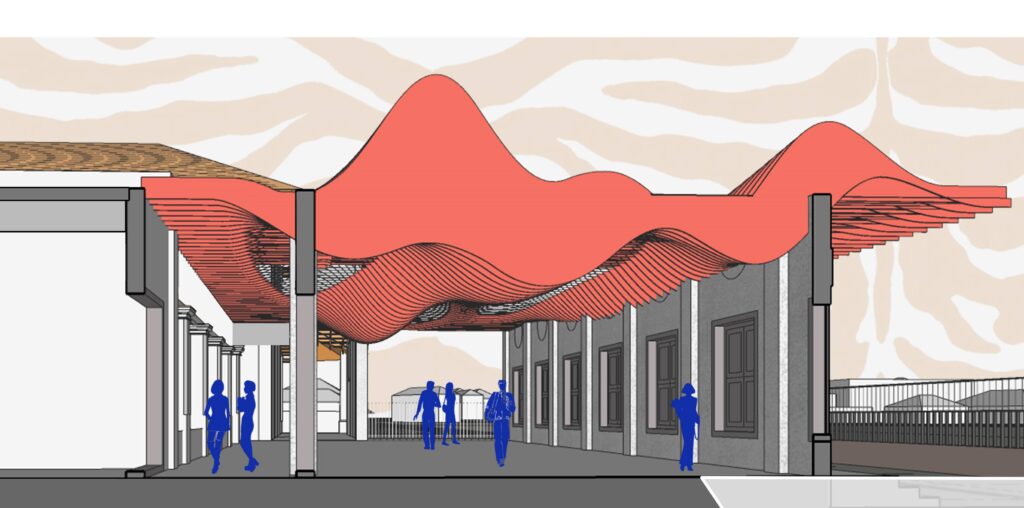 Studio 3am's Resurrect was shortlisted in the Reweave Kozhikode Competition, held at YAF, by the IIA Calicut Centre.
'If architecture is to remain convergent with culture, it needs to build mechanisms in which culture can constantly produce new images and concepts rather than recycle existing ones.'
In the heart of the town, Comtrust still stands reminiscent of the days long gone. In the epitome of its success, the factory pioneered trends from local handlooms to airline upholstery. But now, this glory in its ruins has been a silent witness to the fashion trends that come and go. Time stands still in the corridors, in the looms.
The food culture of Calicut is ever so known, explored and celebrated in its nooks to streets. But this cultural yet commercial hub has left fashion untouched. Why is fashion ignored when it's everywhere? when it's a part and way of daily life?
Comtrust, the pioneer of trends in its good old days can be home to the vanguard of the fashion industry in Calicut. A place, to remember, reminisce, learn, connect and explore the possibilities and future of the craft.
Fashion and Architecture
Robots that sew and cut fabric, AI algorithms that predict style trends, clothes to be worn in virtual reality — an array of innovations show how technology is automating, personalizing, and speeding up the fashion space. Along similar lines, we can find architecture bringing unpredictable results through Artificial intelligence that has greatly simplified the planning process by interpreting the building environment, simulating models, and analysing huge volumes of data. But what still remains untouched is human emotions, however the past, present or the future is, creating an experiential connect between art, architecture, fashion and reminiscence of the past, through the integration of identified functions into its most appropriate spaces in the existing built environment. A 'Resurrection', bringing into life.
'Glory of Comtrust'
A space one can experience the glorious era of the weaving factory when it was at its full pace. Placing 6.5 meters of steel columns in place of every 3 alternate wooden columns in the existing grid lifted the existing roof structure by 2 meters. Symbolising emotions that go through a weaver working with the industrial weaving machinery cramped up in high decibels. At the same time the emotions that come with working hard for a better tomorrow. The volume is enhanced from an industrial working shed to a public experiential space. A line for landscape is provided on both sides of this space by opening to the sky to improve air circulation and provide a better atmosphere.
Re-weave museum – Weaving the past to the present. A space is created where the machines are exhibited along with premium boutiques. This particular space shows how fashion originated with the machines displayed, as well as the boutiques that depict the fashion of its time.
Weavers Café – A restaurant with cloth roofing and German dishes that pays homage to the German missionaries who laid the precinct's foundation. There is a simple but parametric form on the roof that reminds us of fashion's never-ending future. The building's story is told through new elements inserted into contrast with the existing ones.
Boutique shops – Adaptive Reuse of the roadside buildings into chic boutiques, experiencing new fashion through architecture from a different timeline.
Workshop spaces – spaces are provided for workshops that are always changing and include people of all ages. Creating a space by mixing different user groups.
Fashion-related training centres – Centres that provide training for stitching, embroidery, fabric painting etc. A program like this will be offered annually.
Presentation Sheets