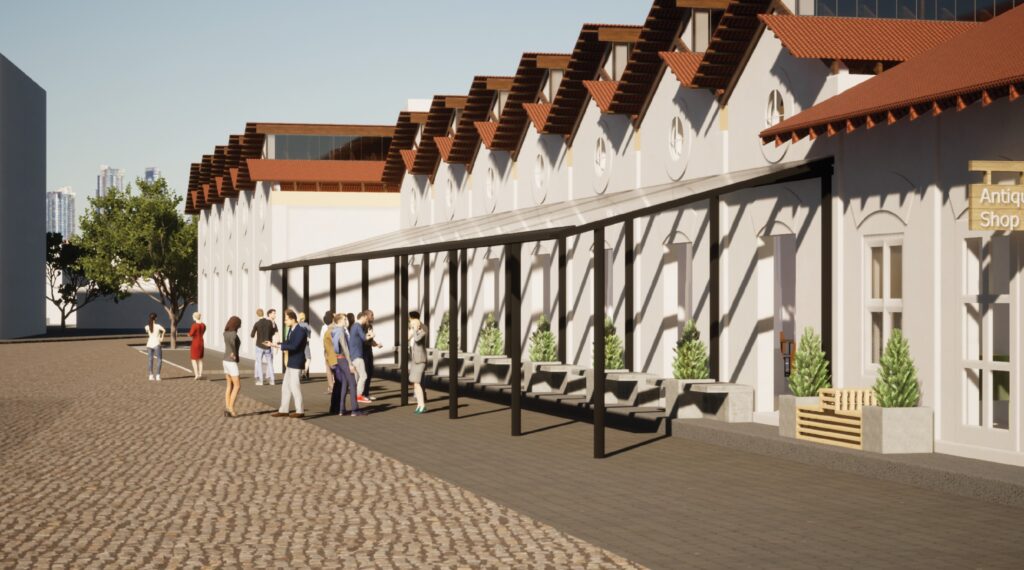 Morphemy Architects ' Live Collaborate Learn was shortlisted in the Reweave Kozhikode Competition, held at YAF, by the IIA Calicut Centre.
The Mananchira Square, being the epicentre of Kozhikode with Zamorin palaces and Hazur Kacheris, adds up to the character of the place- the essence of the design is to bring together the life of Kozhikode, by adaptively reusing the Comtrust Weaving Factory. The focus is to merge the old with the new by considering the local culture and economy of the place.
As Kozhikode is known for its local food markets and traditional craftsmanship, the spaces are designed to match the context by creating the environment of a local marketplace, with a large food court accompanied by an exhibition and workshop spaces.
The access to the site is from two points – one from the SM market and another from the town hall road. The crowd from the SM market has direct access to the local food market space which connects the context and culture of the vicinity area.
An upscale aura is created by having cafeterias and fine dine restaurants, overlooking the moat juxtaposed with the local food markets.
Adjoining the food court, there are antique shops, handicraft shops and clothing boutiques which showcase the lifestyle and culture.
Positioned opposite the shops, are the exhibition space unveiling the old looms and also exhibiting traditional crafts of Kozhikode.
Merging the antique shops and exhibition spaces is an engaging workshop space to teach and create local handicrafts.
Looking into the site sensitivity and landscaping, the Mananchira ground is devoid of any vehicular access and is designed similarly to the concept of a huge courtyard surrounded by buildings. There are interconnecting pathways from the moat and factory to the roads exclusive for pedestrians.
This space serves as a hangout space for people with shaded seating spaces and as a gathering space when in need. There are Waterfront decks along the pathway next to the fine dine, spilling into the moat where people mostly from the institution can hang out.
The precinct is deprived of a proper parking area causing congestion, thus a paid parking area at the West side of the factory is proposed, which would also contribute to the economy.
Solar Panels are incorporated on the sloped roof converting the south sun into photovoltaic energy. Native plants are used for landscaping which ensures less water consumption. LED lights are used to reduce energy consumption. The wood and steel collected from the debris are reused to create shaded spaces and other seating areas. The program of the spaces is planned with minimal changes to the core structure. Locally produced materials are used to minimize embodied energy. Shaded areas are created along the building periphery to create a heat bridge thus minimizing the direct heat spreading to the interiors.
Presentation Sheets