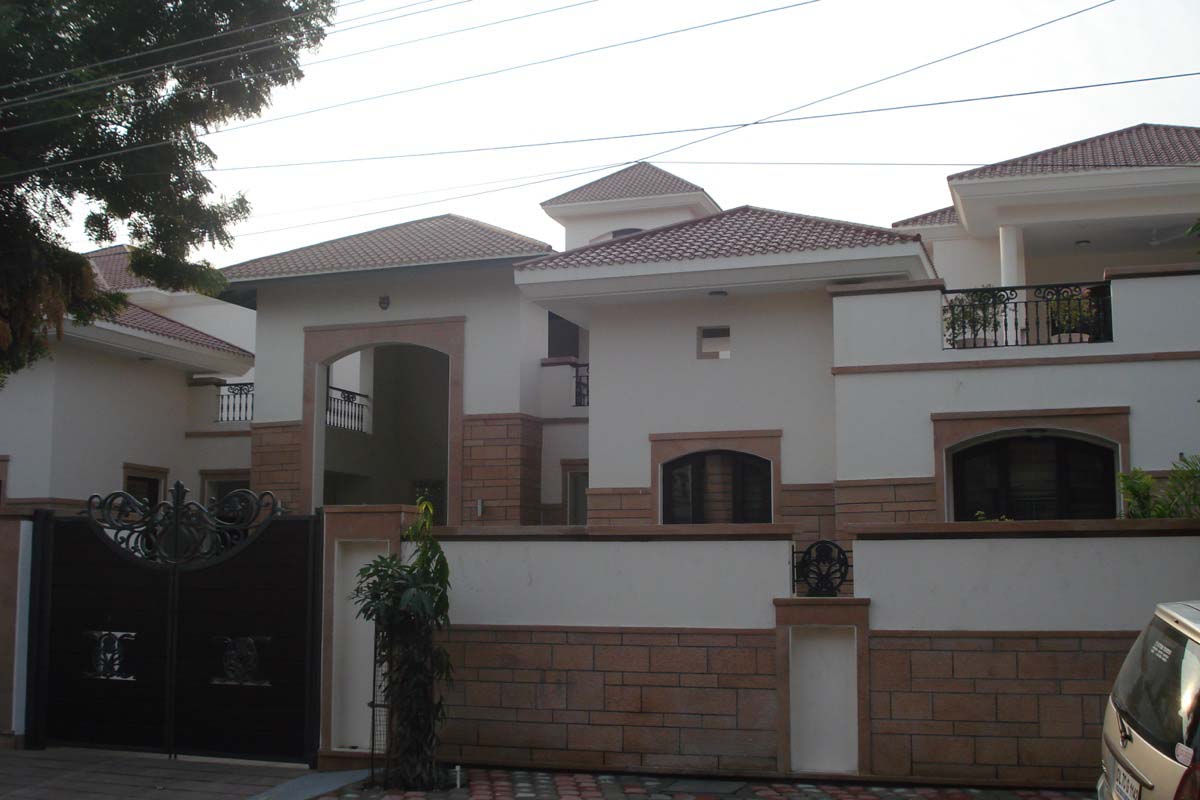 The twin Residence:
The requirement of twin units, which are independent and yet have a common identity, shaped the basic house form. The basic concept was of two independent units having a common entrance sharing a central courtyard. Both the units were thus treated separately and integrated using a two axis system which combined the units together. 
Main spine:
The central axis, with the common Entrance verandah, the shared central courtyard, and the Puja room kept the two houses together, blurring the separation between the units. The common entrance verandah gave the units a joint identity. 
The Family interaction spine:
Orthogonal to the main axis was perceived as the family interaction spine, with courtyard at its centre, visually connecting the double height living areas of the two houses and acting as the main interaction space for the two houses .

The courtyard:
The Courtyard placed at the intersection of the two axis became the most preferred informal gathering space for the family. It bonded the two houses together and also provided the interiors of the house with ample light and ventilation. The central courtyard served as a private open space within the house.
The Puja Room:
The Puja room placed at the end of the central axis, after the courtyard strengthened the bond between the two families. It also regarded the parent's sentiments of keeping one temple in the house with the belief that "the family that prays together stays together ! ". 
Individuality of the units:
Privacy and individuality of the unit were also given due considerations. Both the houses were treated separately as per the requirements of their families. Each house had its private zones clearly marked and their privacy thus maintained. Each house also had a private garden on either side.
Design features
The Plot faced a street which was not very wide, thus the house was stepped back with terraces in front. This provides a striking visual identity and yet gives the house the much needed breathing space with green lawns in the front setback.
Unit design:
The house design followed zoning pattern, with public areas in the front gradually 
leading to semi-private and eventually private. The two houses were connected to each other at the semi- private zones. The public / guest areas of both units      (drawing / dining / office) were visually isolated from the semi private family zone (double height lounge and courtyard). 
The living rooms were kept double height with the private zone (bedrooms, study) overlooking them thus enhancing the interactions within the family unit.
The children's rooms on the upper floors of both the houses was connected through a bridge, which overlooked the courtyard , placed such that they could freely move from one house into another.
Drawings
Project Facts
Project Name: BIBHAB residence
Location: Agra
Category : Large Residential Building (Farm House etc.)
Client / Owner : SUMEET AND SAMEER GUPTA
Project status : Completed
Awards/Recognition : Interior Architecture Awards 2010, 3rd Proze in residential category