[ar&de] was approached by the client to primarily enclose an underused balcony at the front of their existing home to become part of a dressing area, we realized an ordinary window with curtains would not be able to provide privacy from the neighbours and street without compromising on desirable morning light from the east and the opportunity to maximize ventilation. The Tropical Urban Window is a response to this specific site context but also a commonly experienced situation in most tropical urban areas. The Tropical Urban Window allows one to not have to pick between the much-needed light, ventilation and privacy or make do by using curtains/ blinds.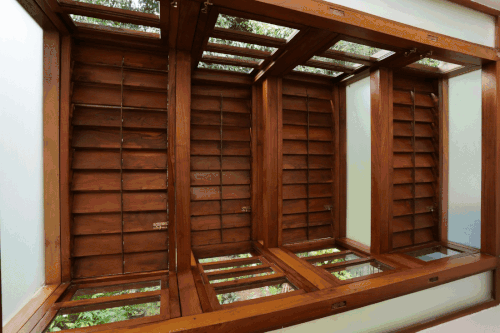 The TUW simultaneously attempts to resolve the recurring issues found in the commonly used vertically hinged swing-open window by cantilevering the window outside in a staggered manner and providing louvres, which increases the surface area thereby drawing more light and breeze in (horizontally and vertically), whether the window is 'open' or 'closed'. The four sets of operable Louvers allow for a dynamically varying facade and to meet varying user preferences or needs throughout the day.
The TUW draws inspiration from and looks to build upon Kerala's rich tradition of wood architecture, but also strives to incorporate innovative ways in which windows can open in contemporary contexts. In addition to its functional benefits, a tactile, interactive and playful engagement is created with the users that we believe makes for a more wholesome experience and a greater sense of attachment (that comes with greater physical-haptic engagement with an object). While an ordinary window would not have addressed the functional needs of the space, it neither would have created an ambience that welcomes people to use the space to relax, pray, read and take a nap as the TUW does due to the particular nature of the design.
With all the C-Shutters, Sliding Panels and Louvers open, the TUW brings in abundant light and breeze into the room in the morning hours, to sit by the window and read or write. Direct sunlight in the afternoons can be blocked by adjusting the Louvers to the user's comfort. There's still enough light from the top, bottom and side Panels, which provides enough light for any activity, without blocking the breeze enabled by the Louvers, Sliding Panels and open C-Shutters. The Louvers & the C-Shutters may be closed for maximum privacy during the evenings and nights, once the interior lights are on, leaving only the Sliding Panels open for ventilation.
The TUW can appear closed from the outside, yet the Louvers can also bring in sufficient breeze required. Here the TUW acts as a curtain for privacy while allowing for ventilation and becomes a giant lantern that enlivens the front facade. The TUW not only has transformed the ambience and activities occurring in the space but has also transformed the appearance of the house day and night.
Drawings
Images
Project Facts
Project Name: The Tropical Urban Window
Architect: [ar&de]
Project Location: Cochin, Kerala
Typology: Residential Renovation