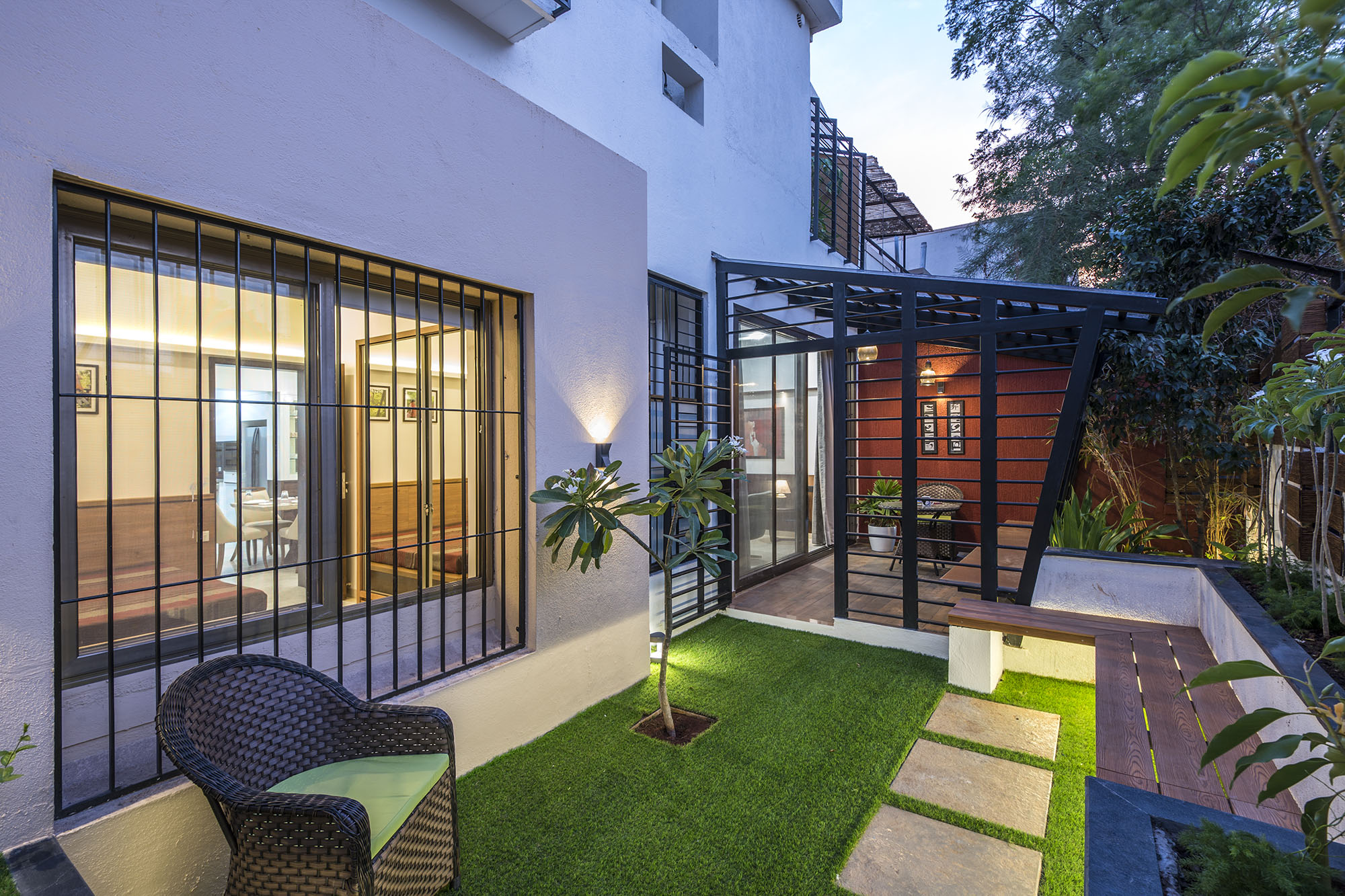 This 1800 sq. ft house was renovated to give a feel of a weekend retreat. This Pune residence is composed of living spaces that blend into one another – as well as the outdoors – seamlessly. Designed to cater to the client's extended family and friends, the design strives to create a sense of tranquility within the house; a large living room acts as the focal point– with fenestrations providing views in all directions – and flows naturally into the backyard through a shaded wrought iron enclosure opening into a small garden.
Spatial unity has been achieved by using a neutral and earthy black-brown-white colour palette and uniform flooring throughout the house, with strategic pops of warm colours in the master bedroom and the outdoor seating enclosure to lend them vibrance and emphasis. Adding to this effect are custom-made white-on-black calligraphy panels on the terracotta wall of the sit-out, made by Sanjeev Joshi himself. The furniture in the house follows the same colour theme, with subtle differences in the tint of the wood used lending warmth to the spaces, with earthen colours used for accenting.
Drawings:
A wide terrace adjoining the Master bedroom also opens via a large window into the bathroom, providing an interesting view from the private space and creating a leisurely atmosphere.
Punctuated by skylights, large windows and multiple open spaces, the residence is a great example of the design philosophy of Sanjeev and Mita Joshi.
More images:
Project Facts –
Typology : Renovation
Client : Mr. & Mrs. Apte
Area: 1804 Sq.Ft
Completion : June 2017
Architect : Sanjeev Mita Joshi Architects & Interior Designers
Landscape : Sama Landscape Architects
Contractor : Rahul Shah
Photography: Atul Kanetkar