Earthling Ladakh is a design-build practice based out of Nubra Valley in Ladakh, in the Himalayas. With extreme weather conditions with temperatures dropping to Minus 25 degrees in winter, remote accessibility, and 5 hours a day power supply, Ladakh is a cold desert region. Every year, the region is cut off from the mainland for a period of 5 months in winter, leaving a construction period of only 6-8 months. The region's economy is predominantly based on tourism, with seasonal migrant construction workers who are not trained in local construction.
The practice is based on the premise that every context/project has the potential and material resources to evolve on its own, to give itself a regional identity and aesthetic with the power of design and craftsmanship.
The practice allows freedom to:
Explore materials of the region and get a better understanding of its essence as well as its limitations through sampling and mock-ups, in the process train the workforce in reviving the local construction methodologies.
Create an architectural journey of exploration and test of material/ its materiality, how it ages and in the process refine the craft to create timeless architecture.
Light, Material and craft are the key elements of the practice.
The Team
Bogadhi Sandeep, Principal Architect and Founder of Earthling Ladakh graduated from the School of Planning and Architecture, New Delhi in 2010. Prior to setting up his practice in Ladakh in 2013, he worked in Bangalore, Assam and Delhi.
It was a conscious decision to practice in a rural setting, which gives the opportunity to touch upon the first principles of ecology, orientations, vantage points, experience, light, craft etc. We are a very small team of Masons, carpenters and architects.

Bogadhi Sandeep
The Practice has completed 8 projects in the last 10 years (and 30 odd unbuilt projects), all based in Ladakh.
Team members
Tashi Tundup– Craftsman in Mud Construction
Tashi Nurbu– Craftsman in Mud Construction
Nar Bahadur- Master craftsman in Stonemasonry
Rambabu Raut- Carpenter
Nidhi Divecha- Associate Architect
Viksha Nayak- Architect
Moni Da- Master Mason in Rammed earth construction
Key works by Earthling Ladakh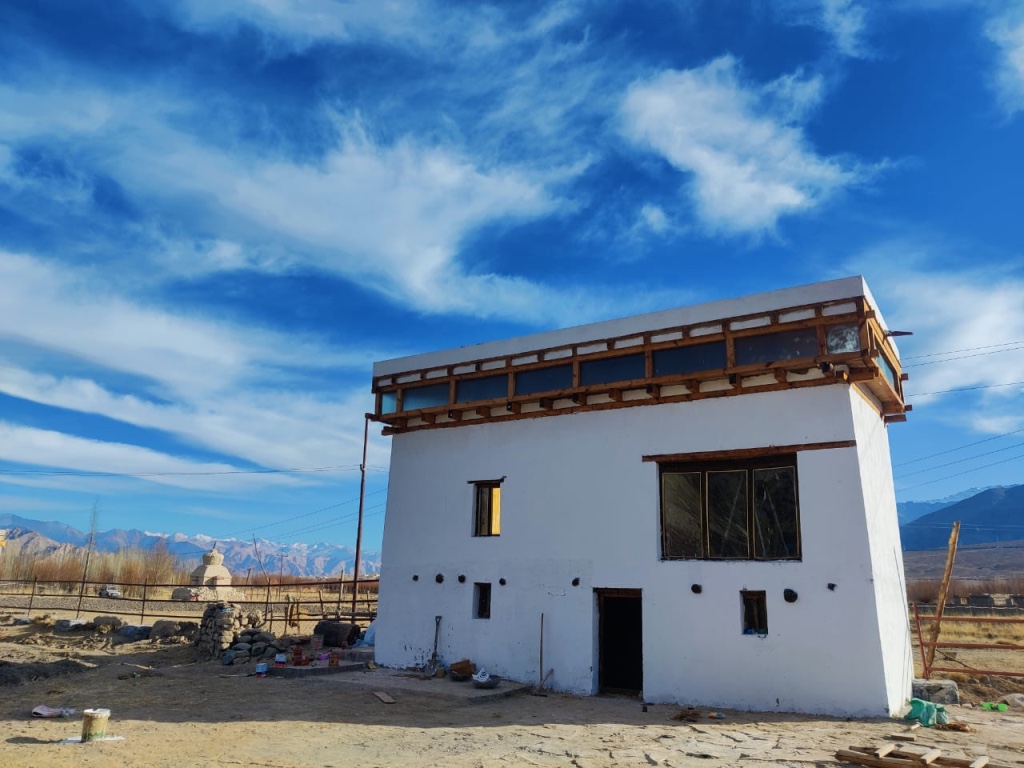 Dialogue