Context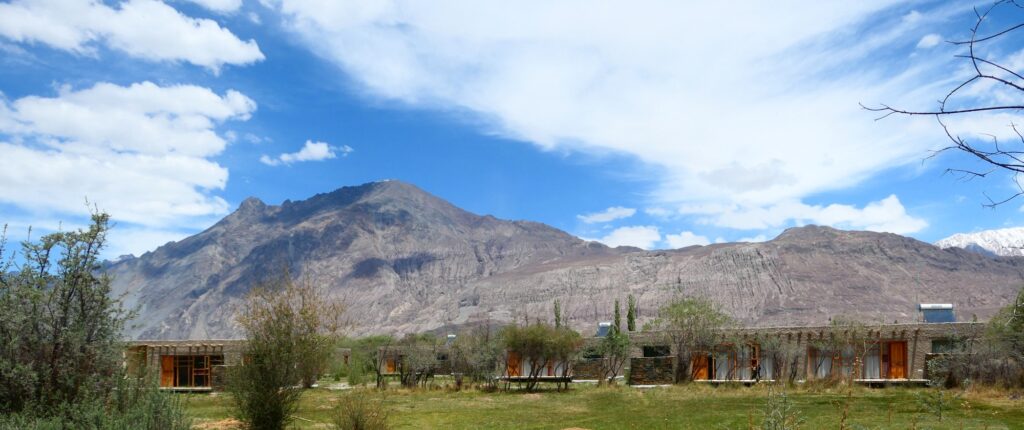 The retreat is located in Diskit village, in the quiet remote valley of Nubra, Ladakh at an altitude of 3150 m beyond Khardung La, the highest pass in the region. The site is a marshy pad due to surrounding springs with sea buckthorn trees.
The site faces a creek on the southern side which in peak summer generates an overflow of stream, which brings with it mud and rubble and settles it around 500 metres from the site. This very soil and rubble from the creek were used to build the entire project.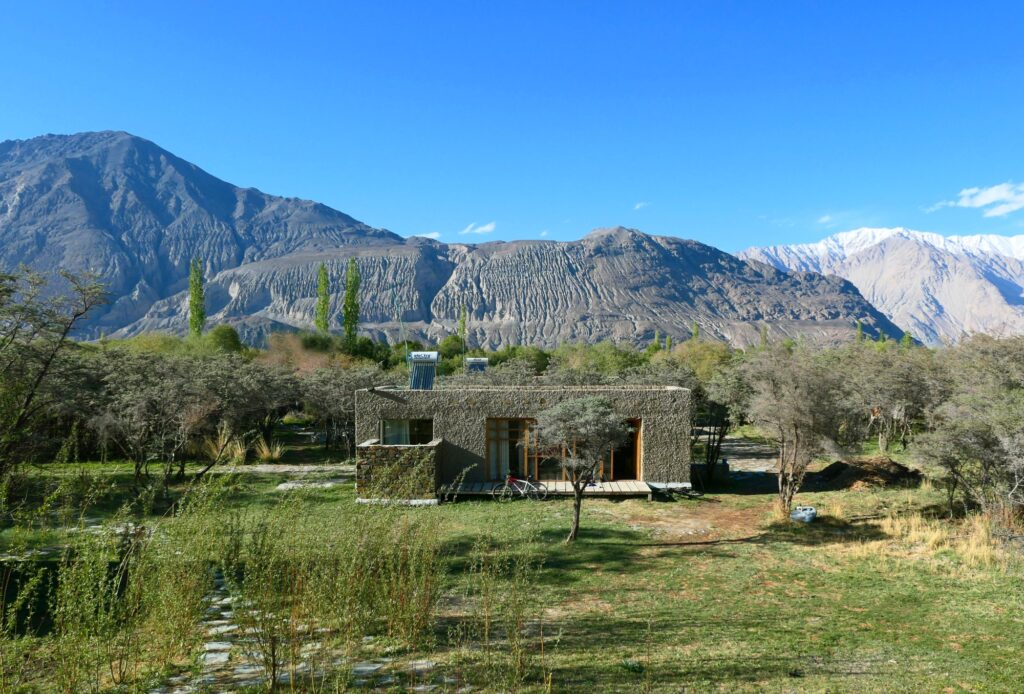 Project Intent and Construction
Every piece of architecture is a sculpture befitting its context, which can transcend socio-cultural issues and time and still be relevant. Material, craftsmanship and simplicity are the only Constants, which stand the test of time. The intention was to create low-impact architecture, which is humble and minimal- an architecture that celebrates the experience of the rugged and harsh landscape, an architecture which remains in the background.
The project serves as a demonstrative process for the locals on how to identify resources around a place and how to rearrange them to arrive at sensible, logical construction solutions which serve for the summer as well for harsh winters where temperatures drop below freezing.
Keen interest has been given to formwork, tools and transportation so that these construction techniques can be readily adopted and adapted by the locals to build their own houses. The entire construction is executed by local craftsmen from Diskit village itself.
Planning is carried out to avoid cutting a single tree and the orientation such that it gains maximum sun.
The most effective orientation is 8-12 degrees west of south to gain maximum afternoon sun, which is warmer. Each unit is comprised of two clean volumes joined together, one volume in Earth (room) and the other volume in stone (outdoor open shower).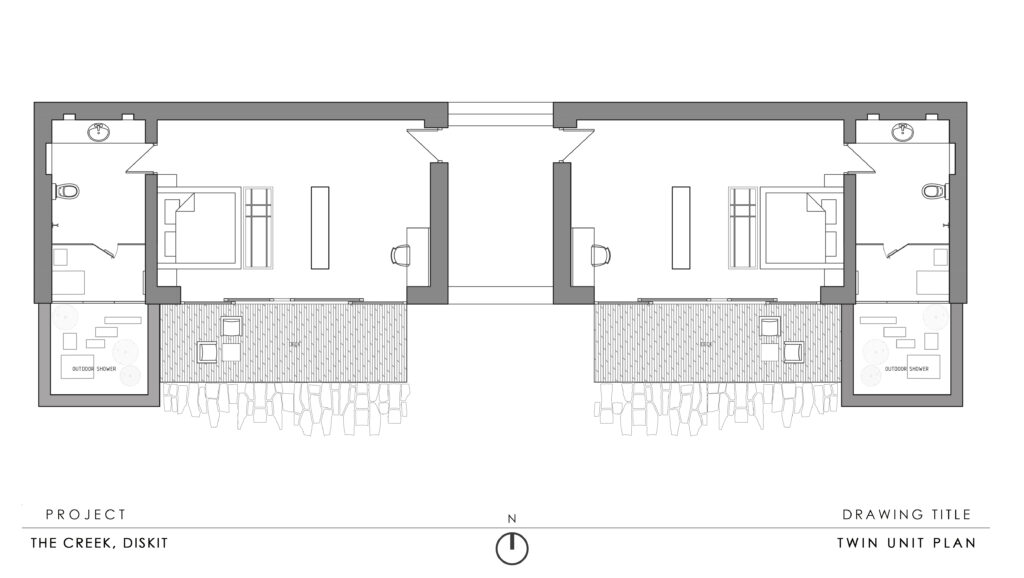 Typical layouts in varying construction methods with earth, stone and wood are employed where earth varies its form from adobe, CSEB to rammed earth. The walls are 18" thick and the room proportions are 1.5: 2.5. A traditional roof with pine rafters and a mud roof with a fine clay top layer.
Materials
Earth: Water-soaked soil (clay, sand and silt) provided by the creek is collected and a suitable mix is prepared for the building. So all the raw materials for construction are collected at no cost. Adobe, rammed earth walls, earthen plaster and compressed earth blocks are all made from this very same mud.
Stone: The roads to Nubra valley are very narrow and the controlled blasting of mountains is carried out by the Border roads organization to widen these roads. As a result, flagstones are available along the sides of the narrow roads, which is redundant. These stones are collected at no cost and used for all the stonework in the project. Extensive stonework with refined craft done with different kinds of stones available in the region.
Reed Bamboo (Umbuk): Reed bamboo grows along the glacier streams and in abundance. It doesn't lose its colour even after being dried.
Drawings
Images