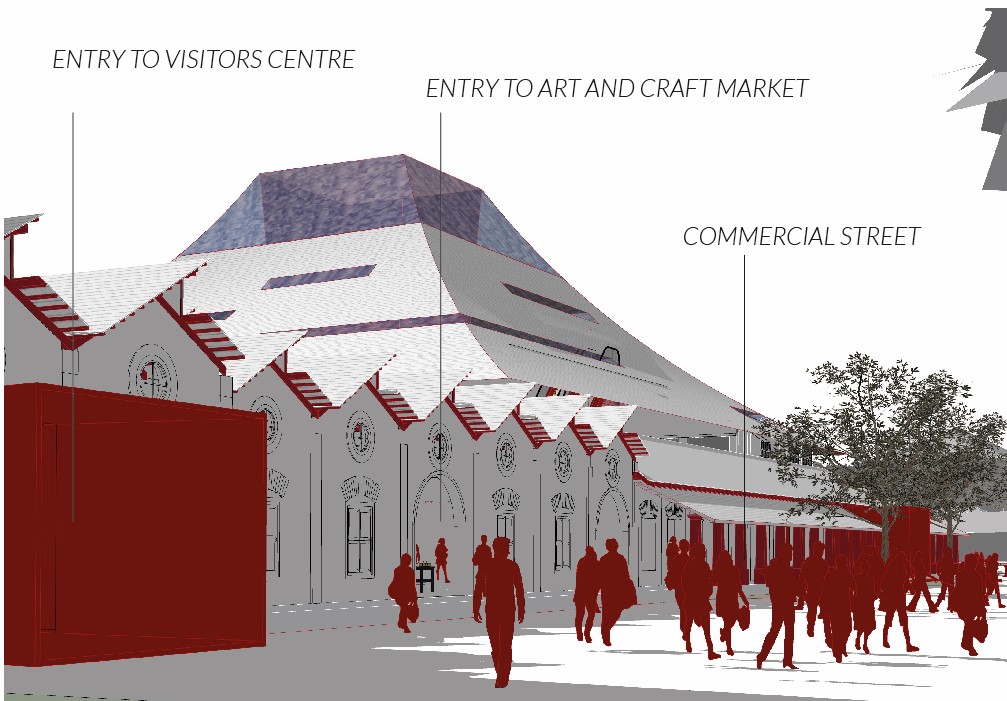 Rurban Commons Collaborative's Reimagining Comtrust Site As A People's Place was chosen as the finalist entry in the Reweave Kozhikode Competition, held at YAF, by the IIA Calicut Centre.
Kozhikode, a place with vivid history, has been a melting pot of various cultures. It has been an important destination in terms of trade relationships with Arabs, Chinese, Portuguese, English, Dutch, and French for different Spices and Calico(hand-woven cotton). It emerged as a centre for commerce, exuberant with cultures, art, and cuisines.  Apart from these distinctive characteristics, it is a palette of colours being placed at distinctive locations, rather than a painting that provides a true image of the place.
MANANCHIRA SQUARE: A PROSPECTIVE CONNECTOR
During historical times, water-based trade flourished in the vicinity of the bustling Valiangadi market, with the royal seat of Zamorins located in Mananchira which constituted the old city. Presently, Kozhikode has many public spaces that are dispersed in and around the city, spanning from the beach area on the west edge towards the east lush green stretch with Canoly canal that drains out to Kallayi river, Mananchira and SM street right at the city core with the Tali temple precinct nearby. There have been commendable efforts put in to revamp Canoly canal stretch and thereby offer the public an open green corridor connecting to a larger extent. Though the city has many vibrant activity centres, most of them remain isolated and don't offer continuity in experience and therefore fail to fully complement the growth of each other.  
Now if we look at the physical character of the city, there is a gradual transformation from traditional enclosures to more contemporary spaces, from the beachside to the cannoli canal side. And interestingly Mananchira is located at a crucial point in this transformation as well. Mananchira could be a perfect canvas, especially for the people of Kozhikode for creating a coalesce of experience interweaving the different vibrant attributes of the precinct.
The Comtrust site is a very crucial element both statically and kinetically with respect to the Mananchira precinct, any attempt to redevelop it needs to be seen from a macro perspective. The current and potential role of the site needs to be theorised in various dimensions. 
DE-PRIVATISING THE COMTRUST PRECINCT
From the early days of urbanisation, Mananchira Precinct has witnessed a series of transformations. Every transformation thus happened was also linked with politics as well. First, it was a protected area within a palace, an abandoned land and a reminder after the destruction of a royal enclave, an important administrative centre during British times, and after independence a public park with civic and cultural buildings around.  In all these transformations we can also notice how a private land got transformed into a thriving public space. Today Comtrust redevelopment extends another opportunity to strengthen the publicness and privatisation of the precinct and add more value to the ever-shrinking urban common. 
MANANCHIRA, COMTRUST AND THE PRODUCTION OF SPACE
"Space is not a scientific object removed from ideology or politics. It has always been political and strategic. There is an ideology of space. Because space, which seems homogeneous, which appears as a whole in its objectivity, in its pure form, such as we determine it, is a social product."

Henri Lefebvre
Every space is political, especially spaces in the public domain. The need for spaces that offer a better exchange of ideas becomes more critical in a democratic setup, as democracy thrives in an environment of constant exchanges of views. But unfortunately, most cities in India lack proper platforms that will encourage and bring such exchanges into the heart of the urban fabric. Here Comtrust redevelopment offers an ideal condition as it sits in a precinct that has always been and is in the heart of the city's public sphere.
To express
To celebrate
To assimilate
To debate
To demonstrate
To revolt
THE CITY AND THE MISSING LANDMARK!
Kozhikode lacks a visual landmark that truly reflects the collective spirit and has the scale to stand out yet be respectful to the spatial culture of the city.  Here Comtrust site provides an ideal condition to conceive such architecture and contribute to the city's skyline. 
A HAND TO THE LOCAL ECONOMY
Like in many other cities, the old core of Kozhikode is also starting to experience the pressure of development. If not addressed timely this pressure will distract people from the old core and growth will concentrate towards the city's periphery. And this will lead to the possible death of the old city. To bring balance to the public life of the city we need interventions that will further enforce a public interest in the old core. The main strategies involve infrastructure upgradation, facilitation of tourism-related activities, and improving imageability and accessibility. Since the Manachira precinct is itself placed in a crucial point, we can use comtrust site redevelopment as a tool to enhance public interest and support the local economy.
REIMAGINING THE HISTORIC PRECINCT
The comtrust site is located in a historically charged precinct, and comtrust itself has an architecture and a history of more than 200 years. Certain strategies are adopted for the smooth integration of new architecture.
TO EXHIBIT, PROMOTE AND ENGAGE
Cultural expressions are crucial to a healthy urban life. A city like Kozhikode, which has a thriving culture of centuries, has a lot to express. Manachira also has a lot of history and stories to share. Apart from these, we need windows to a larger world culture. When these spaces of cultural expression are kept in close proximity to public activities, they tend to be more effective. 
CONCLUSION
Here we made a conscious attempt to weave various dimensions that encircle the idea of Mananchira, the city and Urbanity. The design focuses on strengthening the publicness of Manachira through the social, cultural, economical and political activation of spaces. 
Presentation Sheets