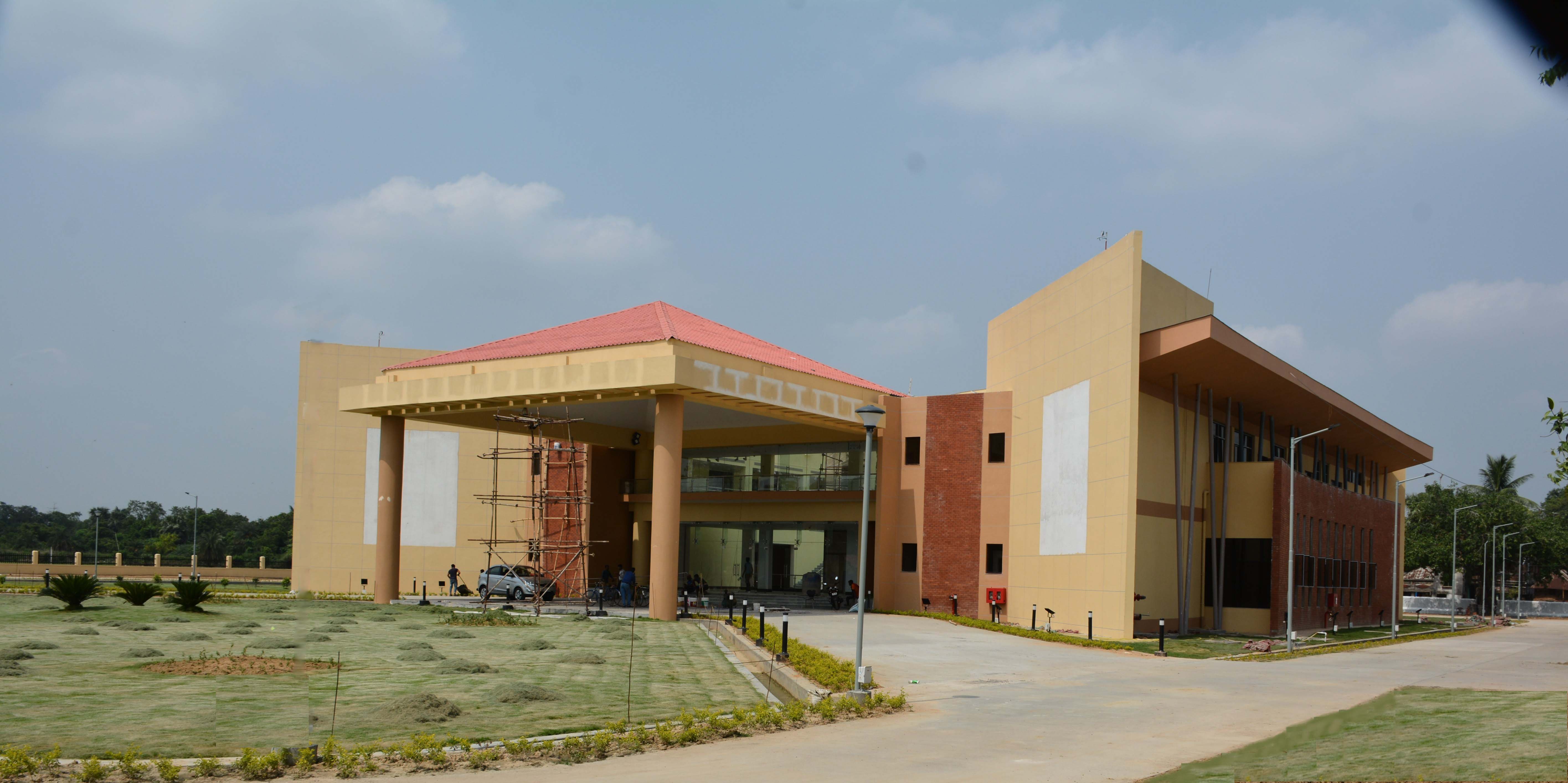 As his poetry and Art work the design for the new Bangladesh Bhavan at Visva Bharati, Santiniketan is coherent in nature. The way Tagore modernized Bengali art by spurning rigid classical forms and resisting linguistic strictures the same way the design for the new building blends with the surrounding natural environment of Santiniketan and is still modern in approach and construction technology with glass atrium and contemporary forms.
It is a center where people from all sectors of world will come to be a part of Rabindranath Tagore's association with the country, the Liberation War of Bangladesh and Indo-Bangla relations.
The Bangladesh Bhavan at Santiniketan is an ambitious project launched by Bangladesh Government and the Visva Bharati, Santiniketan.
The project designed by Ar. Ankit Bansal is both a cultural center and a museum which highlights the cultural ties between India and Bangladesh.
The brief for the project includes a 450 capacity auditorium, museum, library, research centre, two seminar halls and a cafeteria.
Proposal conceived as a centre of knowledge and exchange of ideas dedicated undivided Bengal, language movement, 1971 India-Pakistan (Bangladesh Liberation) War and Tagore in Bangladesh.
The complex is a two storey structure and is approached through a grand entrance canopy and raised platform, leading to a spacious lobby. The lobby further leads to a glass atrium which has museum on one side and seminar halls on the other side. The main Auditorium is connected to the atrium. A grand staircase leads to the first floor where there is a library and the cafeteria. The Auditorium is provided with all modern facilities like stage crafts, lighting, sound system etc.
The atrium with natural light is a symbolic representation of light of knowledge which percolates into the library, museum and seminar halls.
The cultural center needs to be a vibrant part of the Shantiniketan's culture for all to be visited frequently both for learning and exchange of culture. This aspect was emphasized by the Prime Minister of both the countries during the inauguration of the project.
The project also aims to provide a green foot print to the campus of Visva Bharti by use of eco-friendly materials. We have tried to utilize fly ash brick with low VOC paints along with locally manufactured terracotta wall tiles in façade. Rooftop solar installation has been carried out to generate power for common areas. Energy efficient VRF air conditioning system along with LED light fixtures has been utilized for cooling and light of the building. To maximize the use of natural light glazing has been provided along the periphery of the building along with a skylight in the atrium area with energy efficient glasses all over.
Models
Project Facts
Project: Bangladesh Bhavan
Location: Visva Bharati, Santiniketan, West Bengal
Architect: Ankit Bansal, (Ankit Bansal Design Studio), New Delhi
Consultant: ACME Consultants Pvt. Ltd., Kolkata
Project Co Ordinator: Bijan Kumar Chakraborty
Structural design: Shaibal Biswas
Electricals & Low voltage : Basab Aich & Ananda Dasgupta
PHE: R.G. Bhattachrya
HVAC : Monoj Chakravorti
Fire Management: Jayanta Saha
Estimation & Drawing management: Anand Ram Karmakar
Project Management: Susobhan Roy
Client: Visva Bharati, Bolpur, Santiniketan, West Bengal and Government of Bangladesh
Project Area: 4,115 sqm
Implementing agency: NBCC (India) Ltd., New Delhi (A Navratna CPSE)
Civil contractors: Narayan Kumar, Kolkata & K.G. Enterprise, Kolkata
Initiation of Project: 2014
Completion of project: 2018