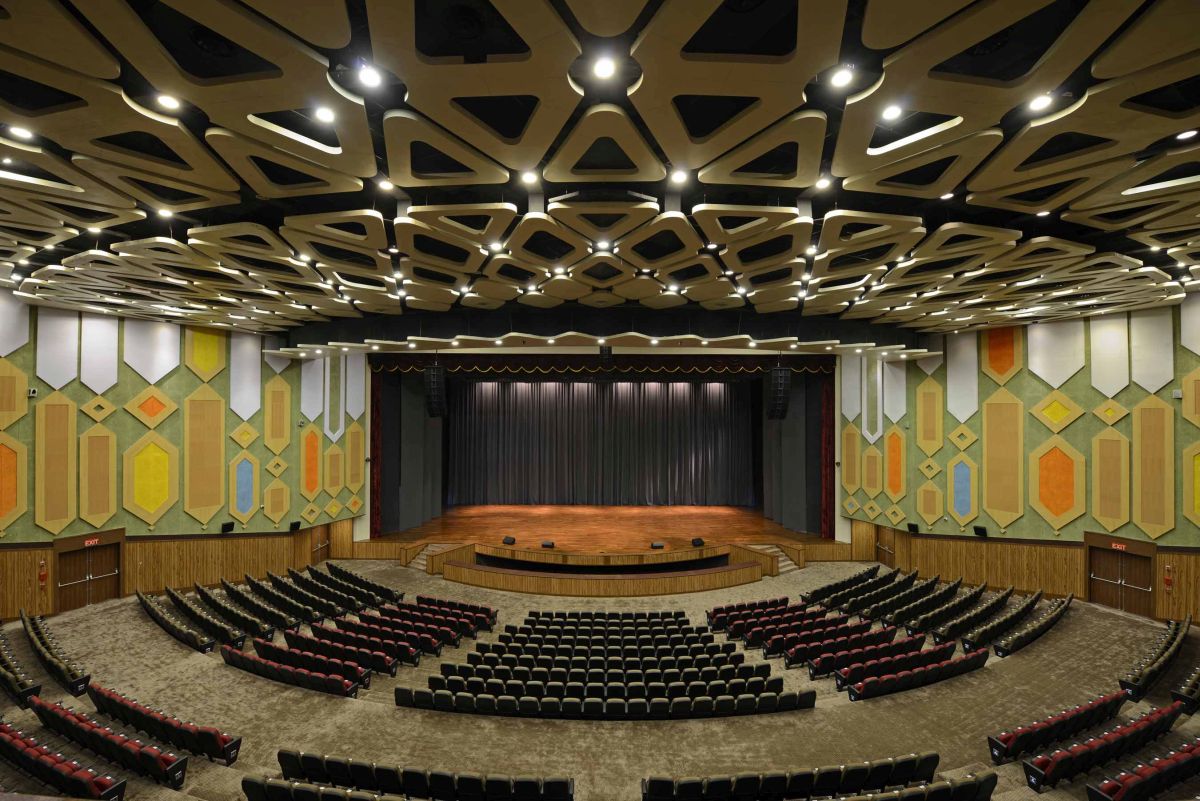 Auditorium for BITS Pilani, Hyderabad, by Architect Rahul Manohar
This was a unique project where our primary design brief was that the auditorium should have a "WOW" effect. Since the auditorium was for one of the premier educational institutes of the country, we decided to explore ideas which were not previously attempted for auditorium designing in India. Our task was made even more challenging since this was supposed to be one of the largest auditoriums in the country and the largest in South India, with about 2500 seats.
The seating capacity was split over 2 levels. Almost the entire ceiling was envisaged as a double layered ceiling with the innovative, lower open grid ceiling amalgamated with the darker unobtrusive upper layer which catered to the acoustic and services requirements.
Since all the services utility end-points were housed in the upper layer, we could design the lower layer as a decorative ceiling with stunning aesthetics. It was an on-site challenge to accurately superimpose both ceilings such that the utility end-points were located within the open grids of the lower ceiling. This was even more exacting and demanding since the upper layer had a standardised rectangular grid (to keep costs down) while the lower decorative layer had a radial grid.
The wall panelling was designed as a mural with the multi-coloured raised panels adding vibrancy to the interiors. The materials for the coloured wall panels were carefully selected with varying acoustic backings to provide the required acoustical feedback.
The ceiling below the balcony was kept unobtrusive to retain the focus on the main ceiling.
The Audio-Video system was planned with the front array speakers supported by the surround speakers completing the 5.1 configuration.
Our biggest compliment was when on the day of the inauguration, the initial reaction of most visitors was "WOW".
More images:
Project Details:
Architect & Principal Consultant : Rahul Manohar of RMM DESIGNS-Architects (www.rmm-designs.com)
Interior Contractor : Centrix Projects