Expanding the narrative introduced by the Future Trajectories: Promising Architectural Practices of India series, we now uncover the stories that young Architectural practices of India have experienced since establishment.
Location: Bangalore
Founder: Chinchukumar Sreekandan
Co-owner: Julie Ann Tharkan
Year of Establishment: 2014
Fictional project is an independent practice focusing on Art and Architecture, that was established following a desire to have a space for expressing interests and collaborating with people having something to contribute to themselves and society. In a conversation filled with shared anecdotes and learnings, the firm's founder- Chinchukumar Sreekandan reviews the young practice's experience so far, the significance of the word fictional, and why the term 'failure' does not exist in their experience.
Reminiscing the Beginning
establishment of practice: the notion
More often than not we are asked this question about the 'type' of architecture we practise. We struggle to answer this question with the general perception of architecture being either 'traditional' or 'contemporary'. With the training we have acquired over the years the best that we have our claims to is saying that we practise 'informed architecture'. We have realised that claiming a space only for architecture is not how we would like to define this practice.
"We exist on the goodwill, hope and dreams of many who are directly and indirectly associated with us. Hence our practice is the medium through which we share our knowledge. You have a place with us as long as you have something to share."
establishment of practice: the name, doubts and apprehensions
The term fictional project itself came up because of the unexpected turn of events during the course of practice. Nothing was concrete, it could take any turn like in fictional stories.
But, the establishment of practice is bound to invite a lot of doubts and apprehensions.
Sometimes it was the client or project that took a turn for the good while other times it was the questions of where and what should our office space be located. Over a period of time, we started embracing the uncertainties that came with each project or client, and that in itself started weaving the story of our practice which acts more as a collaboration of people with different expertise.
Along with embracing the uncertainties, the Practice has a different outlook towards failure, a term they have replaced with 'path to success.'
Growth, Success and failures Paths to Success
We have had our share of success and our share of paths to success. Not necessarily failures. Whenever a project has been completed successfully it is the celebration of having reached a milestone. And when it comes to projects that hardly made it to the execution stage, we realise that our clients as stakeholders have contributed towards a moment of realisation. And in such instances, our art endeavours have always helped us to connect with society and strengthened what we believe and strive for.
In Focus
1. art and architecture
Q. Theoretically, Architecture is considered a habitable form of Art. But, due to growing commercialisation in the industry with the rise in globalisation, do you think we are drifting away from this identity? Would you call your practice an amalgam of Art and Architecture, or would you maintain that Architecture is Art and not a separate entity?
One could always cherish the memories and nostalgia that gives everyone or everything their identity. But we cannot resist change forever. The way we evolve is much faster than in any other epoch in history. So it narrows down to the identity of the architect and the artist. To answer your question there is no one way to practise architecture. It is a result of many social and technical equations that we evaluate. But as informed practice the least we can do is not to isolate this profession. The paradigm of considering architecture as that of just "making the building" is changing. It is a reflection of the society that we live in. It is in fact the common ground for productive discourse. In reality, it always has been. So it is not just art but humanities, technology, and economics all become part of architecture and vice-versa.
On delving deeper, we discovered not just the coming together of Art and Architecture, but several disciplines in their projects. One project in particular that piqued our interest was "Memories of object", a curated architectural project that recreates the story of the materials that once made a matriarch's beautiful home. Memories of all the people who once enlivened these objects were now giving an opportunity to make them a part of the lives of others.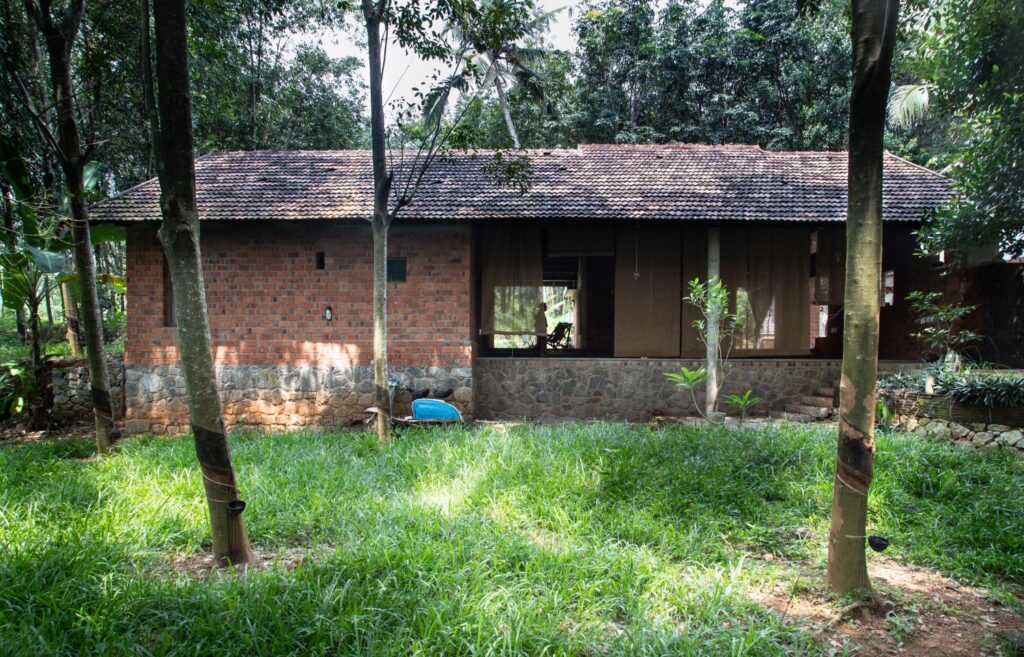 2. project: memories of object
Q. How did you zero on recycling materials that have had their share of stories from a, we could aptly say, past life?
In the context where I come from, Kanyakumari, in the current scenario, people find it difficult to maintain their traditional houses. The easy solution for most people out there is to demolish it and build something that their reference group is building. These works that are being thrown away are works of crafts that will not be easy for us to recreate. And these are the objects that remain in the memory of many people when they think about home and family. So, they become the vehicles of the memory and life of the bygone era. On discussion amongst ourselves and our friends, we enriched this thought.
To be very specific about the materials used, the brick used here is table moulded brick. When you visit a brick-making unit, you can see the work of the skilled hands of the maker.
"But this skill also comes with its uniqueness which sometimes is referred to as errors."
The woods used for the doors are from the walls of a traditional Nair house of Travancore. The roofing tiles are from schools nearby and the rafters are from different houses in the context. "Memories of objects" is a curated architectural project, where memories of all the people who once enlivened these objects are now giving us an opportunity to make them a part of our lives.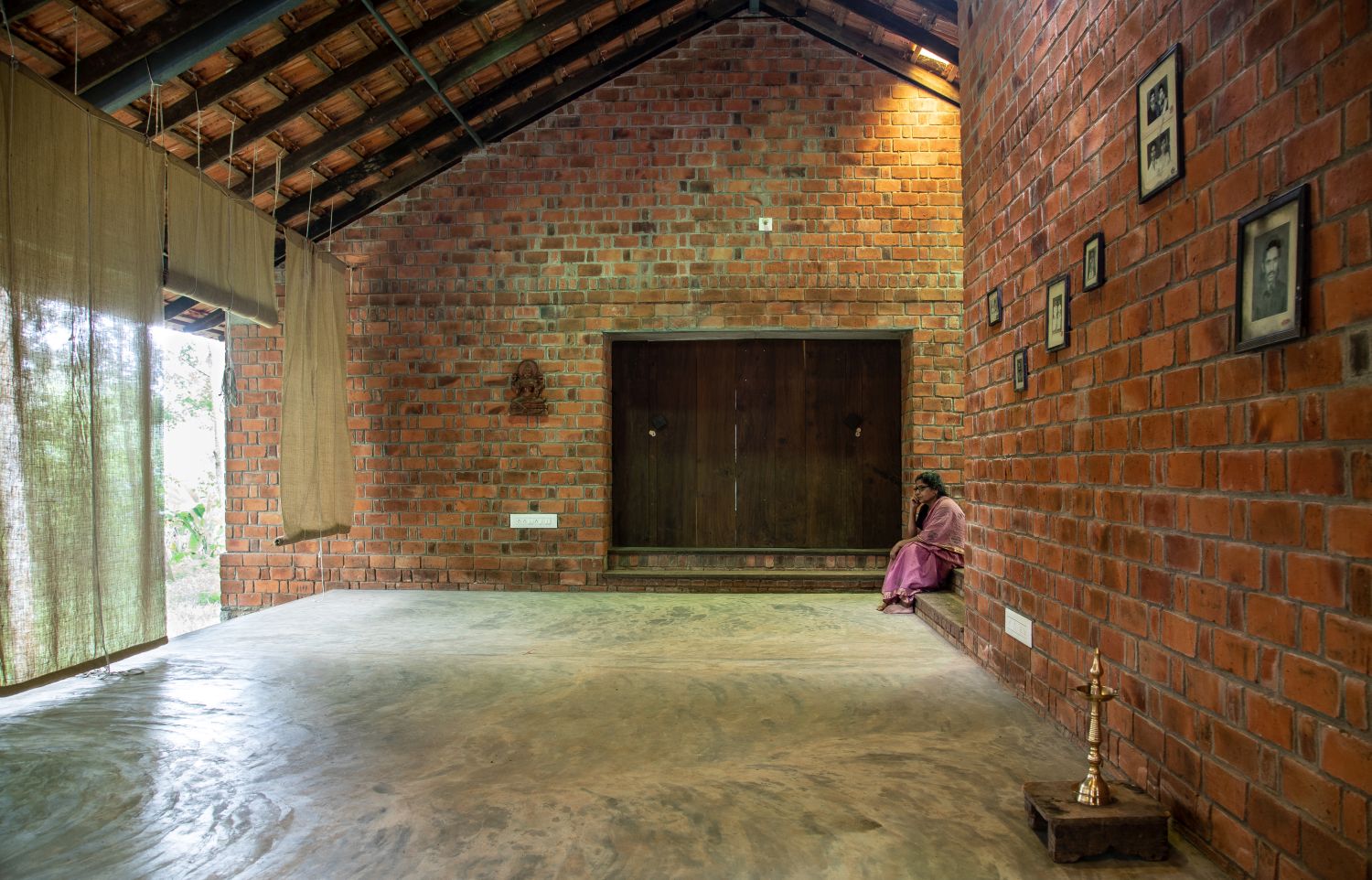 Q. Humans relate to mortality and materials that age. Would you consider that a reason for natural and raw materials coming across as more appealing than fabricated/ finished materials?
As the question itself suggests, it is always special when you involve humanity in the process. The beauty of this project is that there is no machine used whatsoever.
"It is a composition of human skill and errors."
When these are studied and brought out together, it brings out their own charm with respect to texture, colour and patterns. We think that it is in such instances that the beauty of the building and the lives encompassing the building lives.
"The essence of this project is in the uniqueness of crafting with these bricks embracing human errors, relating humanity and humanism to what we do. It is an ode to all the craftsmen"
Despite being a young Architectural practice, within a few years of establishment, Fictional Project has already managed to gain admiration from several senior architects. The firm continues to grow under Chinchukumar Sreekandan and Julie Ann Tharkan, and considers itself a practice still in the process of establishment, but, with a clear vision
There is still a lot more to do. But if there is something that we are cautiously working towards – it is to blur the boundaries of architecture, art and human engagement.
---
About the Practice
Fictional project is an independent practice focusing on art and architecture. The practice has a foothold in various parts of south India with a portfolio exhibiting different genres of works ranging from residences to studio/ workspaces, commercial projects, and socially sensitive art expressions. It is a platform where all intellectual expressions have a place to reside and move on.
Fictional project is a part of our Future Trajectories: Promising Architectural Practices of India series. The practice's profile and works can be checked out here.