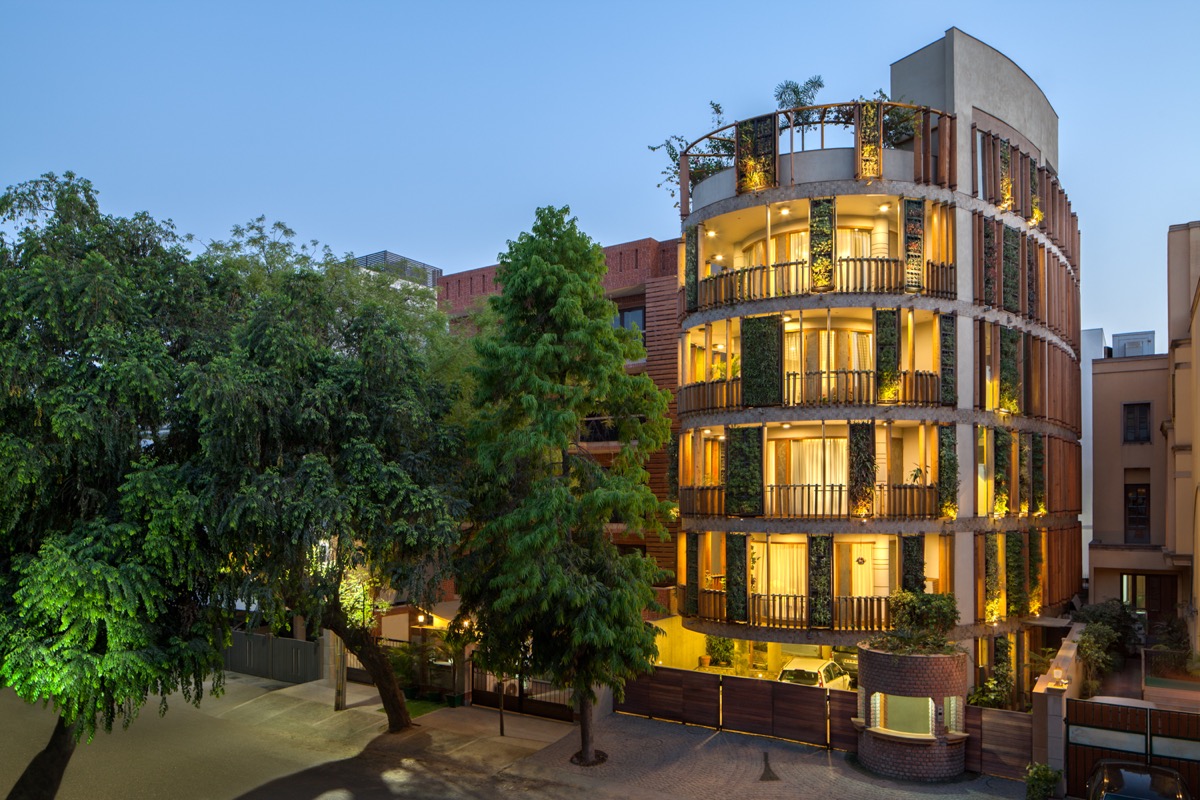 Large urban residences are registries as well as articulations of filial, financial and aspirational value. Catering as much to their inhabitants' needs as to their whims, they are, simultaneously, spaces of private indulgence as also objects of a more socially motivated aesthetic expression. Little wonder then that the luxurious and the exotic are sought in various ways from their design.
As processes of globalised supply and demand, impact construction, fabrication and procurement logistics, greater value seems to be drawn from the extrinsic or exotic in terms of materiality and the machined in terms of form and technology. Systems of architectural production also appear to have cleaved apart the relationships between making and material while form seems to rely heavily on geometries that ease the application of industrially produced and pre­engineered surface renders. Ironically, the search for the unusual in contemporary urban architecture seems akin to a walk in a "walled garden" of ubiquitous aesthetics.
OUTRÉ HOUSE attempts a rediscovery of the singular and distinctive, specifically, in the working of humble materials; on site and by hand. It attempts to do so by re­centring the umbilical bond between making and material. From bespoke concrete formwork and poured flooring to curved joinery and rhythmically notched masonry, the design releases its handmade construction from the shackles of the straight line, giving it flight. It, thus, allows crafted details to overlay each other and to swarm all over the design rather than be restricted merely to points of material intersection.
Induced by the city grid and its volumetric controls, the urban residential form most commonly, and perhaps most simplistically, resolves into rectilinearity. This box­form resolution of the program unavoidably results in spatial compartmentalisation, on top of which real estate imperatives encourage apartment stacks of clunkily laid out cookie­cutter floor plates. The curvilinearity of the building creates more fluid spatial formations and helps create smoothly transitioning spaces for social convivialities between the members of the resident family.
OUTRÉ HOUSE also rekindles the relationship between the crafted and the natural. The warp of the handmade and weft of the verdant further position this design away from the industrial. The interweaving of precisely turned wooden louvres and vertically installed planters allows the vegetal to enmesh with the structural, coalescing into internal and rooftop gardens. This coupling of craft and foliage also underlines the bespoke floral chandelier designed by Mann Singh for the lounge.
---
Project facts:
Location: Anand Niketan, New Delhi
Client: Satish Garg
Architect: ANAGRAM ARCHITECTS
Design Team: VAIBHAV DIMRI, MADHAV RAMAN, AYUSH PRAKASH
Site Area: 317.56 SQM
Project Area: 1356 SQM
Civil Contractors: ADHUNIK INFRASTRUCTURE
Structural Engineers: BMSF DESIGN CONSULTANTS
Other Consultants:
ELECTRICAL: SQUARETECH ENGINEERS
PLUMBING: DSR ENGINEERING SERVICES
Site Supervision:  ANAGRAM ARCHITECTS
Model-Maker: INHOUSE
Project Estimate: 6,00,00,000 INR
Initiation of Project: NOV 2011
Completion of Project: August 2015
Photo Credits: André J Fanthome