Next in the series of stories, where we talk to architects who are helping the profession in ways other than designing the buildings, is Tanya Khanna from Epistle Communications.
---
Tanya Khanna is an architect, with a masters degree in architecture; She comes from within the design industry and, continues to help design brands, studios and large practices alike. Through her role at Epistle, she has laid the foundation of what is a one-of-its-kind agency in India, facilitating good design and bringing it forth on a global platform.
Tanya has been instrumental in the field of design education in India as well- in conceptualising the academic agenda for the Sushant School of Art & Architecture, spearheading the management initiative that helped secure University status for the school and facilitating the setting up of TDV The Design Village, a new school of design that bridges the gap between industry and practice. As a GRIHA certified Evaluator, she is also committed towards recognising sustainable design expertise, and continues to be a part of various academic/professional design juries and key industry events. After having co-authored, and editorially directed a wide range of architectural books and monographs, Epistle has released over 5 books on contemporary architecture and design in India, a domain which normally does not get much visibility in the publishing industry.
In her own words, Tanya shares:
"I have written extensively for Indian & International media, with academic insight and communicative breadth alike. and have been the Editor for the Fensterbau Frontale India Tabloid, focused on Facade and Fenestration Design in India, from 2014-2018. As a communications partner for GREHA, I have helped the urban design think tank, promote disparate research works from architects and urban practitioners by successfully positioning them through the 'Architecture and Society' series, a renowned forum in New Delhi. Through the SPOTLIGHT award, conceptualised together with national award-winning Andre Jeanpierre Fanthome, we have also opened up avenues for emerging architectural design studios to get visibility both nationally and globally. The opportunity allows the studio to avail complimentary services from both Andre Fanthome Photography and Epistle Communications for ONE ARCHITECTURAL PROJECT. More information can be found on http://www.myspotlight.in/
Most recently, I have been advocating "Reading & Talking Architecture", part of a lifelong investigation that will hopefully find fruition soon."
---
Below, we discuss with Tanya Khanna how Epistle came into being, challenges, success stories and a message for young students and professionals..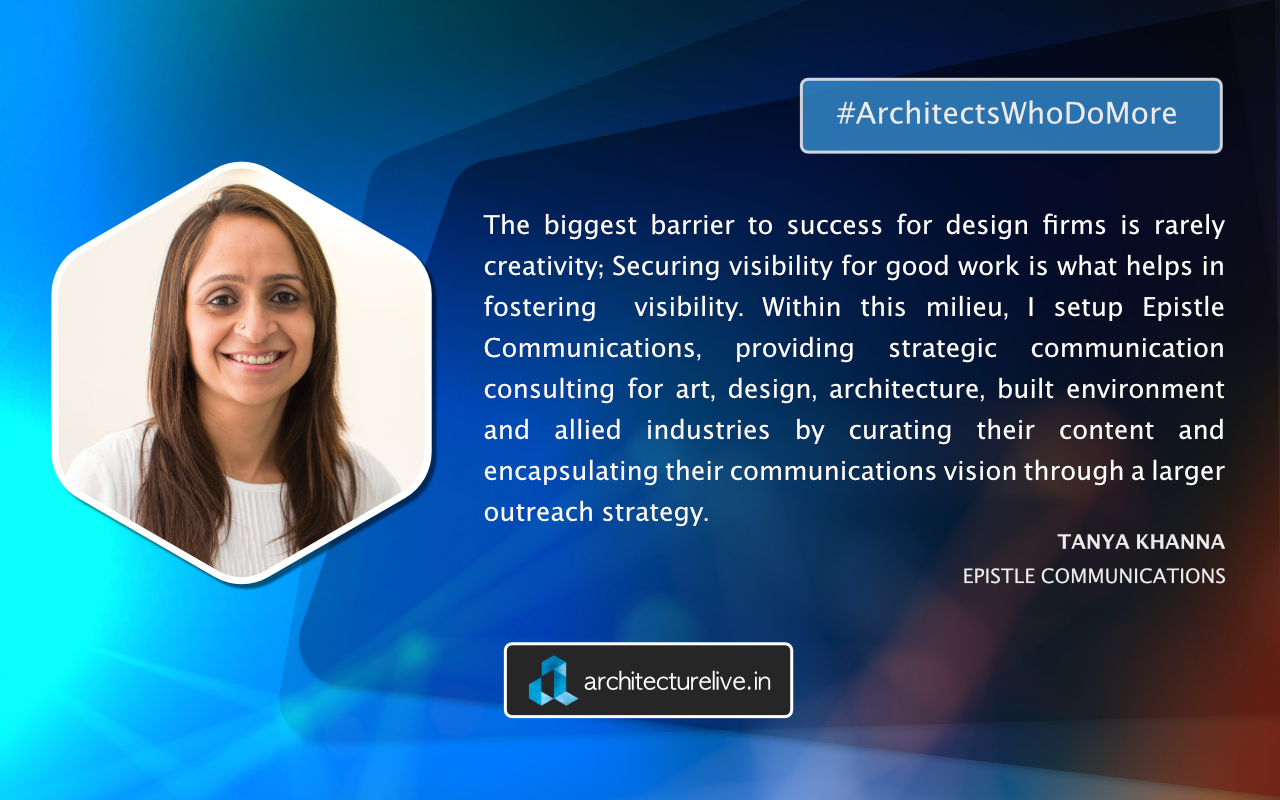 AL: At what point of time in your life, during the architecture course or after that, you decided about the alternative career around architecture?
TANYA: There was no real point, it was a natural progression. I was lucky to have found mentors, who helped in getting clarity and allowing me the opportunity to delve into this domain whole-heartedly.
In what ways Epistle Communications is helping the profession and professionals?
Epistle communications, is a communication consultancy providing bespoke, strategic consulting services for architecture, design, planning and allied disciplines. Being a communication specialist, the company provides a spectrum of services tailored for each individual client. A customer centric firm, it help clients maximize their efforts, build their portfolio, reach potential clients and gain professional recognition. Epistle does not offer a generalized plan of activities, but services that range across strategic planning, copywriting and editorial services, project packaging and curation, brand development and positioning, award entries, events, promotional activities, media coverage, and media design. Considering that Epistle is not a PR agency, but a strategy driven organization, it learns about the client's objectives and needs to employ these services across the right platforms, and at the right scale, to derive relevant results from the market. Its diverse operational capacity, driven by priority-based research and performance, has helped its clients expand their business, to establish them as a colloquial in the design industry.
AL: Can you also please share some of the challenges, obstacles you might have faced in this career and some success story too?
TANYA: I started Epistle in 2011- It took about 6 months to get the first project. The early challenges have been to convince the design community in India of the value that we bring on board, before we start. Once they start, of course there is no looking back and we work in sync with them- But occasionally we have had moments, when the clients don't see the value in the financial investment that they are making. The nature of the industry is such, that the benefits of the corss-disciplinary, professional approach that we bring on board- does not get recognized.
Another challenge was to alter the notion that good design speaks for itself, provided it is given a voice. In the current scenario of information overload, originality & creativity simply gets lost in the deluge of data produced globally. By working closely with our clients, we have gradually created opportunities for them to showcase their work in appropriate forums. This enables better discourse and significantly improves future prospects for innovative practices. This probably is the biggest challenge still, as most designers still struggle with the distinction between PR and Communications; we aid in communicating design work- purely based on process, content and the strength of design. Being a professional architect, the relationship with our clients is hence, more engaged.
Challenges have come to us in various forms- to focus on mainstream media, which directly faciliates better presence for clients, Ensuring that as a one-stop communication consultancy, we are well-versed with digital media and social media and ensuring that clients get a cohesive strategic approach- These have been overcome by ensuring that there is a diverse team, each of who provide specialised inputs for each client. Enabling Content, Graphics and Outreach all together under a singular umbrella- is an ongoing challenge, that we try and bridge to ensure success and also something that distinguishes us from others. The fact the most firms continue to have long-term relationships with us and some work with us despite having In-house teams, demonstrates that our approach is broadly successful.
The biggest barrier to success for design firms is rarely creativity; Securing visibility for good work greatly helps in fostering public appreciation, and the challenge was to change the notion that good design still speaks for itself. Within this milieu, I setup Epistle Communications, providing strategic communication consulting for design, architecture, built environment and allied industries. Through Epistle Communications, we have helped countless architectural, interior and design firms in curating their content and encapsulating their communications vision through publications, exhibitions, books, lectures and awards, primarily through a larger outreach strategy. We are responsible for putting India's architectural talent on the global map, creating worldwide opportunities for deserving practices, by equipping them with competitive tools. Epistle boasts of producing more than 1800 online and 1500 print publications within India and abroad, and winning more than 140 national and international awards for our clients, within the last 7 years, with over 30 design and allied brands as clients, including some of India's top 10 Architectural firms. Throughout this process, we have remained largely behind the scenes with a single-minded focus of helping her clients be known, and through them we are known for what we do. Therefore, the public perception and image of our clients is the test of our success. Bridging the gap that exists between design, practice and business, we have created a niche in the Indian design industry where nothing like this existed and are proud to be furthering the cause of good design in the sub-continent, bringing design to the forefront in an otherwise latent industry. The premise of doing this begins with the intention for discourse, dialogue and exchange of design ideas.
AL: What message would you like to share with the younger generation of architects/designers and students?
TANYA: Many a times, it becomes too much- when one doesn't get an opportunity to take a single day off- it is hard, and one wonders why. But Faith in the overall commitment to an individual journey is what has kept me going. Also, in worse moments, talking to people around helps- There is a lot to learn from people around us.
Believe in the value-add that the service is providing- and focus on the quality, than the tangible success of the business. Money is a by-product; If the business is successful and the clients have faith in your offerings- success is natural. On a more spiritual note- honesty and a focus on quality is what brings us trust from clients and more work. A good word always goes a long way- and That is our single-minded effort, always.
Architecture and design are not just mere jobs, careers or professions; they are a way of life. Have faith and conviction in what you do- we often underestimate our own selves.
I am grateful to all the people I have been associated with in the past, and have good relationships with them. Apart from them being mentors, Our past and current clients are my most important role models. With their keen artistic sensibilities & understanding, they represent meaningful, contemporary Indian architecture. Without their content, I would not be inspired to run Epistle. Today, over 6 years, Epistle has been an integral role of the success of over 30 design and allied brands. Together they have won over 50 global awards, been featured in more than 500 offline and online publications, achieved worldwide recognition and found access to new business. Epistle is not just another PR Agency that is creating stories- Aiding communication in architecture and design work- Epistle is driven by content, process and the strength of design.