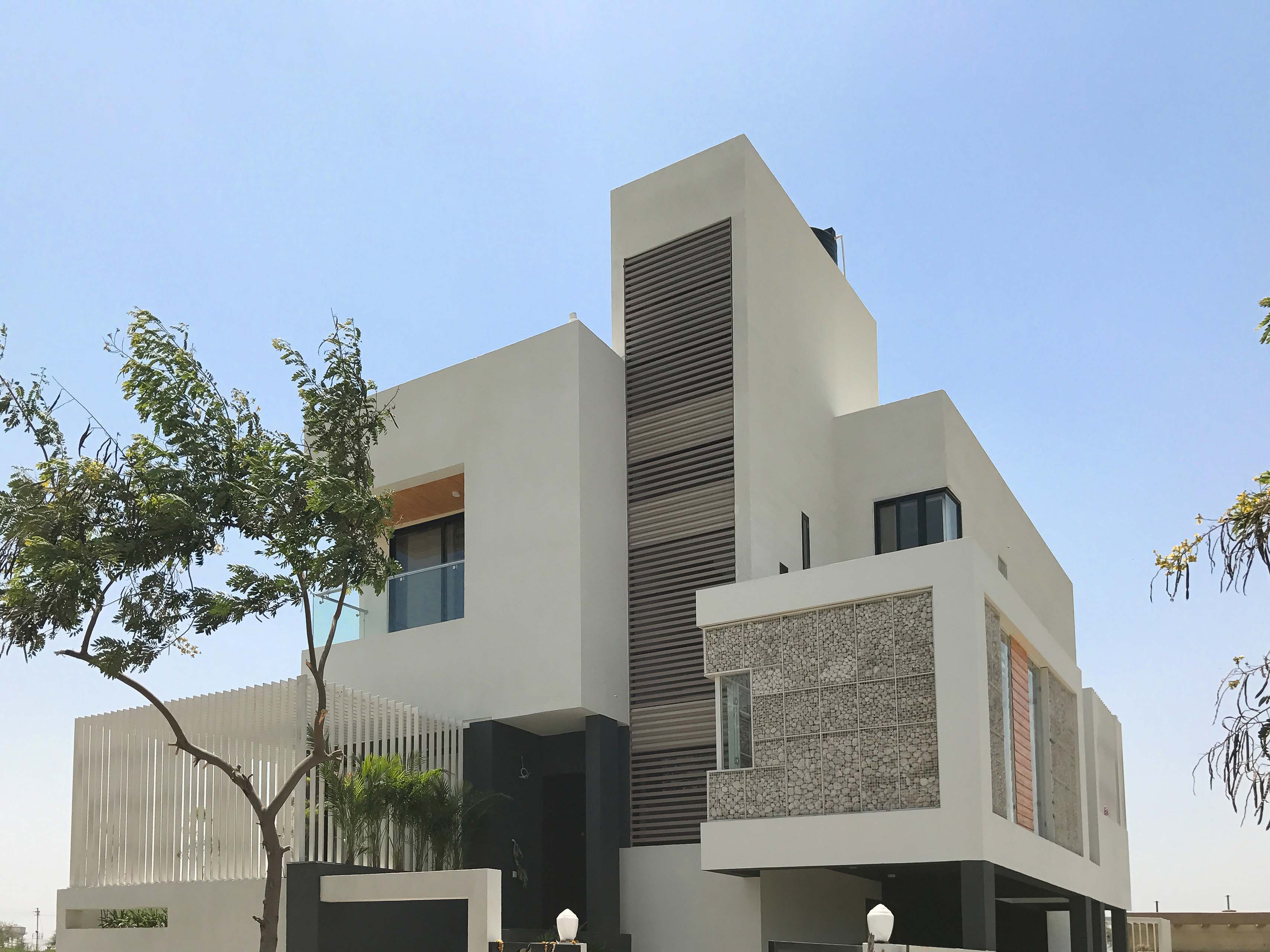 With the client's requirements for a comfortable living round the day, residence B-5, located on the peripheral areas of the city with a need for enhanced security, finds its design solutions around basic lines of modern architecture.
With the plot sharing its boundaries on two sides with neighbours, approach road on the east and a community garden on the west, the design focused on bringing in the breeze from the west and distributing open areas all around the plot. The main entrance to the house is raised at mid landing with drawing room opening to the front garden on the east, maintaining a level of privacy from the road. The family living and dining area is raised further by a flight and opens up to the garden on the west. The drawing and living areas aligned in a single line and volume in split levels, ensuring a comfortable cross ventilation across the spaces and ensuring privacy for the family area yet maintaining a comfortable connection.
A simple yet coherent solution to the peaceful and private space for meditation for the temple came with the gabion wall. The stones provide a perforated facade to the space filtering in the morning sunlight through the voids initiating a controlled dialogue between the inside and outside.
The private spaces are on the second floor with double height living room ensuring a healthy connection between the family. The ground floor serves for the guest bedroom, a small office, a multipurpose room for activities and a servant room. A gentle breeze is felt all around the residence through the interlocked volumes.
Safety was one of the concerns of the client. The vertical steel pipes enclose the gardens in a safe boundary maintaining the openness.
Drawings
Project Facts
Project Name Residence B-5
Architect or Architecture Firm Black Square
Architects Aman Sonel, Palash Jaiswal
Contact Email [email protected]
Completion Year 2017
Built Area (m2 or sqft). 448 sqm
Project Location Indore
Photographer Aman Sonel