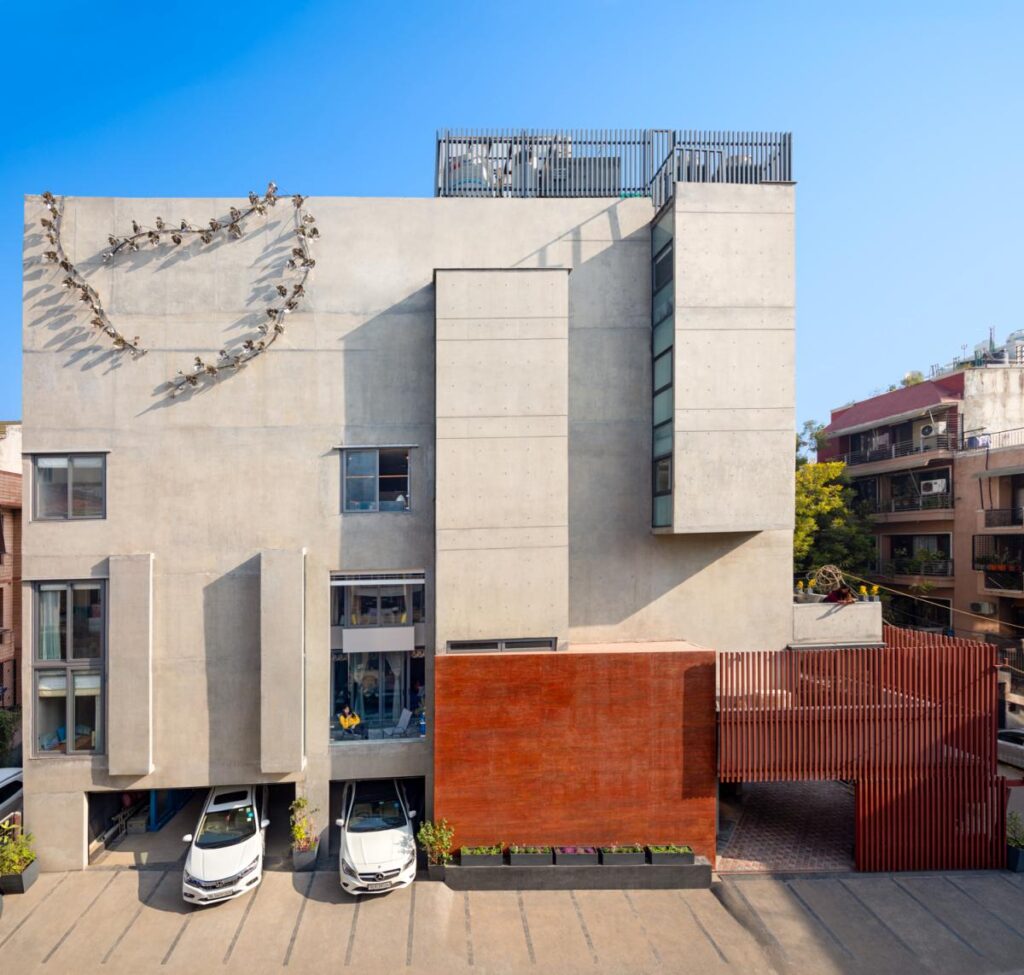 A challenging plot within South Delhi responds to the adjacent ecosystem through its concrete form that addresses residential architecture through a play of light, volumes, and proportions. The design proposes a new lifestyle in contrast with the urban context, along with individual privacy. The design objective was to challenge the inertia that has invaded our everyday lives. The house is such manifested that it does not hinder the existing natural setting as it is bound in a dense urban fabric, in a tight plot and has a commendable play of lights and shadows through various apertures in the walls and ceilings to create "architectural landscape". Like a silent wall, the house defies the noise and bustle of daily life.
The whole building represents a series of surprises, from the entrance, which has a drive-through, to the sculpture that manifests itself through the façade. Slit windows provide a glance at the outside world and bring in natural light while adorning the otherwise somewhat bleak facade. The entire composition is dependent on the small plot size of 22 x 6 meters and relies on the concrete cuboid that crowns it to define its distinctive character. The depth and volumes inside the house are a result of careful consideration of proportions, despite the challenging linear plot.
Through various slits in the concrete façade, one enters a private world, one of bare materiality and aesthetics, where the stairwell leads to rooms of pure symmetry, filled with natural light and the gentle swaying of minimal furniture. The design attempts to create a dialogue between internal space and environmental context. The austere and blank façade conceals the playful life within, one that is adorned through elements of light and volume.
A house becomes a home through the introduction of natural elements into the architectural space, rather than making elaborate forms. The design adopts simple geometries to draw delicate yet dramatic play of both light and volume. Narrow apertures have been punched through the façade and manipulate complex crossings of natural light and shadow into the interior spaces. The house is thus ingeniously imbued with light and air. A triple-volume living space upon entrance is devoted to daily life, composed of perceptible geometry, with the insertion of a concrete wall dedicated to the expression of creativity running within the family.
A pool with a retractable roof, terrace garden, and projector screen at the top creates spaces that promote the development of modern individuals. Cleverly arranged building elements made of exposed concrete and glass reflect the incident light and create lively shadow plays during the course of the day. Above all, the living space volume creates an independent space that defines contemporary houses.
Drawings
Images
Project Facts
Principal Designer/Architect: Sourabh Gupta
Built-up Area of project: 6750 sqft
Carpet Area of project: 5500 sqft
Location: South Ex II, New Delhi, India
Completion date: 18th April 2021
Photography credits: Andre J Fanthome