Amidst (and after) a series of heated debates and arguments, the day has finally arrived for the country's new Parliament Building to be inaugurated. Located adjacent to its circular predecessor, the new structure will be unveiled by Prime Minister Narendra Modi today- May 28, 2023. The Indian Parliament will be the first major building constructed as part of the Union Government's ambitious Central Vista Redevelopment Project and the second inaugural after the revamped Kartavya Path (formerly Rajpath). For a project constantly embedded in controversy and politics since its conceptualisation, it is no surprise that the inaugural ceremony has resurfaced debates discussing the relevance, process and outcome of the project.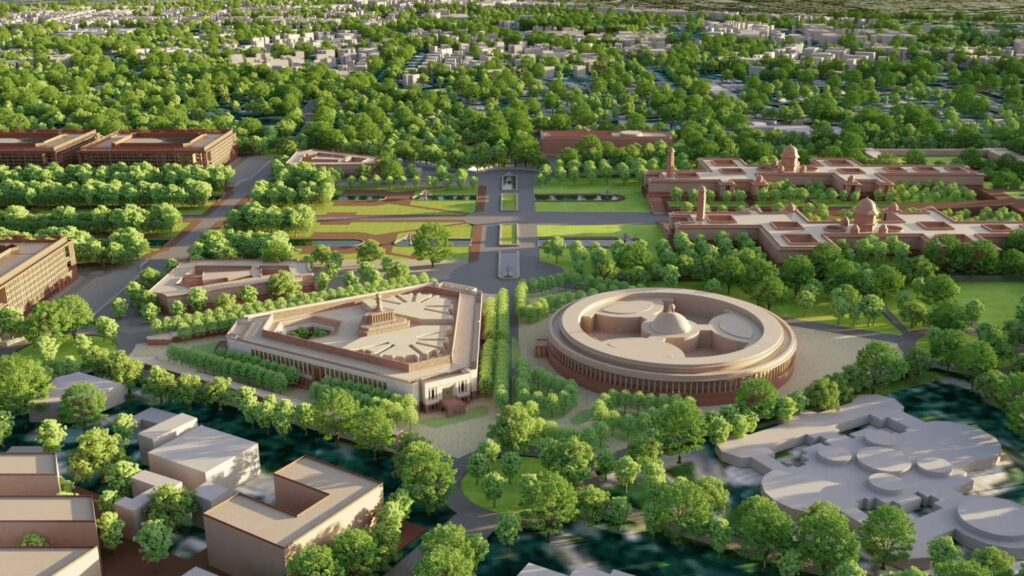 The Government of India has constantly cited inadequate space, deteriorating conditions, safety issues and difficulty in maintenance of the buildings along the Central Vista as the reasons for executing this project of National Importance. According to the official site for the Central Vista project, the central hall of the current Parliament is only designed to accommodate 440 persons. The Parliament was designed to accommodate 543 Lok Sabha seats, as against the current 545 members- a number expected to increase in the coming years and 250 Rajya Sabha seats (Rajya Sabha currently has 250 members). The new building is said to accommodate 770 and 530 seats, respectively. The Government also claims that the original Parliament (1921-1927) was built when Delhi was in the Seismic II Earthquake zone, compared to the Seismic IV zone it is currently categorised under.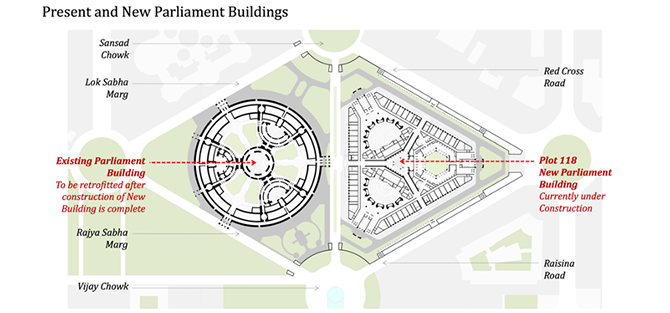 From the foundation stone laying ceremony in 2020 to the unveiling of the State Emblem atop the Parliament building in 2022, since its announcement, architects, urbanists, environmentalists, politicians and other professionals have constantly voiced their opinions against the undemocratic process followed for the Central Vista Redevelopment Project, including the Parliament building which is spread over an area of 64,500 square metres.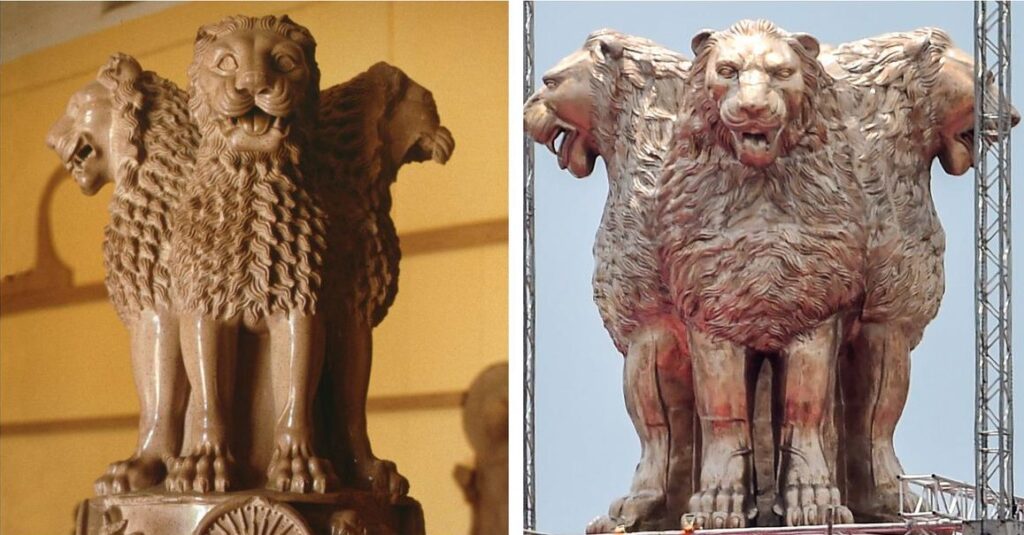 The latest criticism revolved around the building's Peacock-themed Lok Sabha, with people pointing out the over-ornamentation as inappropriate for the Indian Parliament. The New Parliament's interior is inspired by three elements- the lotus, peacock and banyan tree. People are also criticising the Prime Minister for unveiling it in place of the President and Ceremonial Head, Droupadi Murmu.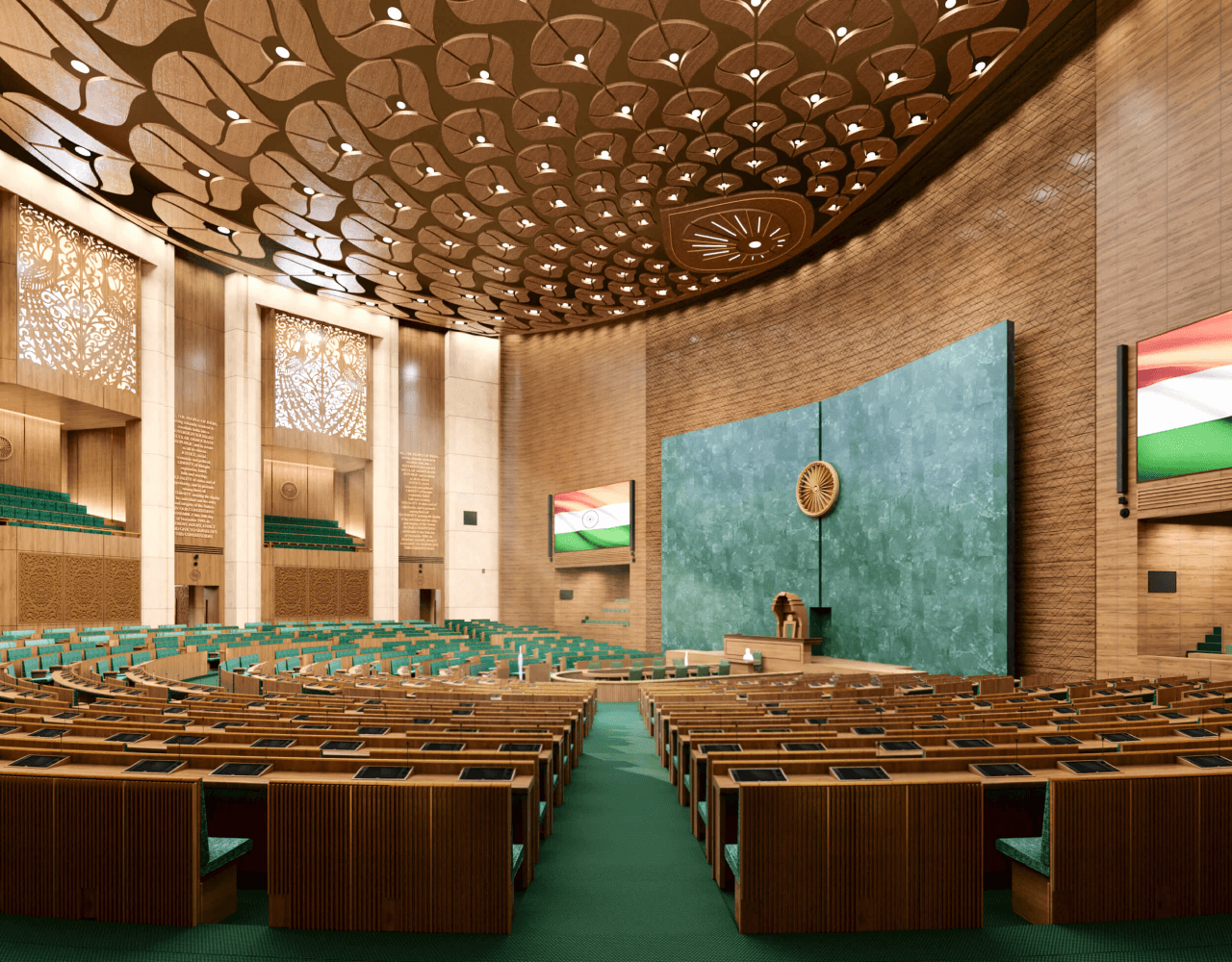 However, despite all the criticism, the Indian Parliament is set to get its new identity.
Built by Tata Projects and designed by HCP Design, Planning and Management Pvt. Ltd., the triangular-shaped structure also has a constitutional hall, a lounge for MPs, a library, multiple committee rooms, dining areas and increased parking space. (Source: NDTV)