Seeds of Rememberance
rat[LAB] Research in Architecture and Technology participated in a Global Architectural Competition for the National War Museum organised by The Government of India. The Museum will come up in the Princess Park in the Lutyens Zone near India Gate.
The project is designed with cutting-edge technology at the forefront of design conceptualisation and development. A 'Digital Platform', accessible to public using QR Codes embedded as patterns on Spires, form a key component of project that connects physical site to a virtual site / platform containing a database of martyrs.
Project Location: New Delhi, India
Design Organisation: rat[LAB] Research in Architecture and Technology

Project Lead: Sushant Verma

Design Team: Sushant Verma and Vikram Roy
India got its independence from The British Rule in 1947 but the earliest known reference to armed forces are from millennia ago in the Vedas and the epics Ramayana and Mahabharata. From the ancient period to the 19th century, a succession of powerful dynasties and empires came to be and some were challenged by lesser Indian rulers who also struggled for land and power through warring. The British colonized India during the 19th century and formation of Indian Armed Forces dates back to year 1830 as Her Majesty's Indian Navy. This, officially, was the FIRST SEED sown in the history of Indian Armed Forces, followed by Indian Army in 1895 and Indian Air Force in 1932.
Since the formation of these armed forces, there have been branching out of multiple units, regiments and squadrons at various hierarchies that have been involved at warfare and peace keeping missions in their own capacities. National War Museum celebrates these forces to remember the existing groups among the lost brave hearts. The Indian Armed Forces, sub-categorized into Infantry Regiments, Armoured Regiments, Units of Regiment of Artillery, Paramilitary Regiments, Squadrons of the Indian Air Force, Squadrons of the Indian Navy, Army Aviation Corps, Border Security Force, Indian Naval Units and Indian Coast Guard Divisions, form about 215 units, all of which have been denoted as Seeds of India to be celebrated, remembered and honoured through this Museum of a new typology. Stories and Details about these seeds are embedded into 215 spires that rise from a part-excavated ground as structural columns of gradually variable sizes. These hold 15 inter-connected building blocks that are fragmented from the site attributes (Geometry; 7 vertices) through 7 predominant directional axes representing 7 major wars & missions.
Seeds as Structural Spires Interpretation of AXES
Indian Armed Forces, with its detailed classification as Regiments, Units & Squadrons are laid down as 215 structural spires emerging from the lowermost level (-30m.) at the South part of the Museum site. These spires are embedded with textural engravings and QR Codes for physical as well as digital interaction throughout the site displayed at different levels of human eye access. Physical attributes of these structural columns vary with a gradual increase in diameter and height from south to north, with the oldest unit designated at south end, while the youngest unit denoted at the extreme north part of the site. The variation gives an installation-type visual reading to the Museum building hidden behind the thick foliage of landscape, with about 70% of built-form below the ground level.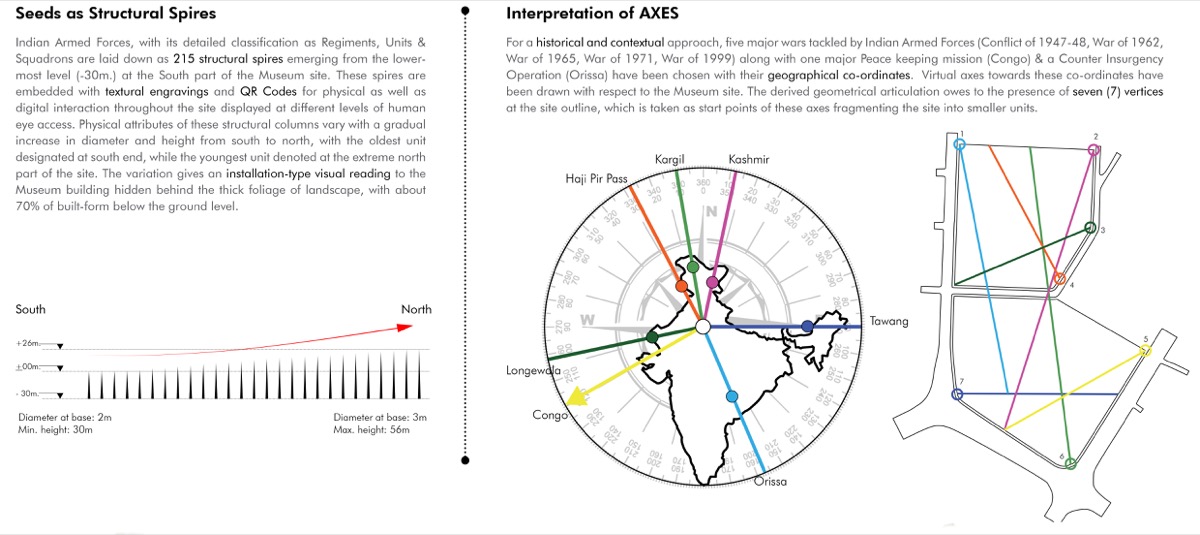 Interpretation of AXES
For a historical and contextual approach, five major wars tackled by Indian Armed Forces (Conflict of 1947-48, War of 1962, War of 1965, War of 1971, War of 1999) along with one major Peace keeping mission (Congo) & a Counter Insurgency Operation (Orissa) have been chosen with their geographical co-ordinates. Virtual axes towards these co-ordinates have been drawn with respect to the Museum site. The derived geometrical articulation owes to the presence of seven (7) vertices at the site outline, which is taken as start points of these axes fragmenting the site into smaller units.
Functional Zoning & Morphology
The site is divided primarily into two parts – North Block and South Block where South Block is an agglomeration of building blocks suspended on triangular-column grid in a large sized pit. These blocks form an urbanscape made of multiple roofs (hardscape & softscape) interconnected by a series of Steps & Ramps for public usage. These areas, along with vertical spires, give an installation-type character to the Museum. The North Block comprises of three primary museum blocks – Indian Army, Indian Navy, Indian Air Force, along with a multi-level car park block that connects to the South Block at 3 different horizontal levels – Base Level (-30m.), Auditorium Level (-22m.) & Ground Plane Level (+0m.)
1) Indian Army Bhawan
2) Indian Air Force Bhawan
3) Indian Navy Bhawan
4) Multi Level Parking
5) Ticketing Counters + Information Kiosks + Cafe
6) Auditorium + Conference Halls + Cafe
7) 1947 + 1962 + 1965 War Exhibition Galleries
8) Restaurant + Cafe + Information Kiosks
9) 1971 + 1999 + Counter Insurgency Operations
10) Storage Space
11) Workshops + Labs
12) Indian Military through British Era
13) World War I + World War II
14) Ticket Counters + Food Kiosks
15) Ticket Counters + Admin Rooms
Triangular Grid
Triangular geometry of roads / axes being formed between India Gate, Rashtrapati Bhawan and Connaught Place, further subdivided into triangular fragments.
Structural & Axial Integrity
With a top-down approach ,triangular grid is adapted to the site following a strong contextual urban system at a site-level. The same adds to the structural integrity and potentials of the new built-form which is intertwined between 215 Nodes as Spires.
INFORMATION SPIRES & DIGITAL PLATFORM
'Digital Platform' for National War Museum comprises of an entire database of soldiers, facts and trivia about wars (to increase public engagement and interaction) as well as direct links to government portals associated with wars. This does not limit the proposal to a physical site merely and creates wider opportunities of public engagement and exposure. 215 Spires that emerge as structural columns are engraved with pre-designed QR codes (each leading to different points on the Digital Platform) as well as textual information about the units, regiments & squadrons of Indian Armed Forces for the general public. The platform, as a web portal, will comprise of search directories for soldiers (by name, regiment/ unit, war, year, etc.). Information about each soldier will be linked to a publically available database which will aid government in maintaining digital records. Facts & Trivia about various wars, conflicts and peace-keeping missions will be available on homepage of portal. A red dot indicating 'You are here' will help people orient to the Master Plan of Museum which will promote circulation and interaction within the site. Access to 'Armed Forces Portals' (Indian Army, Indian Air Force & Indian Navy) will be through homepage of portal to create more visibility and exposure for these government-run websites. The entire portal will be integrated with latest technologies to collect data that can be collected and analysed by the government for improvement of public spaces in the country.
Presentation Visuals

About rat[LAB]
rat[LAB] – Research in Architecture & Technology, is an independent research organization and network of designers & researchers specializing in computational design or similar technology-related domains. Operated as a cloud-based organization with an international network of researchers & computational designers spread across UK, USA, Europe & Asia, and a studio in New Delhi, India, the research cell functions as a global collaborative and multidisciplinary laboratory facilitating design research that leads to novel spatial tectonics and smart built environments.