A learning environment by Studio Sangath, Ar. Balkrishna Doshi, that frees, elevates and enriches the mind | Text by: Rama Raghavan
During colonial rule, the cells and bells model of schools proliferated that imagined learning environments as models of control, meant for churning out subservient individuals as opposed to critical thinkers. Doshi recognised the urgency to transform this oppressive model. He was taken by Tagore's ideas of education as the source of freedom of mind, spirit and will. He believed that through Architecture, Tagore's philosophies could gain tangible form and help in bringing meaningful pedagogical transformation.
The language for learning environments that Ar. Doshi demonstrates through his design for the Shreyas School in Ahmedabad, is one of freedom, proximity with nature, and blurred boundaries between the built and unbuilt.
The Shreyas Foundation Comprehensive School was Ar. Doshi's commission for Leena Mangaldas, daughter of Sarladevi Sarabhai, in 1963. Having been inspired by the Montessori concept of learning that lay importance on learning by observation, Mrs Mangaldas urged Doshi to envision Shreyas as a series of liberating encounters that encouraged children to learn from nature by engaging with its inherent experiences.
The campus is designed for allowing the act of meandering and discovering- aspects that are crucial in developing a curiosity for learning. The unbuilt takes over the built purposefully, reinforcing the humility of man-made creations in the face of nature- gestures that implicitly nurture values of sensitivity and respect towards the environment and ecology.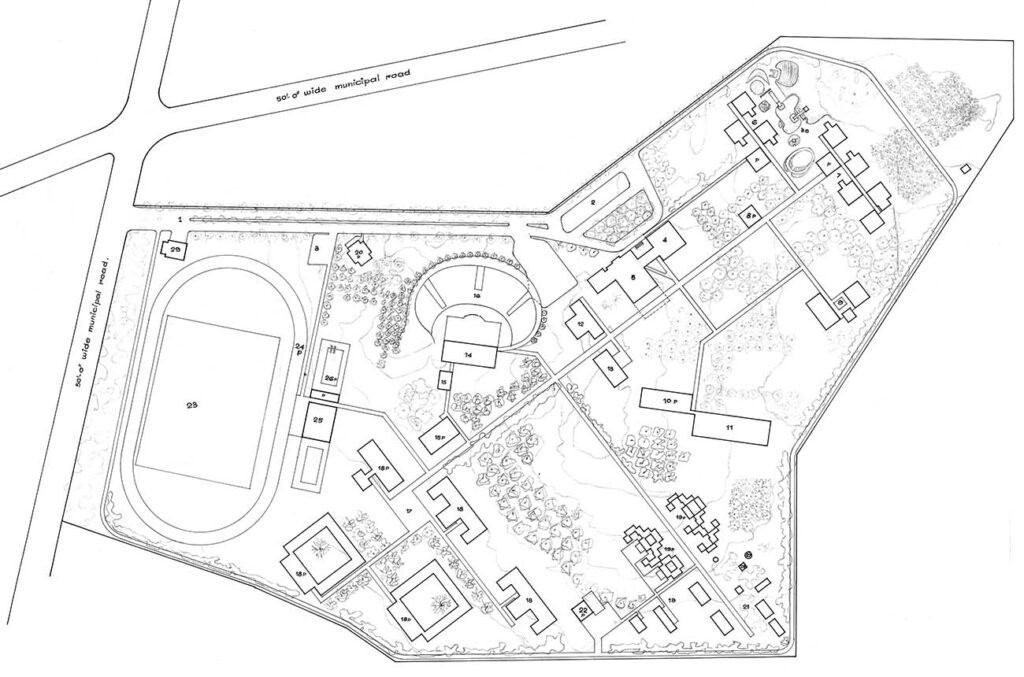 The thirty-acre site is a sylvan setting with dense trees, some of them very old and spread magnificently. Building layouts echo the verdant surroundings and are designed to wrap onto the natural gradient. The entrance block with an overlooking bridge is in a material palette of exposed concrete and brick tile cladding. As the building ushers the children in it acts as the gateway to the site. The ground plane is freed to let the children pass through the building and spill out onto the campus grounds. The diverging pathways thereon lead the students and staff to various parts of the site.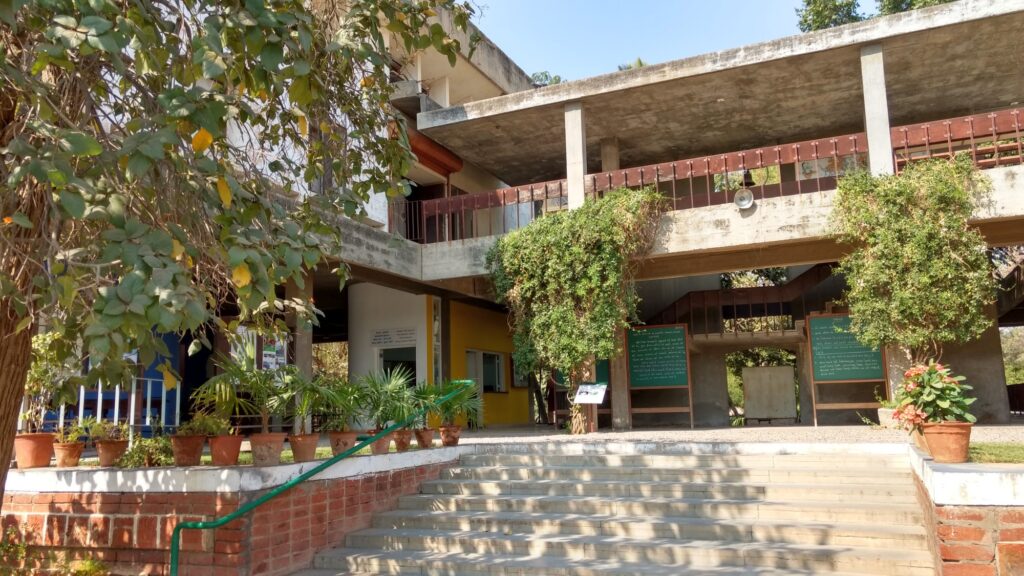 Classrooms are staggered in clusters of open and semi-open spaces reminiscent of the organic hut patterns seen in villages. The pathway leading to the classes opens into smaller courts between classes that encompass trees and appear as inadvertent spaces for play.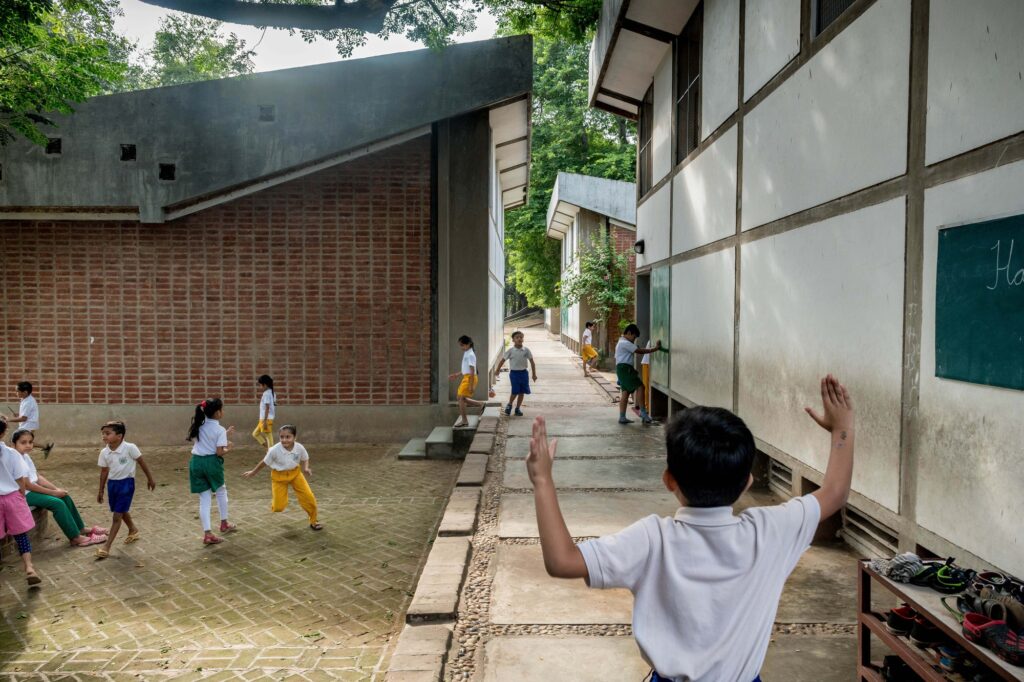 The sandwiched RCC roof also responds to the hot and dry Ahmedabad climate by creating an insulating air-flow gap that keeps the interiors cool during peak summers. Structure, function and aesthetic coalesce in the form of horizontal and vertical concrete bands of a modular rhythm. These become internal niches that act as storage spaces for keeping school bags and books. The learning space oriented Southwest- Northeast opens out to a deep verandah with its wall perforated by louvred windows bringing in the fresh air and natural light. Children can be seen gathering to eat lunch or chit-chatting in these spill-out spaces; with a step-down, the earthy terrain and tree groves invite them to run about, chasing butterflies and peacocks that roam happily around the campus.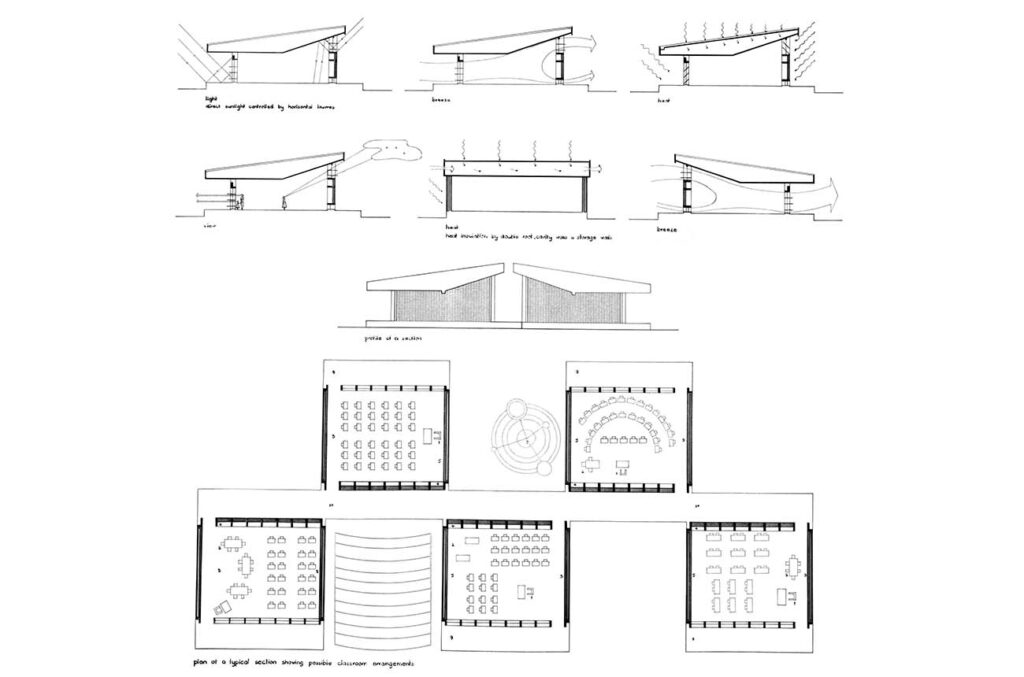 The campus is interspersed with open-ended buildings that allow for flexible use. This too aligns closely with the Montessori concept of fostering each child's personal growth without generalizing the teaching-learning journey.
Children in Shreyas learn from Nature through sensory experiences- bird calls and rustling leaves, earthy aromas, changing seasons, transforming sky and the constant play of light and shadow- hiding and seeking with the little ones.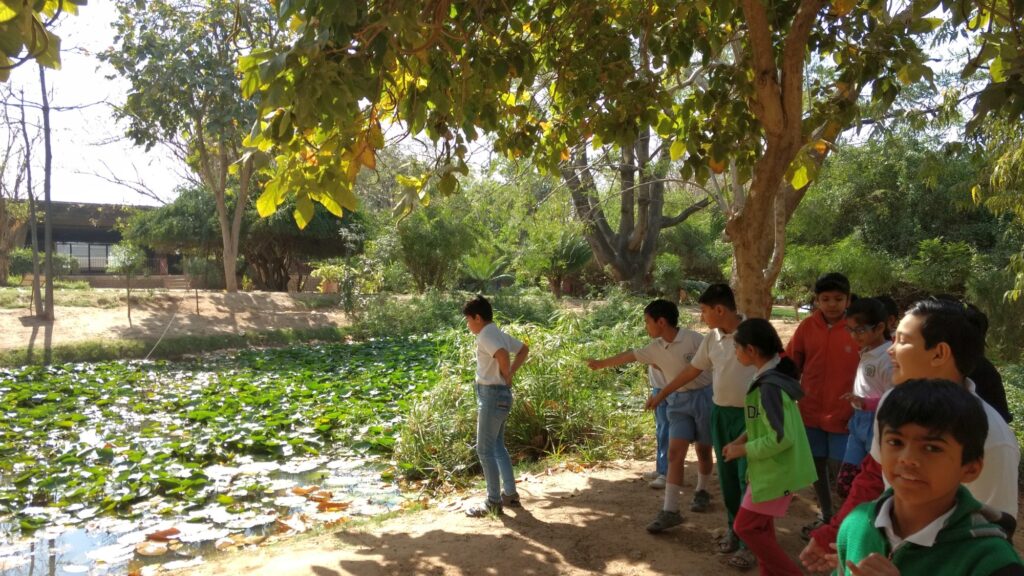 School education even now is largely synonymous with a singular focus on strict adherence to a pre-set curriculum. Spatial considerations invariably take a backseat. This is why we see so many schools being run in spaces that are absolutely unsuitable for even habitation, let alone learning. Learning environments have the power to spark change, and schools like Shreyas become cases for designers to emulate and learn from.
By creating an architecture along these lines he encourages the process of learning to break free from preconceived notions, to become a tabula rasa waiting to be filled organically- unhindered and infinite in its possibilities of growth.
Project Facts
Project Name: Shreyas Foundation School
Architecture Firm: Studio Sangath
Location: Ahmedabad, Gujarat
Client: Leena Mangaldas
Architect: Balkrishna Vithaldas Doshi
Site area: 30 acres
Completion Year: 1963
References
Doshi, B. V., Kries, M., Kugler, J., & Hoof, K. (2019). Balkrishna Doshi: Architecture for the people. Vitra Design Museum.
https://www.sangath.org/projects/shreyas-foundation-comprehensive-school/
---
About the Author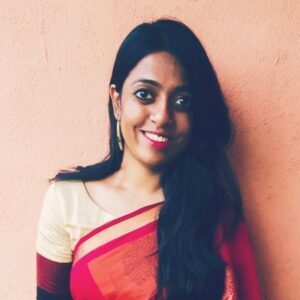 Rama Raghavan is an Architectural Writer based in Pune. She strongly believes that multidisciplinary perspectives enrich design thinking and trigger critical discourses. Rama has worked as an Editor for the publication cell of an Architectural Institute in Pune. She is passionate about expressing her ideas through Research and Architectural Writing, and several of her articles have been published on various platforms.