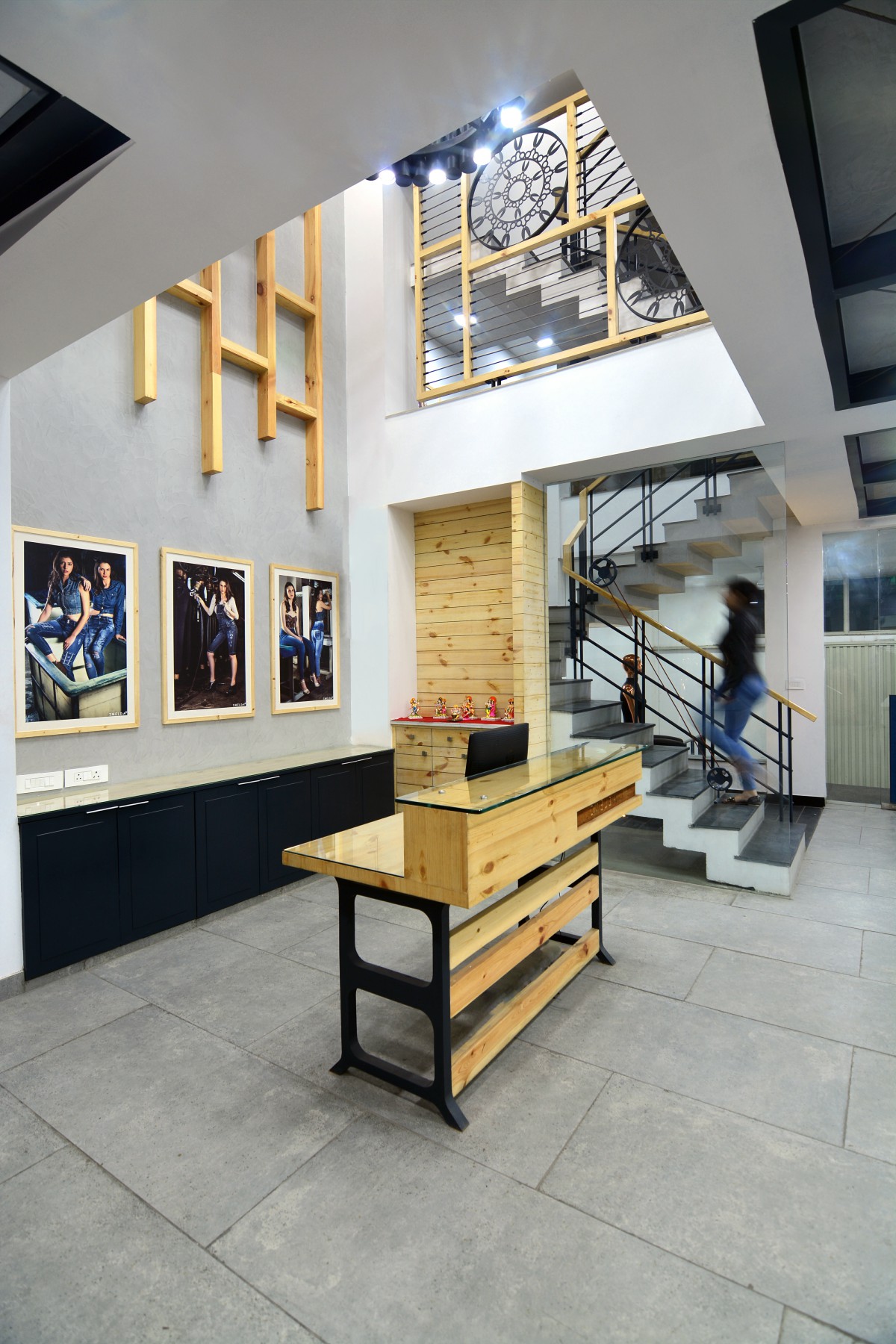 It's no secret that office design can either enhance or dampen the company culture. An office is a medium that reflects and reinforces a business core values through functions and design elements that reflects culture, brand and values. The Client who owns a denim business, had a similar thought that came along their passion to create an office that could define themselves and their business venture. The brief was to set up a theme based office with factory and showroom under a single roof where they could manufacture and showcase.
The concept was visualized with denim and things which are used or related to produce a finished denim product from a raw material. So the objective rather became to use elements like threads, scissors, denim cloth and other elements which are used in abstract way to create a journey.
Since it was a theme based concept, every detail is customized just to add a connection between elements.
Also the goal was to create an experience center for the people coming in to feel the essence of their work and creative side of their venture. The idea was to create a setting where people working there also could connect to the ideology of the space. The design process revolved around making the project a treat for the design seekers.
The site is located in one of the busiest industrial area in Delhi with site area about 3000 sq.ft. Since this office space is accessible through a busy road, so an entrance buffer area is created to separate office from outside area. The material pallet is kept neutral using greys and whites with pine and rustic metal to add textures to the space and a contrast of blue denim shade which adds color.
As ones enters in the space with staircase on the right and a corridor space with a ceiling element with a customized fitting which is influenced from cross stich knot with light in the center. This corridor space opens up in a double height space reception area with grey texture on the wall progressing on the ceiling along with harmonious maple battens which fuse with the ceiling. This adds vertical scale to the space and creates a relation with the upper spaces.
Attention is given to the light design in the double height space which is made from series of vertical tubes aligned in circular shape with random light points in vertical tubes.
Reception is furnished with a customized design of table inspired from sewing machine table.
Adjacent to it is the waiting area with white brick wall texture at back eccentric rustic metal cladding on the other wall, continuing in the adjacent corridor space.
Showroom was intended to place on ground floor only as this would be easily accessible to visitors. This showroom have been conceptualized in contrast to the office as the flooring is blue concrete seamless flooring bringing in the denim character into the space. With blue flooring on the base, white brick texture on the walls, the ceiling is designed with maple battens with tapered elliptical cutout and an elliptical light tapered in the opposite direction. Showroom is furnished with a table with 3 lights coming over it in the form of thread holder which are connected to each other with threads showcasing creative application.
With use of clear glass in showroom one can connect the whole space, therefore increase in visual volume. Also glass door handles has been designed using denim cloth and metal frame around it, so anyone opens up a door could experience feel the textures of their beloved possessions.
First floor holds the major working area of the office, designer space, MD Cabin and executive working areas. Designer area is conceptualized in the same way as showroom as its one of the core creative area. The flooring is kept same as blue concrete seamless flooring in the designer's area which host 4 workstations and one table for general discussions. Ceiling in this space is conceptualized with a very interesting thought of creating an actual measuring scale on the ceiling running down on the wall.
These certain elements in the designers space unconsciously encourages designers to level up their creativity and feel more connected to their respective work.
MD room is intentionally planned in the front part of the office in order to seize maximum natural light in the room. The idea for MD room was to give a warm rich feeling to people visiting the office with maple battens on the ceiling and wooden flooring at base along with white and grey textured walls look more inviting. The room also comprises of explicitly designed display cabinet in maple with rustic metal cladding at back and cove light washing over it, giving it a beautiful rustic texture.
A very eye-catching screen has been designed between staircase and double height space using tension wires and a jaali visualized from scissors in a very abstract approach. This screen is conceptualized not merely as partition between 2 spaces but also acts as an artwork derived from their working culture and office concept story.
The office boasts about its open plan and light color pallet that enlarges the space. All in all the office has an aura that leaves an impression of wholeness and expresses the potential of a balanced contemporary design.
Project Facts:
Project: Imelda.inc
Location: NEW DELHI
Site Area: 3000 SQ.FT (approx)
Built-Up Area: 6000 SQ.FT (approx)
Firm: Spaces Architects@ka
Principal architect: Kapil Aggarwal
Project Architect – Amit Bhatia
Photographer: Amit Bhatia and Ajay Nirmal
Client: Imelda.inc