flYingseeds is a pragmatic practice by an aspired interdisciplinary team of young Architects and designers who are passionate about innovation in designing and crafting spaces for living, work and leisure. We learn and share.
flYingseeds Studio was established in 2015 in New Delhi India as a team of highly trained and passionate Architects with a global vision in architecture and urban design. The firm has dealt with various projects of multiple scales and vivid contexts, providing comprehensive architectural consultancy services to various organizations.
A comprehensive Design consultancy with the Vision to remain in power with contemporary global standards of the field and simultaneously develop an indigenous design practice with an eye for detailing, immensely explorative in terms of materials and construction techniques.
Our work is rooted in keen consciousness towards the environment and the context we are building in.
We consciously integrate architecture and Nature together as an ever-evolving idea based on relevant profuse factors every project has to offer, However, May call it progressive contemporary architecture where we follow distinct perspectives to understand the real concerns connected to the deeper realms of people and place
We thrive with every project with a unique idea, and fresh story with our intuitive approach shifting the focus as per the scale of the project, which is made possible with the composite use of the latest cutting-edge technology and creative use of existing sustainable ways of making structures with the team of finest vendors and contractors.
We are enthused to create breathable buildings where natural light penetrates deep to accentuate the quality of the spaces and use the material palette of concrete, brick, steel, stone wood etc in their most intrinsic form to intensify and celebrate the visual and tactile sense.
We are constantly immersed in research, case studies, learning technologies, and sustainable issues.
We are passionate about contemporary aesthetics, sensuality in detailing, and exploring hands-on new parametric and computational techniques to visualize and resolve complex designs proposed for the given project which is very significant in its place and purpose.
The firm handles versatile architectural and interior projects in residential, commercial, retail, institutional and hospitality projects located at important centres like Delhi NCR, M.P. (Bhopal), Karnataka (Bangalore), UP (Agra, Lucknow), Uttaranchal(Dehradun), Himachal (Manali), Jharkhand (Ranchi), Chhattisgarh (Raipur) etc.
The Team
Abhinav Chaudhary, Director and founder at flYingseeds studio, graduated from the Government College of Architecture, Lucknow (U.P.) in 2008. Working for more than 14 years, his experience spans from designing private residences to large educational institutes and stadiums. He has worked as design head for numerous award-winning projects. In these years of practice, it is clearly reflected that he has been spunky for his architectural aptitude, being original and exhilarating to take up the most challenging design ideas and delivering each one of them in the most distinctive way. His intimacy with interrogating the 'Program' of the project and understanding deeper values and lifestyle of end users creates key aspects for the architectural creativity and innovation to take its course at flYingseeds. He believes in the synergy of ideas of the team for any project is essential to come into being and evolve. The studio works as an open platform for all the co-architects, designers and creative minds that are free to share their opinion, observation and experience for any aspect of the project.
Kakoli Bhattacharya, Director at flYingseeds studio since Feb 2016, graduated from Pillai College of Architecture, Bombay in 2010. She was exposed to architectural practice very early in her life which has grown deep in her instinctive design sensibilities. She has a diverse work experience in conservation and restoration design with ASI and INTACH (Mahakal temple precinct interpretation centre, Ujjain) Hospitality buildings for M.P. Tourism (Palash Hotel, Bhopal (M.P.). Socio-cultural buildings (Art of living Bangalore, Educational buildings (DPS Bhopal) and Further she has successfully designed and executed various high-end private residences and large institutional projects. She has done and mentored numerous workshops on earthen architecture and sustainability. She is ambitious, methodical and research-oriented. Her keen eye for design detailing and exemplary knowledge of ever-evolving architectural technologies and material finishes flourishes the designs and is realized in every project at flYingseeds.
Key works by flYingseeds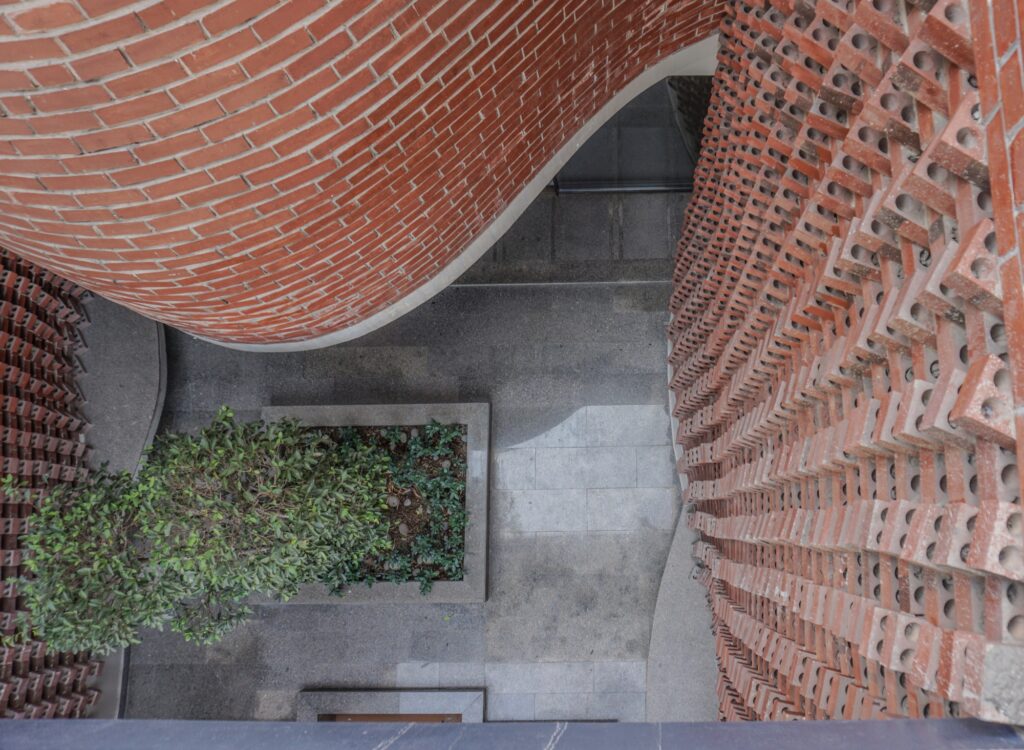 Future Trajectories | Dialogues