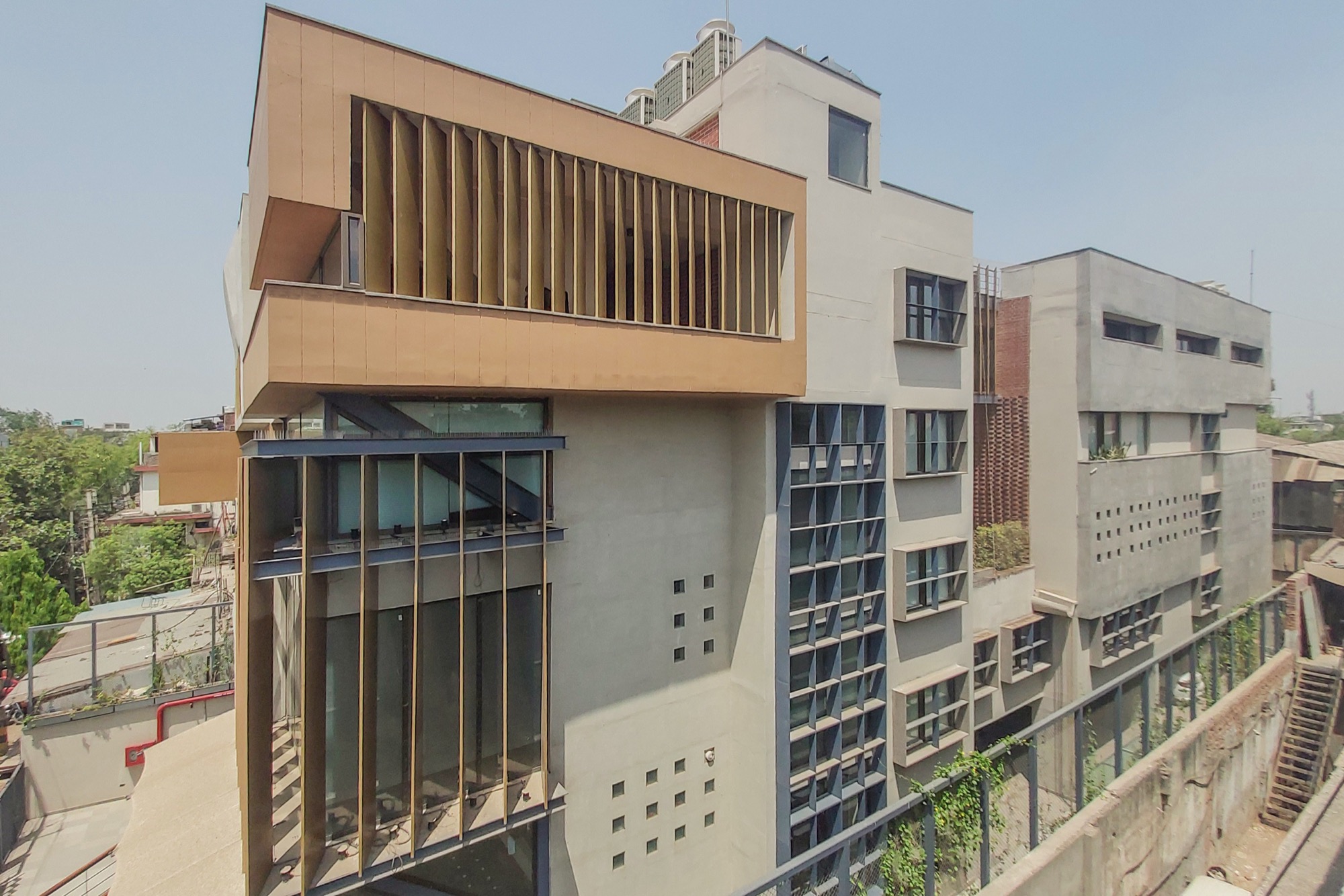 Romsons: The Headquarter office to a medical surgical industry Rises amidst the old, dilapidated industrial warehouses, small factory plants, junkyards in the swarming industrial Area of Delhi, India.
The Design evolves with the intent to stand calm and composed. The Building claims its entity in the entire vicinity, bringing a sense of pride and  belongingness to its users.
The Concrete building mass is steered and sliced by three vertical planes strategically to attain relief spaces at the front –double height RECEPTION LOBBY, Ground floor and at the center –Courtyard, First floor, revealing the inner flesh of the building which breathes through articulated terracotta brick parametric screens.
The North – South orientation rectangular plot with South facing front faces the entire day journey of the hot scorching Delhi Sun, where the summer lasts for straight eight months annually.
The Building Façade responds to the two aspects – Responding to the Climate and Augmenting the immediate context.  
The Façade is an outcome of a simple evolution process from line to plane to forms. The Responsive Façade of the building is dominated and also unified by distinctive numerous vertical louver sun shading system, articulated neatly over the High performance DGU thermal break windows to cut down the south Sun gain consequentially.
The consequential central courtyard on the first floor is a significant relief amidst the massive concrete block which is an 'open to sky' calm space stimulating tranquil, cool, green micro environment with a water body and trees. Created by enclosure from two sides by terracotta brick jali, the breathing walls, brings in cooler air inside the building, reduces the dependability on Air conditioning and contributes again towards energy efficiency of the building.
Images:
Project Facts
Project Category: Office Building
Architects' Firm: Flyingseeds design studio, New Delhi
Lead Architects:  Abhinav Chaudhary, Kakoli Bhattacharya,
Team     : Pushpendra kashyap, Sahil Lamba, Shubham Aggarwal, Rishabh Kamboj
Project location: New Delhi, INDIA
Completion : November 2021
Gross Built Area:  35000 sqft
Total Site Area: 10500 sqft
Photo credits: team flYingseeds