Treehouse Office, New Delhi by Flyingseeds Design Studio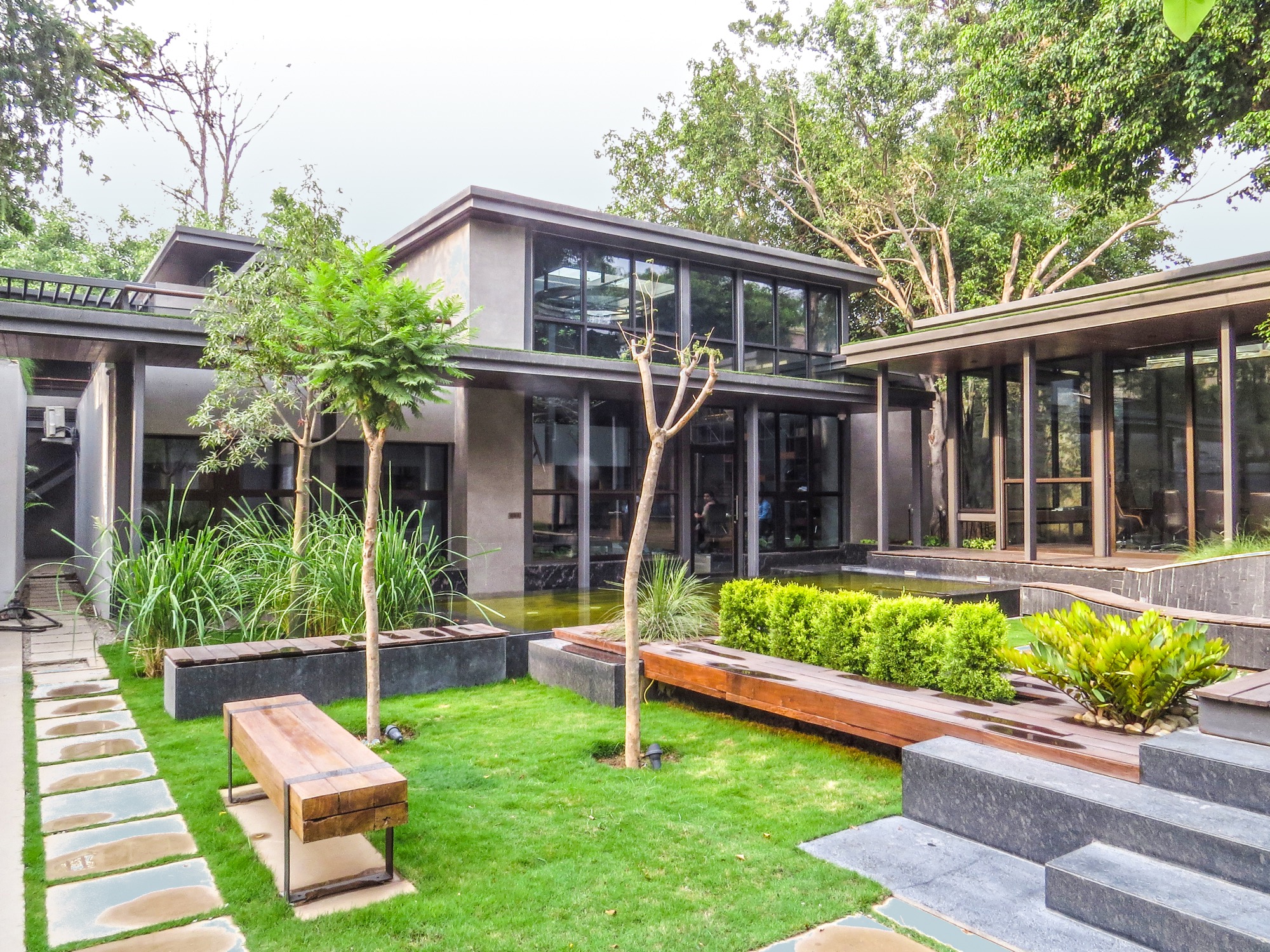 Our traditional understanding of workspace and culture is being remodelled. The expectations, challenges, and lifecycles of our employees are changing rapidly; how do we empower our teams to pioneer into a better world and towards healthy productivity? Then, how are we nurtured within a comfortable work setting? Workspaces today need to transform and evolve its pattern and conducts regarding spacial and personal hierarchy, inducing flexibility in programs and systems. This is designed to help accentuate productivity and creativity in working environments. Further, evolving as a co-working space that instils impetus within the teams and heads respectively.
When we observed the site with old existing trees, we were totally inspired to design an organic eco-work space where all the existing trees are the pivot nodes creating a series of courtyards and atriums for the workspace amidst the tranquil environment that participates with nature. With an intention of setting new standards for the company culture and creating a landmark and a sense of space through its organic architectural vocabulary and a stimulating green environment as well! The green design of the building combined with ecological concerns provides optimal environments essential for making a climatically responsive building.
The existing small built mass at the sunken site was conceived as the pedestal for the main reception lobby connected to the entrance through a bridge. Horizontal and vertical planes were juxtaposed strategically to inscribe trees creating a large central court, a series of small internal courts and double heights atrium workspaces with amplifying the openness inside out. The Central court with extensive landscape design and superimposed seating arrangements with a large edge pool, constantly flowing water stream, flora-fauna and amidst tactile and visual frames of nature to enhance the concept. Both formal and informal spaces integrated with landscape formulate the design with a conscious transitional circulation- this humidifies all the hot air arriving from the south before entering the main workspace. We also intend to break open the walled system arrangement of areas into an open-office system. This invigorates transparency and organizational clarity! The idea intends to make a conscious step towards face-lifting office environments and focus on ecological green practices at work, their habits and the long-term environmental impact; Delivering an avant-garde design scheme!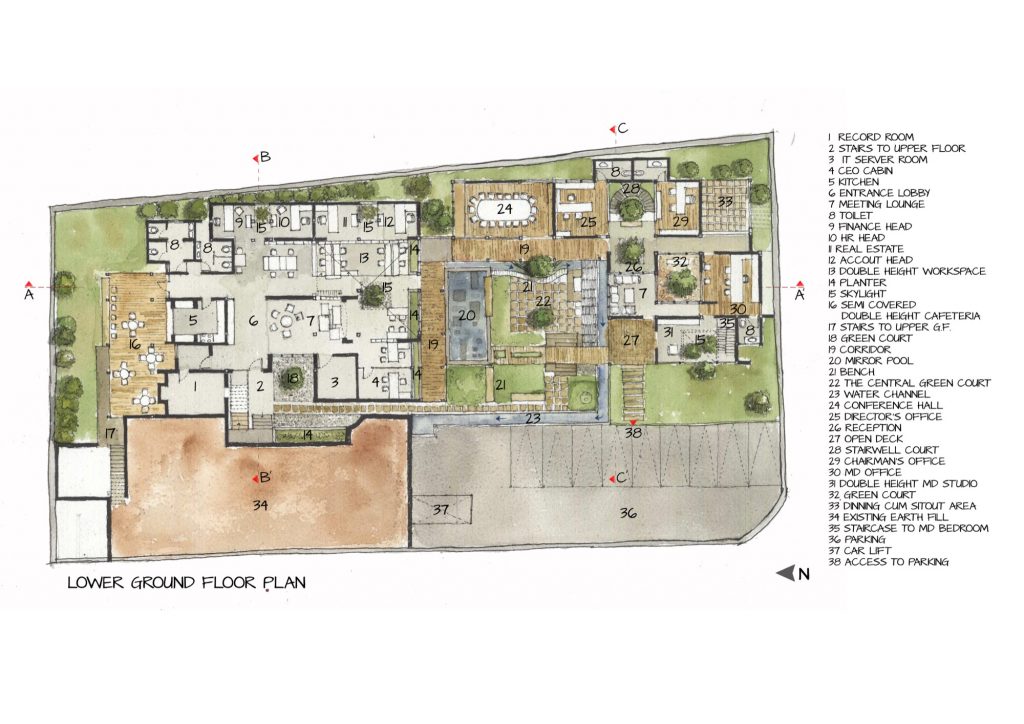 We learned to compose sublime polyphonies of affable office space around the trees, with the trees and for the trees. The climatically responsive design is resultant of a series of multiple covered and open to sky courtyards housing the existing trees, keeping the indoors cool and bringing in abundance of daylight for entire working hours. The lean, light and resilient steel structure is used to occupy the least space around trees and to maximum flexibility.
Images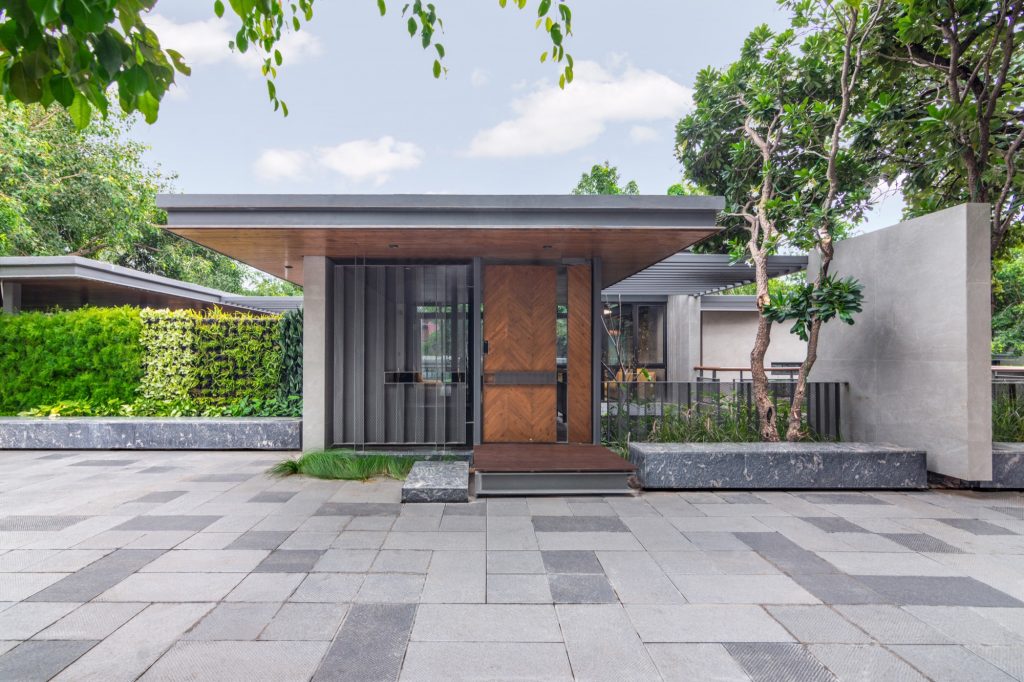 Project Facts
Project Name: TREEHOUSE OFFICE
Project Location: New Delhi, India
Typology: Office Project
Lead Architects: Abhinav Chaudhary, Kakoli Bhattacharya,
Team: Harish Chauhan, Shubham Jain, Debopriyo
Completion Year: 2018
Gross Built Area: 15000 sqft
Total Site Area: 20000 sqft
Photo credits: flYingseeds Studio, Satish Kumar