On B.V.Doshi's 90th Anniversary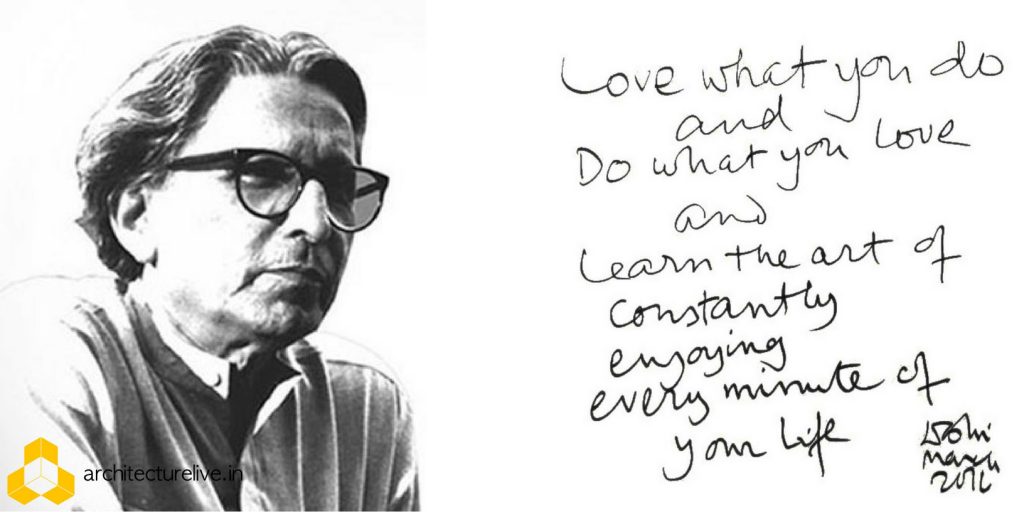 The evolution of design – almost surprisingly – can be summarized best through this quote by the physicist Isaac Newton: "If I have seen further than others, it is by standing upon the shoulders of giants."
Architecture is – if stripped down to the basics – the art and science of adoption and adaption: of aesthetics, of sensibilities, of methods, techniques and technologies – and even values – to create a stylistic vocabulary all one's own. Architects learn and draw inspiration from everything – from art, from nature, from politics and religion – but most importantly, we learn from those who came before us.
Balkrishna Vithaldas Doshi – one of the finest architects this country has ever produced – is one of those metaphorical giants. With his interpretation of turn-of-the-century modernism with a liberal infusion with Indian spatial sensibilities as well as brutalist material expression, his work constitutes and defines an era.
B.V. Doshi's experimentation with concrete created post-modernist masterpieces that were a testament to independent India's self-sufficiency in technical matters
Today, Ar. Doshi turns 90. In a time when architects – especially young graduates – struggle to find a place within the profession to call their own, it is both awe-inspiring and heartening to examine his body of work and the far-reaching influence it has. He is widely – and fondly – referred to as a Master Architect, his celebrity transcending professional and academic circles and becoming something of a household name in a manner that few have achieved.
An alumni of Sir J.J. School of Architecture, B.V. Doshi worked with the legendary Le Corbusier in Paris for four years before returning to India. He started his own practice, Vastu Shilpa, in 1955, and proceeded to work with Anant Raje and Louis Kahn for the better part of the next decade. In 1962, Ar. Doshi established the School of Architecture in Ahmedabad, which would later become the Center for Environmental Planning and Technology, one of the finest institutes in the country.
Following his involvement in the building of two of the most important modernist institutional complexes in the country – The Chandigarh Capitol and the IIM, Ahmedabad – Ar. Doshi subsequently designed several more campuses in the country. This includes Sangath, his own office premises in Ahmedabad, which has gained an archetypal reputation in design circles.
The office premises of Vastu Shilpa – Sangath – have become an iconic embodiment of BV Doshi's architectural vocabulary, and were also nominated for the Aga Khan Award
However, what can be said about the Master that hasn't been said before? In what metaphors – and with what methods – can his ingenuity be re-described?
The traditional route – which we have already employed, in a fashion – requires that we parse through his works, one by one. There is indeed merit to the idea of learning by watching, and what better way to learn about architecture than by observing the work of a man so frequently held synonymous with it? Traversing through the works of Ar. Doshi – while a fruitful use of one's time – is an exercise that often acquaints us with its rich visual and material vocabulary, with some insights to his philosophical leanings as well, but doesn't quite explain the makings of his genius.
Great architecture, like great art, can only be consumed to a certain degree before we start to overlook the essence of what makes it great in the first place.
Ar. Doshi's ideology, with his formidable reputation as one of India's modernist pioneers, is neither defined nor exhaustively described by the vocabulary of his designs. While the vaults of Sangath and the corridors of IIM Bangalore have etched themselves into our collective memory, their bare-bone form alone isn't what makes them worthy of emulation. What rises in importance – once we have absorbed what we can from these tangible examples of excellence – is somewhat metaphysical in nature; architectural accomplishment is preceded by a deeper, almost spiritual understanding of the world we inhabit, not a source of it.
B.V. Doshi's campus designs are as much an emulation of Le Corbusier's values as they are of traditional Indian urbanscapes. His work also explores the interplay of light and spaces.
Ar. Doshi has, time and time again, emphasized this understanding of the world; his ethos stand deeply rooted in curiosity and symbiosis, strengthened by discipline and nurtured by the habit of self-assessment and analysis. "When I started working with him on projects, he never imposed his ideas or principles on any of us. What he does for us even today is to expose us to varied forms of art, culture, literature so that we can learn and absorb whatever interests us", writes his grand-daughter Khushnu Panthaki Hoof in a memoir-style tribute, "When in doubt, if I would ask him a question, he would never offer a solution; instead, he always prefers to pose a question and look at the problem from a different angle and in the process I would arrive at answers."
This tendency towards introspection and inquiry is a major theme of his approach to design, and permeates into his teaching style and everyday life as well. Shared with us by Shailesh Devi, his grandson, are a few texts and inscriptions by the Master himself, succinct and effusive, wholly representative of the values his work imbibes. "Buildings are no different from a living organism, they are equals…when you design, remember that they must breathe, speak, and sing like the trees and the birds… all is possible when you become yourself." includes one such inscription on a tile, as a gift to Devi and his colleagues in Nashik.
B.V. Doshi's exemplary built environments are a direct result of his profound understanding of the organisms that inhabit them
B.V. Doshi's career, spanning over 70 years, is one that is continuing with just as much purpose and vigour as it ever was – with the construction of the Nalanda University underway, and an exhibition of his works in Shanghai's Power Station of Art in progress. It has also, however, become a paradigm for future generations to pursue: not as much of a template by virtue of its scale and scope – which are tremendous – but for the nuance of thought and execution that it embodies, for the ideals it espouses.
As far as legacies go, B.V. Doshi truly is a colossus of his time.