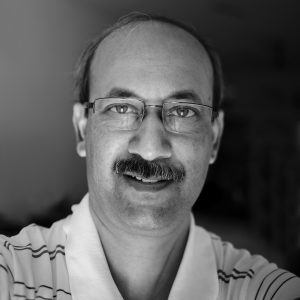 After graduating from Pune University in 1986, Atul Kanetkar spent next 4 years in Ar. B.V.Doshi's office in Ahmedabad unlearning and re-learning Architecture. On return to Pune, he began his independent Architectural Practice. Photography had been his passion since childhood but the Architect in him began to see the world in a new light. The viewfinder focused on spaces and structures through the eyes of a photographer but the mind thought of an Architect. This special advantage led him to take up Architectural and Interior Design Photography since the year 2003. His work has received much appreciation and his clientele have been generous in recommending him to newer projects.
Atul has covered a number of projects so far; which include photography of Private Residences, Apartment Interiors, Offices, Showrooms, Educational Institutes, etc.
Armed with his equipment, Atul is a One Man Army when it comes to dealing with his photography assignments. His approach to the shoot is as simple as the person he is. He prefers to shoot in ambient light as he believes it reflects the true character of the spaces and the design. His work has featured on the websites of various Architects and has also been published in Architectural books and magazines.
Atul can be reached through his website, HERE.
Featuring below, his selected work: