A few years ago we talked about few famous personalities who went out to pursue their real interests (far from architecture), after succesfully completing their architecture education. And we also said, its completely okay to not practice architecture, even if you have a degree. Fortunately, the architecture curriculum provides a some exposure to many other fields around architecture – like, journalism, writing, photography, animation, graphics, model making, and documentation.
In this series, we are talking to those architects from India, who after completing their architecture education, chose an alternative career path around design profession to help and support the profession. They know that there is much more that can be done with the architectural training one undergoes, than just designing buildings.
First in the series, we talk to Saurabh Suryan from Suryan//Dang photography, who after working as an architect for many years, went ahead to pursue his real interest – to capture and narrate the emotive quality of built spaces through visual media.
---
About Suryan//Dang Photography
Website: http://suryandang.com

Suryan//Dang is a collaborative practice for a visual dialogue of built spaces. We are an n-termed cloud collective which has floating partners with two hosting partners as Saurabh Suryan & Lokesh Dang, which reflects the flexible and fluid workflow of the generation. The Nature, scale and skill set of the studio is boundless and modular as it allows for various creators to collaborate and celebrate what is of prime concern "expression", as the medium comes later.
The practice conducts projects of various nature like personal documentary projects focused on social issues, films, curatorial works for art and photography, books & graphics which are commissioned to the studio by various creators, architects and Artists. The nature of work has been majorly visual or motion pictures but the medium is ever changing and our studio has been trying their hands out with performative art pieces, sculptures and objects created around architecture and its presence in Indian Context.
The studio's interest lies in dissecting architecture and design practices and their involvement in the larger context of things. With a close working relation with practising professionals in India, Our effort is to evoke the emotive quality of the spaces and find a great photograph. Our constant inspirations have been photojournalists and storytellers like Alex Webb, Raghu Bir Singh, Prabhuddo Das Gupta, Bruce Gilden, Helene Binet who are not just great Visual Artists but also seeks the narrative and emotions with the subjects.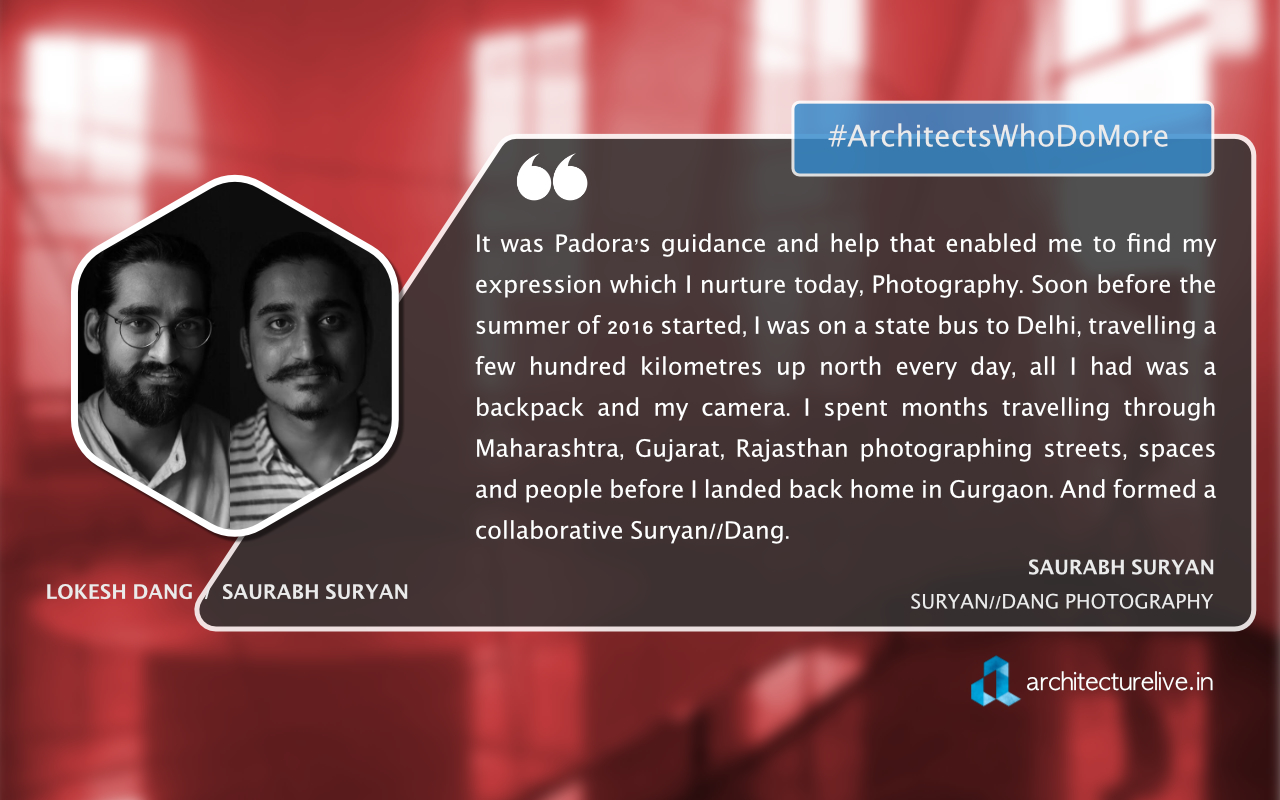 AL. At what point of the architecture course or after that, you decided to take up this career?
Saurabh: I would say am still practising Architecture, just mediums are different & they'll keep evolving. It was in mid-March 2016 when I had met Lokesh Dang at Miller Owner's Building and instantly fell in love with the sculptural quality of the spaces. We spent a week there and photographed the space catching every surface and shadow. We had never experienced anything like that. We have been visiting and photographing spaces since then, some are commissioned and some are for Archiving.
After graduating from Sushant School of Art & Architecture, I moved to Alibaug, to Bijoy Jain's remote studio south of Mumbai, spent few months there absorbing the sensitivity of design and factors express. Tools of design from models, mock ups, images, textures, films and drawings. The content was of prime concern and the expression varied. Making me realize built spaces, design, materials, economy and where it all sits in the framework of society. After fleeing away from the studio to Ahmadabad and spending a few months there, I decided to spend some time observing the mecca of the Indian design industry and later moved to Mumbai. Post graduation, in monsoons of 2015, I started working on various projects with Sameep Padora. Developing and learning a fresh take on design, imagery and new tools of design enabled me to frame things better. It was Padora's guidance and help that enabled me to find my expression which I nurture today, Photography. Soon before the summer of 2016 started, I was on a state bus to Delhi, travelling a few hundred kilometres up north every day, all I had was a backpack and my camera. I spent months travelling through Maharashtra, Gujarat, Rajasthan photographing streets, spaces and people before I landed back home in Gurgaon. And formed a collaborative Suryan//Dang.
AL: In what ways your work is contributing to the profession?

Saurabh: Our contribution, I would say,  is very minimal for the design industry when it comes to creating, but it plays a major role when it comes to celebrating built spaces. The product or project needs to be well captured as it can make or break the quality and efforts of the designer and the team behind it. One image hosts the blood and sweat of the creators, builders, investors and occupants. It is a lot of responsibility to serve right by it.
Our constant effort of drawings, visiting and analysing projects before we shoot is very important as it allows us to capture the right frame in the right light & that is the gesture of utmost importance for Architectural Photography.  A well-captured space with the right emotions can say a thousand words, it can resonate around the globe for months or even years, as it has a festive quality to it.
Some Works by Suryan//Dang photography
Artovert: Residence designed by Anagram Architects, for artist/curator Anita Dube

The Hall of Nations, at Pragati Maidan, a day before its demolition –
Squaring the Circle – An installation by Sameep Padora, at When is Space? exhibition, Jaipur
AL: You have set an example by choosing an alternative career around the profession, what message would you like to give to the younger generation of architects/designers and students.
Saurabh: Being a very small practice we refrain ourselves from giving any advise as we are built around mistakes and misalignments. It is an important part of creating something of your own. Tasks are easier to perform but rediscovering your own ideas are scary & joyous, only when one uncovers the unknown is where inspiring works lie. It is important to make errors when stakes are high.
Find your expression and keep redoing it till it is truly just yours in your own perception. Validating good work or effort should only be one's own call as there lies no limit but one's own. Lastly, comfort is a poison to the creative process. Stay alert & keep discovering.
---
Works by Suryan//Dang photography continued below:
Residence at Maharani Baugh, by Virendra Wakhloo (Matra Architects)

residence by Anushi Garg, (Ashok. B. Lall Architects)