Mrinalini Ghadiok is an architect by training, a visualizer by heart and a writer by passion. Having worked in the fields of architecture, lighting design, historical research and writing for more than a decade, Mrinalini is driven by her passion for exceptional design and the narrative that choreographs its experience. Her analytical mind, meticulous nature and attention to detail enable her to identify the finer nuances of what creates unique environments. Imbued by the desire to develop an invigorating platform for showcasing innovation and presenting sterling works, Mrinalini turned towards design journalism.
Having launched the Indian edition of the mondo*arc journal as its editor, Mrinalini has challenged mediocrity to bring to the fore works of inspiration from within India and around the globe. In over three and a half years, the journal under her editorship has created waves in the Indian design community, offering to its readers original content presented in an unparalleled format. As the magazine reaches out to a growing audience, it continues to create a larger platform to educate and spread a keen awareness among designers and architects, providing an arena suitable for discourse and debate, as well as motivation through demonstrating excellence in design.
AL: At what point of the architecture course or after that, did you decide to take up this career?
Mrinalini:
I pursued my architectural education at the University of Waterloo in Canada. Through my time there, I took every opportunity to travel across the globe and work in varying architectural and design environments – including large renowned practices, boutique firms, lighting design studios as well as in architectural and historical research. The diversity of these experiences with respect to where I worked and the kind of work I did opened my mind to the multitude of options that lay before me. During the course of my studies, I realised that my strength lay in the analytical side of how design affects us and the descriptive nature of the design narrative, which is what I truly enjoyed. This was reinforced during my architectural practice in India and continued while I taught Architectural Design courses at the Sushant School of Art and Architecture, Ansal University, New Delhi. Complementing the need to create descriptive design narratives was my penchant for writing. The written word has always been my primary means of expression, but was mostly limited to personal journals, articles in school magazines and later manifested into scripts (factual as well as dramatized) for a series of Audio Guides and Sound and Light Shows at various historical monuments across the country. I occasionally wrote for a number of publications on behalf of the architectural firm where I practised, and independently for privately produced design initiatives.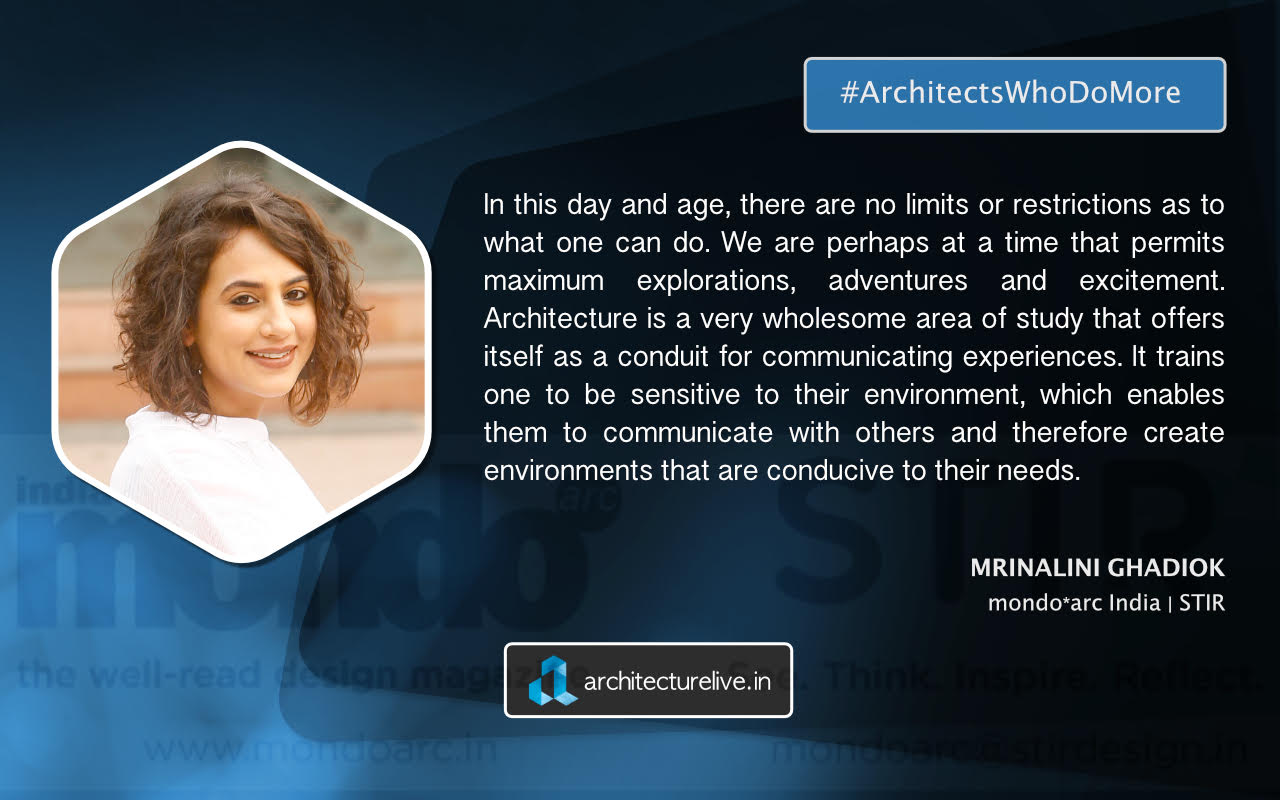 It was during a brief sabbatical that I was asked to join STIR to launch the mondo*arc journal in India. With no experience in editing or publishing a magazine, it was the passion for great design, creating narratives, choreographing words and rising to challenges, that allowed me to take the leap as the editor.
AL: In what ways does your work contribute to the profession and help professionals?
Mrinalini:
mondo*arc india|STIR was introduced in the country with the intention to provide a resource that could be counted on for its original, serious and reliable content. In a very short span of time, just over three years, the journal has come to be popularly known as 'the well-read design magazine'. This is a title bestowed upon the publication solely by its readers, who enjoy the value that we bring to project case studies, product reviews, designers' profiles, technological innovations and even new age media art. As the editor, I take responsibility for presenting what we do to our readers. The process is akin to a tightly curated exhibition, where the visitor (in this case, reader) is guided through a series of spaces to witness works of art. The physical ambience and sequence of experiences are as critical as the artworks and the story they tell. Therefore, each edition of the magazine begins with a distinct subject – one that is provocative of responses, addresses the concerns of the creative community, or offers food for thought. The curatorial note is then articulated with a specific selection of works that are relevant and exceptional in their offering. Each decided article is thoroughly researched and analysed through conversations with their designers, allied agencies and often even clients to get a wholesome perspective on the whys, whats, hows, whens and wherefores. Using this as our basic formwork, the editorial team weaves a careful story that is not only factual or descriptive of the prevalent elements but also attempts to paint a picture that immerses the reader, enabling him/her to imagine and sense the experience of that work.
Through my work as a writer and editor of mondo*arc india|STIR, I wish to encourage synergy within the creative community, and also reach out to a large and ever-growing population in India that may not directly be part of this realm, but are design-discerning enthusiasts who nevertheless seek content, which facilitates unique experiences. The publication is one platform to disseminate this information consistently, bringing global content to India and offering to the world what is being achieved here.
My additional role with STIR as a curator of design initiatives such as workshops, conferences, presentations, exhibitions and other explorative media, allows me to connect directly with fellow designers and professionals of related fields, and create a more interactive environment for them to engage with one another facilitating much needed dialogue, discourse and debate.
AL:
You have set an example by choosing an alternative career around the profession. What message would you like to give to the younger generation of architects/designers and students who wish to choose similar career options?
Mrinalini: 
In this day and age, there are no limits or restrictions as to what one can do. We are perhaps at a time that permits maximum explorations, adventures and excitement. Architecture is a very wholesome area of study that offers itself as a conduit for communicating experiences. It trains one to be sensitive to their environment, which enables them to communicate with others and therefore create environments that are conducive to their needs. This can be done through space, products, art, or even words, among many other media. The trick is to recognise that it is not a singular path that one treads, but a palette of options that one discovers having gone through an architectural education.
I believe I am where I am as a result of exploiting the opportunities that presented themselves before me. While I knew at the age of 15 that I wanted to be an architect, it was much later that I realised the value of being one and the avenues that I could explore after my training…
I do hope more and more professionals recognise this and allow themselves to delve into alternate areas of work.