From Guwahati, we now head to Lucknow, as we expand the narrative introduced by the Future Trajectories: Promising Architectural Practices of India series and uncover the stories that young Architectural practices of India have experienced since establishment.
Location: Lucknow
Founders: Amit Kumar Singh and Devyani Dayal
Year of Establishment: 2011
Prayogshalaa is a young and experimental multi-disciplinary design practice based out of Lucknow. With a hands-on approach and unorthodox ideas and techniques, Prayogshalaa is, in its founders' own words, "architects for the common man". In a chatty conversation, the firm's founders, Principal Architect Amit Kumar Singh and Senior Architect Devyani Dayal, get candid about the love they share for bricks, how the hands-on experience of 'Prayogshalaa' begins from their office and what prompts them to say that Architecture is slowly losing its elitist tag.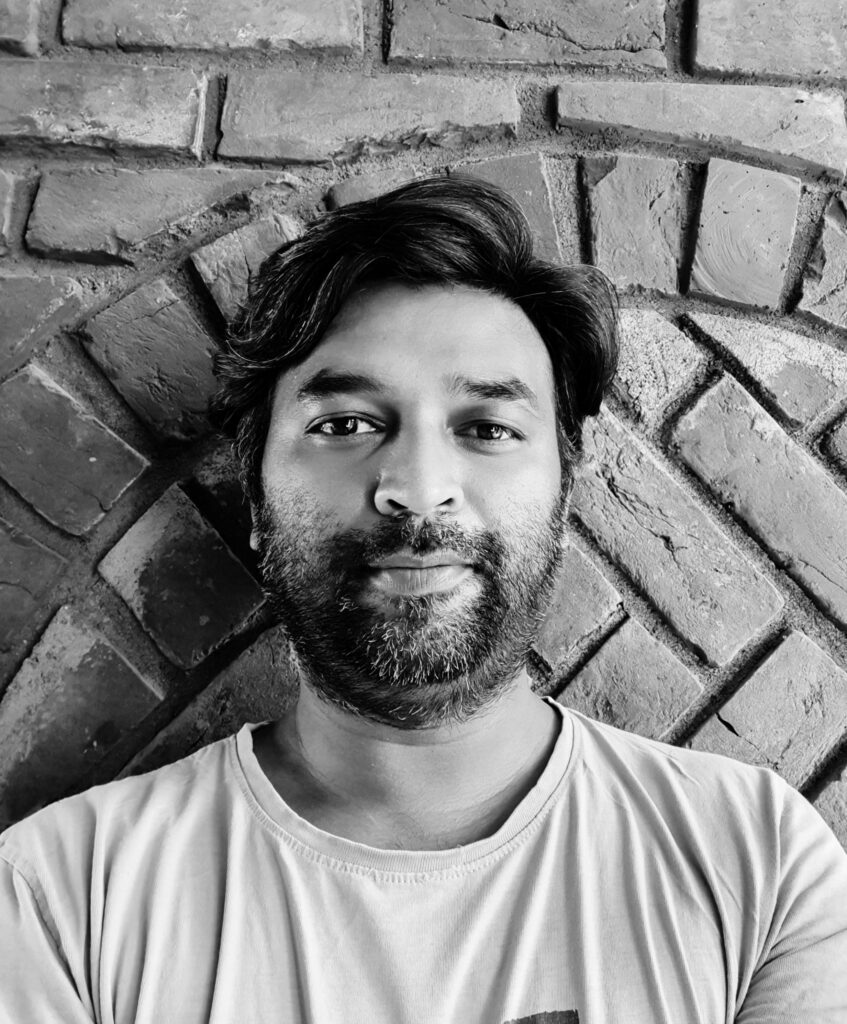 Reminiscing the Beginning
establishment: coming together
Prayogshalaa was established in 2011 by graduation college mates and later a married couple, Amit and Devyani, in their hometown Lucknow. With similar humble backgrounds and contrasting professional experiences- the former had research and teaching experience, while the latter was a practising architect with biome environmental solutions, they established Prayogshalaa with the desire to re-establish themselves in their roots.
Amit: At the time of establishment, I was a fresh young professional with a background in teaching, while Devyani had worked as a practising architect during my master's and teaching years.
This is why she (Devyani) is the boss lady of the office.
We began with a table and two chairs where Devyani would hold client meetings and discussions. During the initial period, I was simultaneously continuing working as a teacher while Devyani would full-time work on the practice. It was experiencing our designs on paper come to life during a site visit (that Devyani coerced me into joining her) which made me realise my passion as a practising architect.
We enjoyed designing and manifestations of our design so much, and continue doing so.
The conversation made me witness Amit and Devyani's passion and sincerity toward their practice and beliefs. One would think that choosing Architecture was conscious, premediate decision for them. But, instead…
Devyani: It was a chance. We gave all our exams, and even after joining Architecture, I was clueless for the first two years. While still in college, I worked part-time in an office. And that is when I started to grasp the subject.
I owe a lot of my learning to the office. In my third year, I realized that this is the field I want to work in for the rest of my life.
I started to understand the teachings in school better while working. Later on, the firm I interned with became the largest source of inspiration, so much so that I returned to work on half a salary!
Devyani was with Biome Environmental Solutions Pvt. Ltd for four years. Previously known as Chitra K.Vishwanath Associates, the firm's Principal Architect, Chitra Vishwanath's advice to her laid the foundation for the work ethic of Prayogshalaa.
Growth, doubts and apprehensions
Devyani, on being asked about having experienced doubts during establishment: Oh! Lots of it. In Bangalore, ma'am's (Chitra Vishwanath's) advice was to focus on work and forget about getting any recognition in the next 25 years. As a young person, you want name, fame, everything, but when we established Prayogshalaa, this changed.
For Devyani, this changed when she started designing buildings not to build an architectural wonder for herself but for her clients to inhabit.
I love working on residences. Every residence has a different set of requirements because each client is different. We design residences for the client, not to create architectural masterpieces for ourselves. Functionality is first and foremost.
In Focus
1. the elitist tag of architecture
While some may argue that architecture continues to be elite-oriented, 10 years post their establishment, Prayogshalaa's clientele shows a different take on this.
Devyani: In the past 10 years, we have seen a jump in the number of people asking us for plans; they would then get those constructed on their own.
We understand where this comes from, as not everyone would prefer the full-fledged involvement of an architect.
We have had such clients from an internal village in Devariya town, near Gorakhpur. So when people from such places approach us, even if only for a plan, I believe they understand architecture.
Amit: In this period of 10 years, we have designed for our colleagues- carpenters, electricians, who were initially reluctant to approach us with their sites. We even cater to clients wanting just one plan- our only fee demand in such cases is for them to stick to the provided plan. We have catered to clients who cannot afford a lavishly furnished house but understand the value of a technical professional. They trust us and understand even when we suggest leaving a 10 feet wide setback in front of their 750 sqft house. These instances make us believe that we have broken ground where people around us understand the importance of architecture, even on a small scale. We are equally enthusiastic about the design of a main gate or a small toilet in a large building, or the main door in a shop.
I believe we have joined the brigade that can say 'Architecture is not just for the elite'.
2. low rise and high density
The larger chunk of India continues to build and live in low-rise, high density. The practice believes that design intervention at this scale could lead to a bigger impact on the ecology, economy and urbanity. But, building low-rise for high density implies a lesser amount of space per capita than in the case of the high-rise.
Amit: I had this same question in college. The response was another question asking me why we build high. I replied, "because of a dearth of space", and then I was asked to introspect if that was indeed the matter and not just because we CAN build high and higher. I was questioned if I know my neighbour. I was clueless. In contrast, I remembered communities coming together in the older parts of the city.
To elaborate on this, as architects, we realized that space-making is not necessarily restricted to the built form but has more value when there is the human-interaction aspect.
A human being closer to another human being will always mean better social value. Our traditional towns were closely stacked together, which increased community bonding.
I believe that low-rise, high-density allows us to make places that provide inclusive meeting spaces where people can get together, care about each other, and participate more. I believe it is not the dearth of space that we are grappling with; instead, the actual problem is that in a life span of some 70-odd years, we are clueless about the people living next door to us.
Devyani: Adding to what Amit said, I have seen that these high-rise apartments are majorly bought for investment. I understand where the question of low-rise high-density compromising on the space comes from. But, the culture of every person in a family wanting to buy a home for themselves is problematic. So, while people from cities like Lucknow are leaving their family homes for bigger metros, people from smaller towns and villages are establishing themselves in these cities. And the repercussion of this is that the smaller towns and villages are in bad shape. I have visited those towns and villages and a lot of work needs to be done over there.
These places are all low-rise low-density, without architects.
Amit: I think for low-rise high-density, we require a greater number of community spaces.
We could let go of independent spaces and adopt community spaces instead- I would rather prefer having a community park in front of my house than an independent lawn space.
So, revisiting our traditional planning.
Amit: Exactly! We are not introducing a new concept. These established practices have stood the test of time- our traditional towns and cities are still present. So, we need to appreciate that.
3. materials and experimentation
Their projects often rely on raw, rustic materials over finished materials.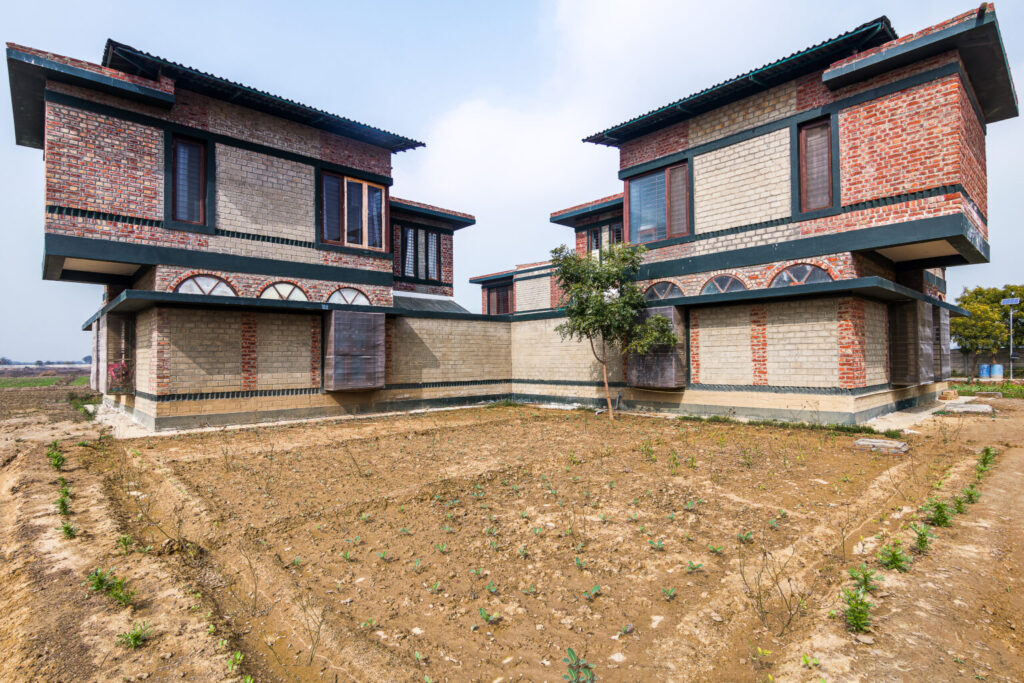 Amit: Both of us come from very humble backgrounds. My father was a civil engineer. Our dining table conversations would be about concrete, cement, bills, and contractor, so I was already well versed with the construction lingo.
During my research days, I realized that I dislike putting what I call "lipstick on a building"; that the formed envelope is a material with a specific look, but to make it more aesthetically appealing, we start relying on a stick-on job.
I fell in love with basic materials- cement, concrete, aggregate and bricks- materials that are being used everywhere in the world but could still be used in such a way that each space is different.
Material can be a part of the aesthetic experience- for instance, if I put a brick diagonal, its sense would be different to hiding it, say, with plaster.
We do practice contemporary work too, but we always stay true to the structure.
We believe that the skeleton of the building should be true enough.
We have done plush, glossy projects too, but our first love is still bricks and rustic materials.
Devyani: As architects, we both love bricks! We love experimenting with bricks and any type of base material.
Every wall in our office is of a different texture- so we have experimented a lot with our office as well.
Amit: Before wasting client money, we wasted our own and realized what could work and what won't. Thus, justifying our name Prayogshalaa- where we do all experiments on-site with a very hands-on experience. Even our clients are very participative and show great trust in us.
4. clientele
While Amit and Devyani consider themselves lucky to have clients who are supportive and understand the requirement, they were prepared for the opposite.
Devyani: Before relocating to Lucknow, we were told that it would be hard to get good clients who show trust and listen to our suggestions and designs in the city. But our first client- for a small interior project, was thrilled to include exposed brickwork. The gatekeeper who was there would help us with the samples- we did a bottle wall, a small brick wall and other samples and then decided to go ahead with the bottle and brick walls together. Because we are both very hands-on with drawings, a maximum of 10 projects happen at a time in the office. No drawing can go without me checking it.
From asking parents for money for petrol in the initial years to learning to say no to projects, the firm's evolution is a story of its own. And Amit has a senior architect's advice to thank for this.
Amit: A senior architect once advised me that an architectural practice is not defined by the kind of projects it does but instead by the projects it chooses to not. And this is what Prayogshalaa will always stand for. We believe that rather than succumbing to the client's pressure, which we did in the first few years, the power of saying no to something we do not believe in shows that we have indeed come a long way. I don't think we ever envisaged ourselves as an extremely rich firm involved in large-scale projects. We just wanted to make a difference in where we come from.
Devyani: We did not plan anything. We were completely absorbed in ma'am's advice of only focusing on work for 25 years and not on any return.
Q. So, if you were to re-establish yourself, is there anything you would do differently?
Both in unison: Nothing. Not a single thing!
Devyani: I am very content with what we have. Our first project paid us 10,000 rupees for six months. But, I am still attached to that project. I still look back at our initial projects when the mind was in a much calmer place. I wish we could get back to working like that. Now, due to a more rushed atmosphere, I cannot detail a brick wall's pattern like I want to. I love working on brick details! I know, in general, how many bricks will be used in one particular course and how thick the mortar should be. So, everything that we have done since establishment, we would happily do all over again. But, yes, those few initial clients we did not say no to, now when we look back, we wish we had.
Amit: A reason we said that we wouldn't change anything about the past ten years- our parents live with us too. So, we are three generations living together and working together in the same space.
And I believe that this community-based bonding, family bonding is that spice without which Architecture would not thrive.
---
About the Practice
Established in 2011 in Lucknow, Prayogshalaa is a multidisciplinary design practice that is young and experimental. Conceived by the founders Amit Kumar Singh and Devyani Dayal, the studio is slowly evolving into a very close-knit team, with every member bringing a special skill set to the table.
Prayogshalaa is a part of our Future Trajectories: Promising Architectural Practices of India series. The practice's profile and works can be checked out here.