From Lucknow, we revisit Bangalore, as we expand the narrative introduced by the Future Trajectories: Promising Architectural Practices of India series and uncover the stories that young Architectural practices of India have experienced since establishment.
Location: Bangalore
Founders: Bhavana Kumar (Principal) and Nicola La Noce (Principal)
Year of Establishment: 2013
With a line of work based on typological reasoning and a need to create evocative spaces informed by pragmatism, culture, and collective memory, Kumar La Noce is a Bangalore-based architectural practice established in 2013 by Bhavana Kumar (India) and Nicola La Noce (Italia). In conversation with us are the Indo-Italian cofounders, talking about basing a practice out of Bangalore, the human-space-object-memory relationship, and the immediate impact of materiality on users' perception of space.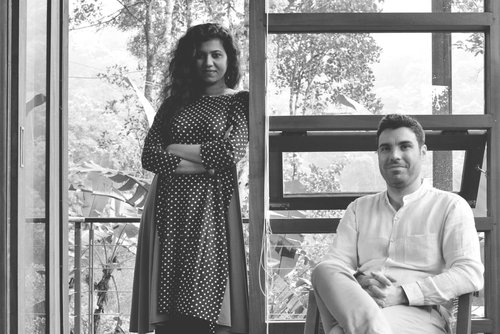 Reminiscing the Beginning
1. establishment: coming together
The foundation of the practice saw its emergence in Architectural Association, London, where the founders Bhavana Kumar and Nicola La Noce did an MA in Housing and Urbanism, at a time when London was observing a decline in work opportunities and Bangalore was witnessing rapid growth and development.
Kumar La Noce's first steps trace back to London towards the end of the last decade (2010), at the Architectural Association, being hyper-critical and provocative.
New tools and paradigms were being tested, ways of looking at cities, spaces, informal economies and drawing anything and everything.
AA was a place of continuous extreme inspiration and interaction. At that time, while London and the whole of Europe were in throes of an economic crisis, somewhat saturated in terms of work opportunities, Bangalore (Bhavana's hometown) was observing rapid growth and grappling with complex urban challenges; Important cultural, civic and creative initiatives were being promoted- the Bangalore Literature Festival, Karnataka Tourism Vision Group, 'Wake Up Clean up' Bengaluru( a week-long expo on the issue of waste management); it was an obvious choice to start something here. Our practice began simply by the coming together of the two of us.
We dived in, with a burning intent to test our ideas, develop fresh strategies for cities, to build something beautiful.
2. establishment: name
The practice's name- an amalgam of Bhavana and Nicola's, represents their practical approach to Architecture.
We were so eager to simply 'be' architects and get started with building something of value that even the name of our practice was a very pragmatic and direct choice, our names.
We started Kumar La Noce believing our job as architects and urbanists is to work for and with the community/ the civil society- this could happen directly or indirectly. Hence, what we design and what our drawings mean can trigger multiple events in time (what Rossi describes as part of the primary elements within a city, which can accelerate or retard urban events). Any relevant project, based on scale, programme, location, etc., can become such an element.
In Focus
1. ideologies
Pragmatism also dictates their design approach; the Practice aims to create evocative spaces informed by pragmatism, culture and collective memories. We asked the founders what made them gravitate toward this approach.
On Pragmatism
Pragmatism helps us achieve technological solutions to achieve resilience through architecture.
On Collective memory
Collective memory refers to the two of us, our inspirations and our connections to terrain or a project, but also to that of each context and the people we work with. It is about tapping into the depth of information that comes with each project.
Many times, we find that the impulse a space or an object invokes in us, places we remember, and our relationships with nature, have a fundamental similarity and this has to do with the relationship between man, woman, space, object and memory.
Also a need or a quest for Beauty and Truth, of the whole and its parts.
On Culture
Architecture and Culture influence each all the time, but here we look at culture in its expanded spectrum, from the culture of an individual to the family to the community or the place.
Contemporary issues- unstable economies and Pandemic-induced impact, corroborates their focus on practical and realistic solutions and their importance in Architecture.
Present challenges are rooted in volatile economies, World crises, and pandemics- signals that need to be studied and addressed. To tackle them, we have to restart the conversation about the built realm with a scientific approach.
This implies human beings need to be back at the centre of our work as architects. People are in space, not empty spaces.
The future (in general and for the studio) lies in empowering (be it communities, businesses, or schools) through design- solutions that can be carried forward and adapted. In our project for the Kalkeri Sangeet Vidyalaya for example, the light roof structure serves both a structural purpose as well as integrated passive ventilation, using readily available materials. The intent was to create a modular system that could be repeated, adapted, and used as tools for future projects within the school campus.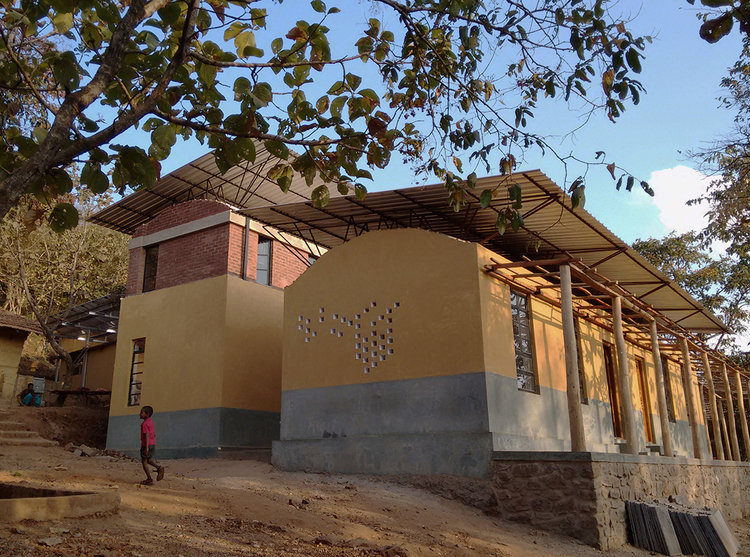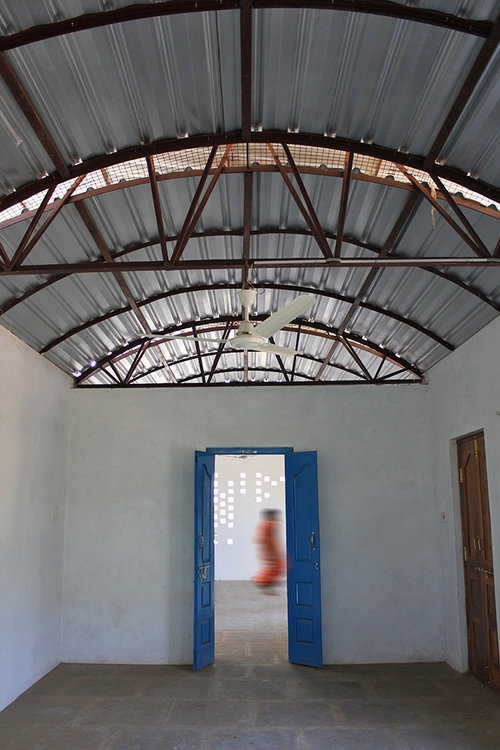 2. materiality
As in the case of Kalkeri Learning Centre, materials play a role in defining each project at Kumar La Noce.
The materiality of a project is sometimes the first gesture in a project and sometimes comes much later, defined by other factors. It is not necessarily the origin or treatment of material but the relevant and intelligent use of each that we focus on. Also, the intent is always to enhance and express the character of each material used in defining any project.
Ultimately, materiality has an immediate impact on how people feel in that space and we work on creating spaces that feel good, intuitively.
3. i commit pavilion
The materials used in the 'I Commit Pavilion' project intrigued us. The project encouraged visitors to practice waste disposal practices responsibly and its built form, made of reused and discarded materials from nearby construction sites, represents the same.
Projects such as the I commit pavilion are our experiments with (micro) architecture set in a public/civic context. We worked on a series of installations for the Bangalore Literature Festival and the Waste Habba (I commit) between 2012-2015. These structures, mostly created out of construction waste or recyclable materials were designed as a series of frameworks for interaction and appropriation by visitors. A common thread within these installations is a sense of whimsy, encouraging curiosity and playfulness.
Awareness comes when we identify with space and feel a sense of attachment however fleeting. We believe the responsibility of architects today lies also in raising architectural awareness within the public and we use these small projects as opportunities to do this!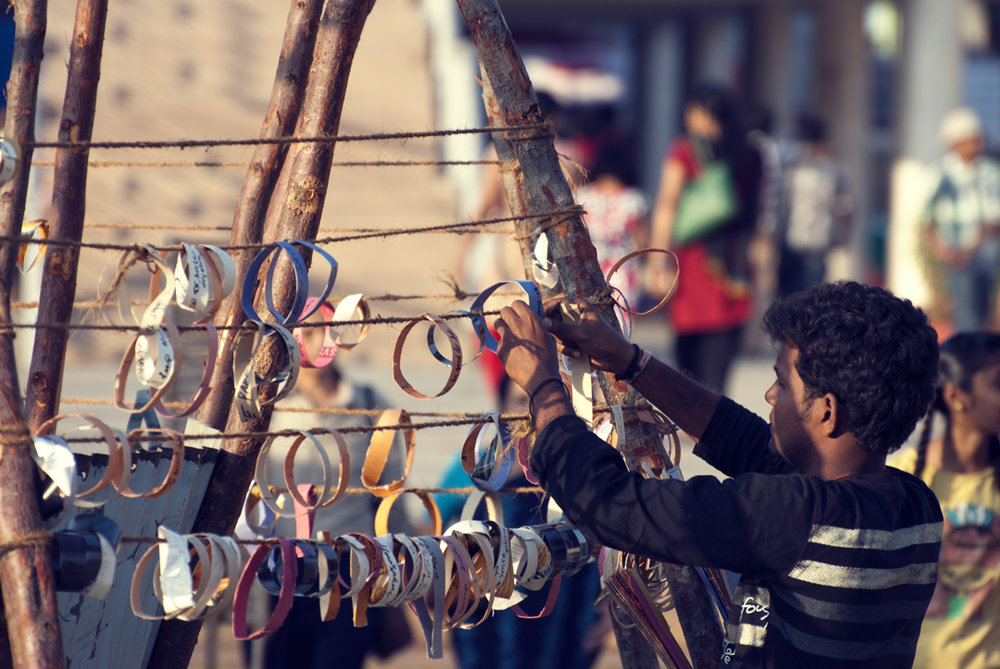 Established in 2013, the firm is now edging towards the decade milestone. Running a practice is bound to witness moments of doubts, apprehensions and learnings. We asked the practice to look back on these ten years and whether they would do anything differently if given a chance to re-establish themselves.
We are in continuous mutation and motion. Each project is a step forward in the same direction through multiple trajectories. We don't see each project as a new story. Instead, a collection of experiences belonging to the same narrative. Like most first-generation practices, we continue to learn through our mistakes and experiences: there is no substitute or shortcut for learning by doing and for time-honed resilience.
If we were to start from scratch, we would not take ourselves so seriously!
---
About the Practice
Kumar La Noce is an architectural practice founded in Bangalore, India, in 2013 by Bhavana Kumar and Nicola La Noce. Since its inception, the studio has worked on projects of various scales—residential, educational, art installations, and interior and urban design. Their work is based on typological reasoning and a need to create evocative spaces informed by pragmatism, culture, and collective memory. In 2016, the firm was cited as one of the ten 'Outstanding' young Practices by the IIA Karnataka Chapter, and its work was exhibited at the 10×10 Praxis Exhibition in Bangalore. In Jan 2017, Kumar La Noce was chosen amongst the winners of 'Young Designers 17' by Indian Architect & Builder. The firm won a 'Forbes Design Award' in 2019 for Best Hospitality Architecture.
Kumar La Noce is a part of our Future Trajectories: Promising Architectural Practices of India series. The practice's profile and work can be checked out here.