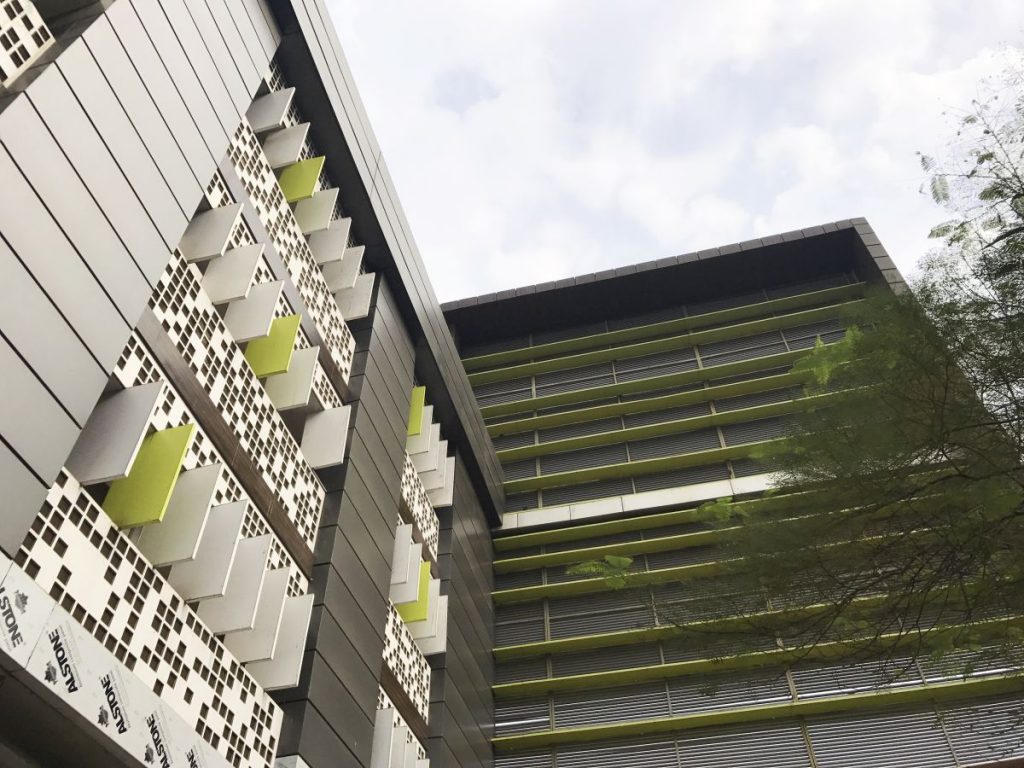 The 310 bedded hospital has seen a journey of 25 years. The management's decision to get this upgraded into a modern infrastructure was the need of the hour. The problem with the whole hospital was the Infrastructure and ambience. The Facade of the whole building doesn't used to look like a 310 bedded Hospital as the building sits on a L shaped Plot. Frontage was very narrow & to create an illusion of space, we came up with idea of a Floating Face in front of the building which will give a grander look to the Hospital. The floating facade then was created covering the expanse of driveways on both the sides by using Aluminium louvres & HPL projections at different intervals. This increased the front 3 times of the existing one.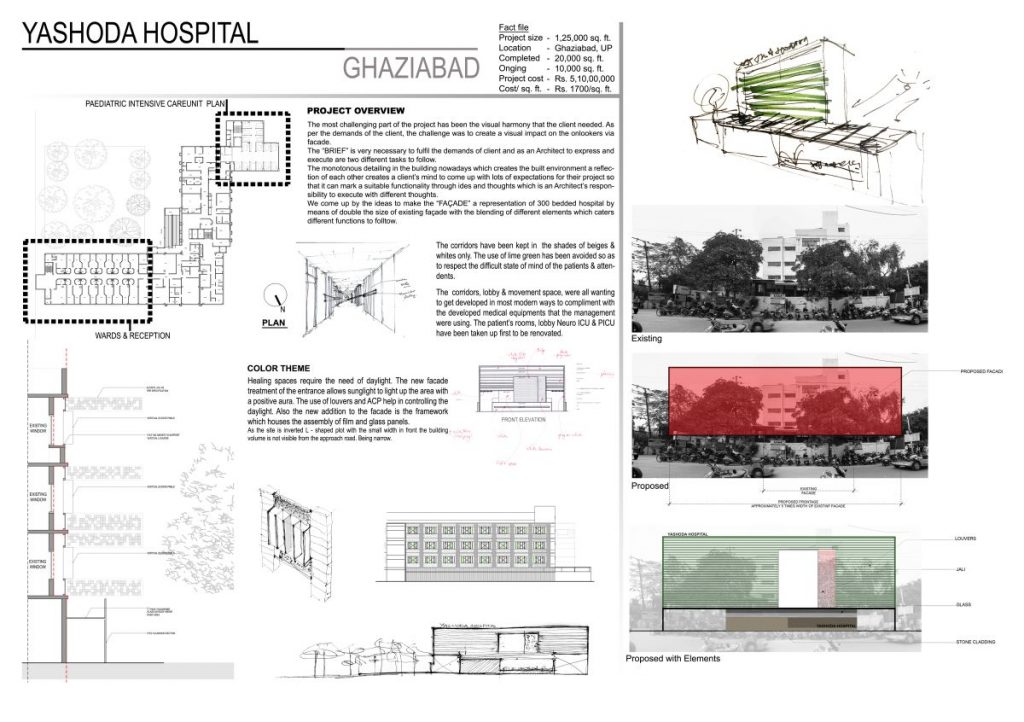 Our core effort in this project was to balance the clinical demands of the healthcare institution and human architecture by evolving a concept which communicates a fresh vocabulary towards developing the image of the hospitals as a stereotypical conventional building that houses sick patients; to a space delivering an integrated arena combining health care with comfort, positive ambience and liveliness.
The existing shape of the patient's room was a challenge to start with. Its Y-shaped enclosures & ill-illuminated corridors were making the hospital look dark & dingy. The first approach towards the whole project was to bring in harmony in terms of material selection in repetition. The soothing shades of beige, whites & greys were chosen & a pinch of lime green was added to brighten up the whole space. The corridors have been kept in the shades of beiges & whites so as to create a subtle environment around the movement space. The Nurse Station has also been kept simpler & minimalistic with straight lines & materials used such as Corian is to enhance the neatness of the whole area. Paediatric ICU however, has a spectrum of bright and welcoming colours, which is a pleasing sight for the patients, especially children. Unlike other ICUs, this space exhibits a display of colours to make the children admitted here feel comfortable & youthful. The interesting feature of the interior is the graphic design wall that has an interactive character to itself with the display of comic characters with playful dialogues.
The PICU is the 2nd largest PICU in Delhi-NCR region and boasts of having intricate facilities & assistance to the patients. The design has been kept simple with forms such as geometric figures, digits & character. Kid's area where the patient will spend most of their time is full of colours & the area where their parents & doctors/technicians will interact is kept subtle with little use of colours to give continuity yet differentiating it with a slight moderation in designing. The interiors have been done keeping children in mind, for them to feel familiar to & cheerful.
Project Facts:
Location – Nehru Nagar, Ghaziabad
Project Area – 1,25,000 Sq ft.
Status – Completed