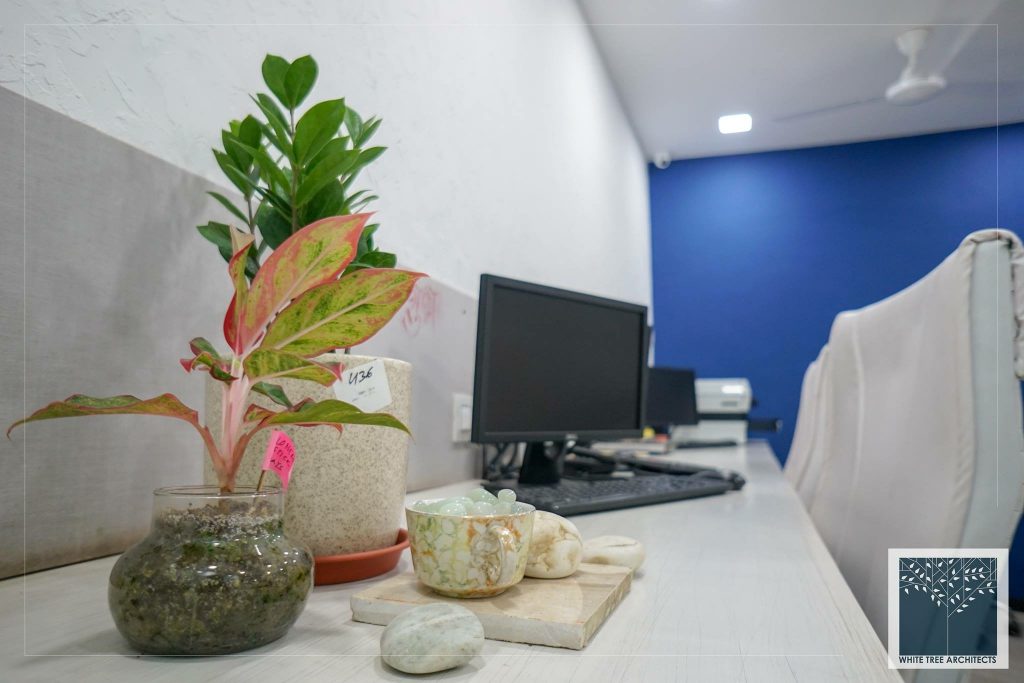 It is an amazing feeling for both of us to finally share the pictures of our work space which is our first designed project together. The basic idea behind how our office should be was very clear that we wanted it to be minimal and contemporary with three shades 'white' showing simplicity and making the spaces full of light; 'grey' making the space earthy and compliments white ; 'blue' the highlighting colour adding a spark to the liveliness to the space. Stepping inside WTA 700 Sq.Ft.of space via staircase up, an old window installed at its ceiling enlightens the path. Stepping upon our earthy flooring done by old cement flooring technique inscribed with Ficus religiosa (Peepal) leaves stamped on it which we DIYed (Do It Yourself) ourselves and welcomed by an antique door painted blue which segregates our pantry and toilet are from main office and adds in aesthetic value to the office.
The reception table designed very minimally symbolizing WT of 'WhiteTree' giving identity to the place. besides which we have our small meeting space for discussions. The meeting table rests upon an old wooden log via M.S. section. The main office side is in two parts, one staff section and the other is office for both of us i.e. Principal Architects. The staff section has furniture painted in rustic form with no laminates resting upon rectangular M.S. section.
Every work space has been installed with small planters to add in to the simplicity of the space. On opposite to that we have book shelf containing our treasured books and small artifacts with a small seating for the reader. Entering the main office a large window holding our small indoor jungle welcomes one with a lot of good east light keeps our office full of light through out the day and the outside inside the office. The window holds a lot of succulents, other indoor plants and small souvenir we collect. There are two tables each besides the window made out of two doors of an antique door each door is made into the table top.
Our Little workspace has niches and spaces wherewe can keep adding souvenirs we collect throughout our journey in this workspace.