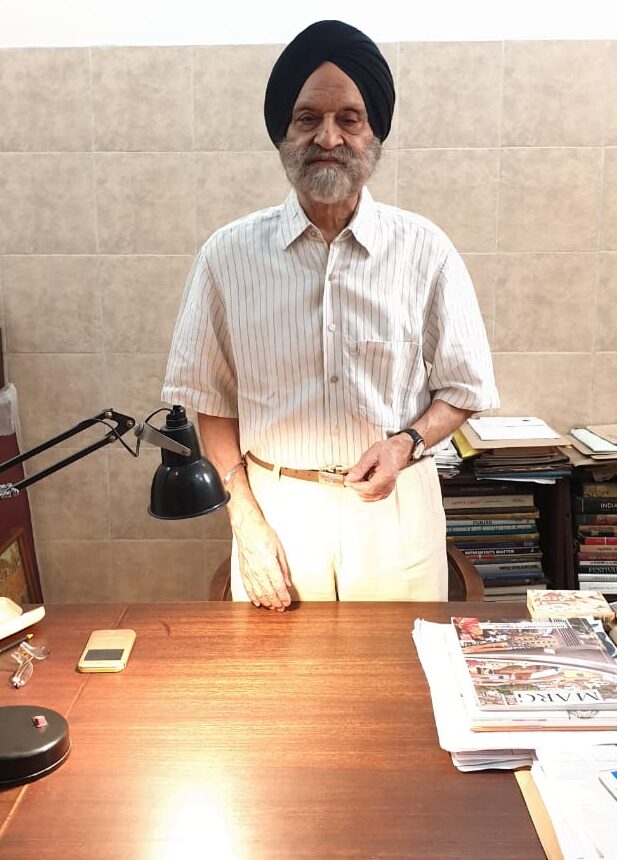 Architect Kuldip Singh, the name immediately conjures up visions of two iconic Delhi buildings designed by him to most people – Palika Kendra on Sansad marg and NCDC office building on Siri fort road – not realizing that he and his work were much more than these two buildings.
He was born in Shimla in 1934 and did his graduation from The Delhi Polytechnic- Kashmere Gate- Old Delhi. This was the only college offering a course in Architecture in India at that time apart from a college in Mumbai. Those days Delhi was much smaller, stretching as far as Nizamuddin to the south, the Ridge on the west, Civil lines and Shahjahanabad to the north, Safdarjang airport to the south and river Yamuna on the east. Life was simple and the main form of relaxation was cycling to the banks of river Yamuna and sitting there with friends. Those were the days of movies of K.LSaigal and he used to regale us later, with stories of watching the movie Devdas eleven times with friends.
After graduating in 1957 he did a brief stint in Nangal Fertilizers as an assistant architect before going to London in 1958 to do masters in Town Planning while doing a job with a British architectural firm Easten and Robertson as asst. architect. After getting a diploma in town planning from London University in 1962 he worked for the British railways till 1964 as senior architect. During this time he worked on schemes for the development of commercial centres over railway tracks at Euston Station, London and New street station, Birmingham.
In 1964 after returning to Delhi he joined the School of Planning and Architecture as assistant Professor for town planning. It was during this period that he formed a partnership with friend and classmate Raj Rewal. Those days architects dreamt of building a new India free from traditional notions and everyone was full of dreams of a brave new world.
An important work at this time was the MIG housing for DDA. In a landmark of its kind, for the first time, a public agency DDA, appointed a private architectural firm in 1970 to plan and construct MIG housing units for Malviya Nagar. A unique concept of a housing unit was conceived which linked up with the next to form a chain, The problems of privacy and sleeping terraces for every dwelling unit, considered essential for Delhi climate more than 50 years ago when A.C.s were almost nonexistent, have been successfully tackled by providing differently sized units in each block rather than by limiting each block to a particular sized unit, and giving terraces to each unit, with high parapet walls having slits so that breeze could penetrate the terraces but still retain their privacy.
The units linked up to form a 'Gully'- a pedestrian space- leading to entrances of various houses, with open spaces alternating with covered spaces at various levels where, where neighbours could meet, children play etc. The 'Gully' in turn formed a partial ring around a large open green space. The entire housing was done in exposed brickwork with meticulous detailing.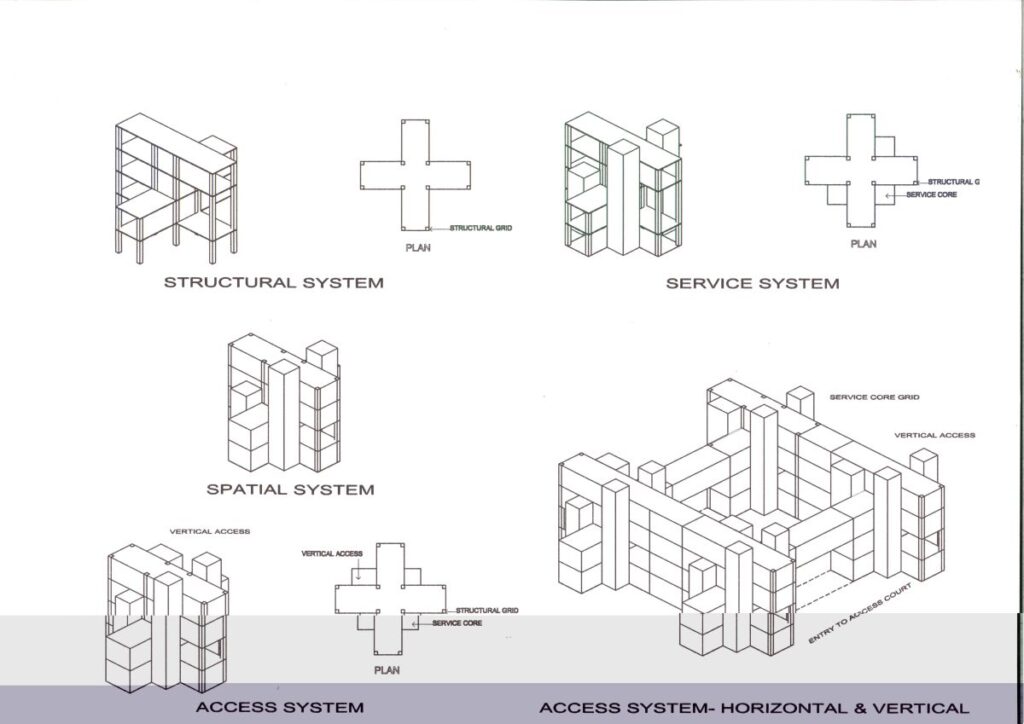 A prototype of 32 dwelling units was first built at Hauz Khas in a site of an acre and the development called 'Usha Niketan'. 1200 units were later constructed at Malviya Nagar. Some of the original exposed brickwork is still retained at Usha Niketan but unfortunately, the entire housing at Malviya Nagar was plastered over, a few years after it was built. The same scheme was developed to form units for high-density multistoried units for a commercial area (downtown) This did not materialize.
I remember visiting the housing project at Malviya Nagar while still in college. The different spaces, the scale, textured surfaces and the brickwork were all so well worked out that the whole effect was breathtakingly beautiful.
Extensive imitations have been built since then of this unique concept.
It was during this time the firm did the master plan and design of major buildings for the exhibition Asia 72. Though they were partners both Raj Rewal and Kuldip Singh had separate projects and separate staff.
The NCDC building using exposed concrete has a very innovative building form, The exposed concrete was done using very stringent specifications. Two inclined 9 storey high wings join with the central core at the top to create an open atrium. Each typical floor has large column-free space flanking the compact core. Alternate floors are tied together with post-tensioned cables the nuts and bolts of which are clearly visible on the exterior.
Bronze anodized window frames and large double-glazing windows were used here for the first time. It was completed in 1973 and the clients are still very proud of it and had maintained it very well till recent times when I had visited the offices for a retrofitting (which did not happen). He had a very thorough knowledge of structure. These projects would not have been possible but for the wonderful structural design by Mahendra Raj and the coordination and friendship between both of them which continued till the very last day.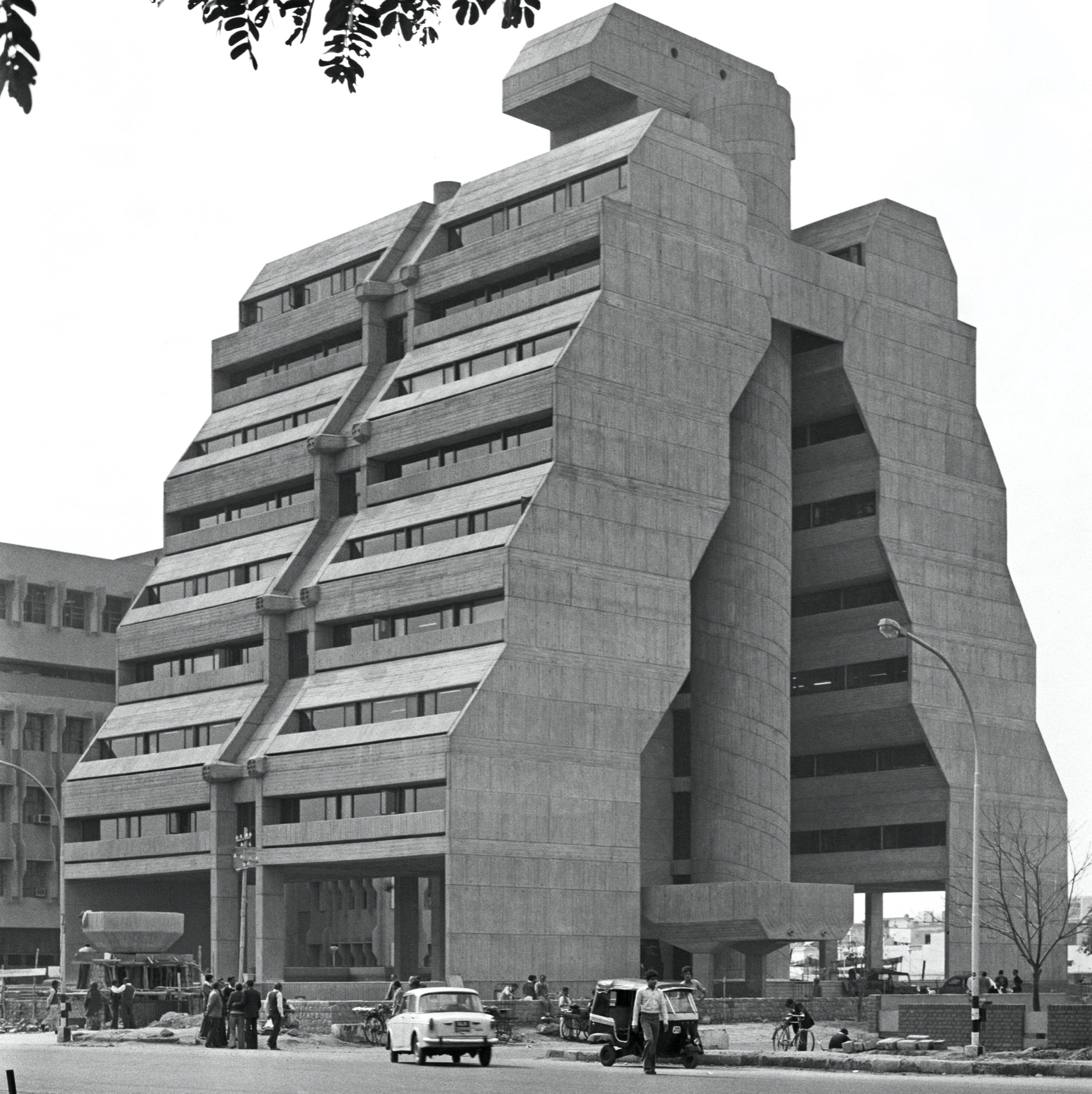 The foreshore site development, near the heart of the city of Cochin, is one of the largest comprehensive urban developments ever undertaken in India. The site extends over 1.5 Km of reclaimed land all along the waterfront. It has been planned to provide for multifarious activities: residential, trade and commerce, cultural and recreation.
The edge of the water is a pedestrian walkway connecting housing, commercial development, parks and ferry stations. It was conceived as the heart of the city and has fulfilled that function.
At the time of my joining the office, Kuldip Singh had just won the all India competition for the foreshore Development at Cochin and was recruiting new staff. He put me to work on the development of the Commercial Complex. It was a very satisfying experience watching it take shape after constant changes and explorations. Those were the days of drawings drafted by hand and the office had high drafting tables and stools for everyone.
Work on the Residential area was done side by side. In the late seventies, the partners decided to have separate offices and Raj Rewal moved to Defense Colony while Kuldip Singh retained the Jangpura office. Sometime later he got specially designed teak finished furniture for the office. We also had the most advanced computer and printer facilities in the office. ( this was much later when work started getting done on CAD ).
At Cochin, his site office was on an island approached by boat and from where one got a clear view of the entire site. The office itself had a beautiful garden full of the lush local plants. The interior was done up very simply with white walls, cane furniture, red oxide floors and a lot of plants.
WHOLESALE FLOWER MARKET AT KOYAMBEDU
Traditional and ethnic motifs have been adapted in the flower market to make it a distinct and unique building. The structure consists of RCC umbrellas with a pattern on the underside to reflect the character of the commodity and to cover the arena-like space below. Like the vegetable and fruit market, the entire space has been planned to give plenty of natural light and ventilation and at the same time shelter from the sun and rain. The design of the entire market was a prize-winning entry of a competition.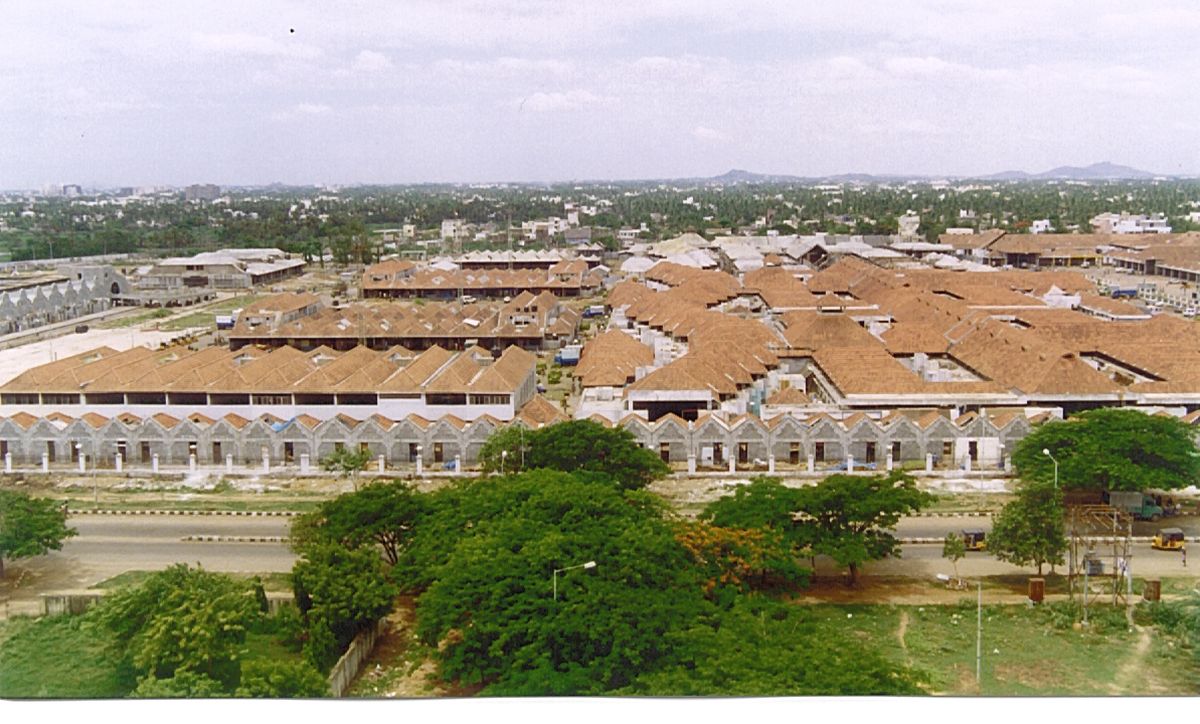 One of his well-known projects is The New Delhi City Centre phase I & II on Sansad Marg. This was also a prize-winning entry in a design competition held in the 1960s.
The comprehensive scheme embraced the idea of reviving "the visual axis between the historic Jama Masjid and the Parliament House as conceived by Lutyens and Baker when they drew up the road network of the Capital City of New Delhi in the decade 1920-1930. The revival envisaged in the scheme is a pedestrian concourse linking City Centre with Jantar Mantar, a kind of depressed platform, from where the distant Jama Masjid and Parliament House could be viewed in the north & south respectively. This unique concourse has not yet been built.
DISTRICT CENTRE AT SAKET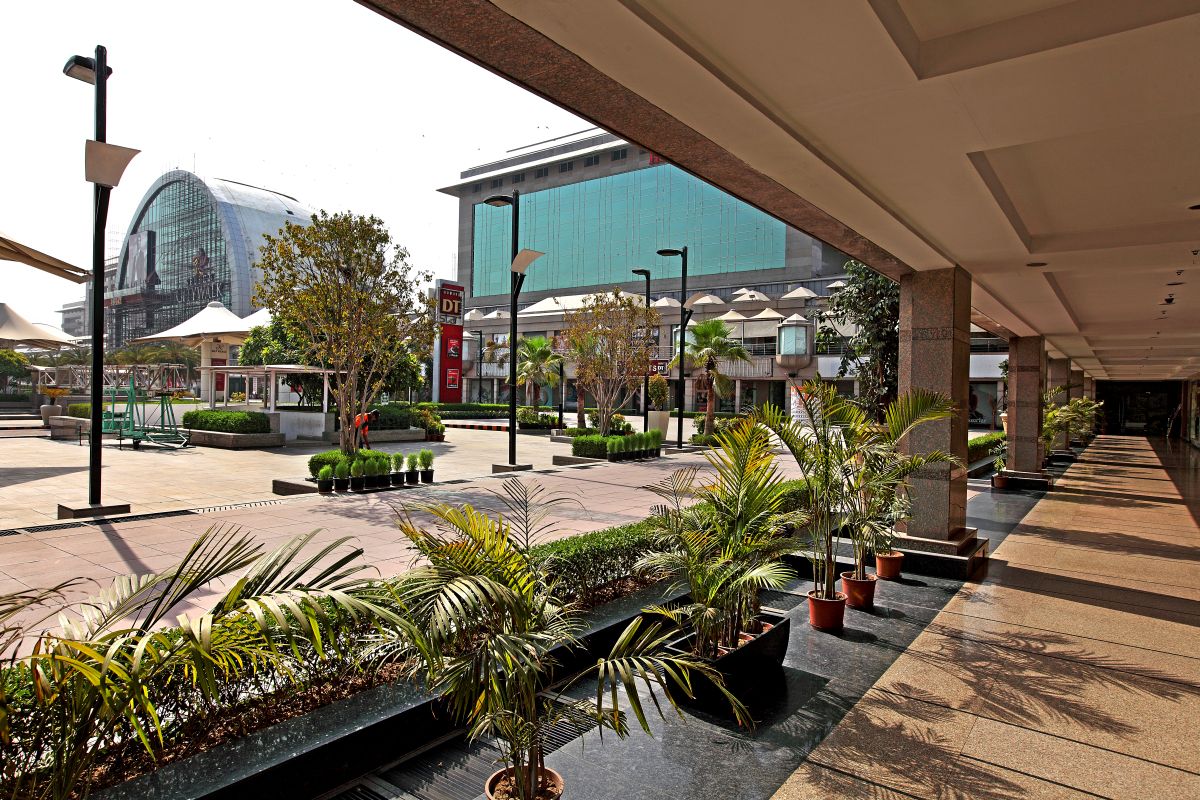 One of the best-designed district centres in Delhi, it has been hugely successful as a place for people to gather with a well-worked out infrastructure and has one of the largest parking facility given for any district centre. A set of architectural controls have been worked out in such a manner that the different developers and tenants are able to fulfil their diverse functional needs without ending up in a state of chaos visual and otherwise. In fact, the most important architectural objective was to achieve visual harmony within a framework of diversity.
Major projects which need to be mentioned are –
Foreshore development at Cochin (Cochin Marine Drive Scheme)
Wholesale market Complex at Koyambedu (outskirts of Chennai)
Saket District Centre
Narendra Dev University at Faizabad – Campus, academic block, hostels and housing
Housing for AWHO Noida
LIC Housing at Kanpur
DDA housing at Trilokpuri
Housing for Imtech Chandigarh
Housing for DMRC at Shastri Park
Housing for DMRC at Najafgarh
Housing for DMRC at Yamuna Bank
Property Development Scheme for DMRC at Khyber pass
Depot cum workshop at Najafgarh for DMRC
Depot cum workshop at Yamunabank for DMRC
The interlocking station at Yamunabank
Depot cum workshop at Byappanahalli, Bangalore
Depot cum workshop at Peenya, Bangalore
Underground car park for IFCI, Nehru place
Underground scooter park at Baba Kharak Singh Marg, New Delhi
Subway at Baba Kharak Singh Marg
The last project was done for a fee of exactly Re 1/- !
For each project, he would do an in-depth study and come up with an innovative scheme.
During his travels to the south, he had developed quite an interest in the local arts & craft and had a beautiful collection of Tanjore paintings, furniture and artefacts at his Cochin & Chennai residence. When a major part of the projects was over he brought the entire collection to Delhi, where his residence was renovated and redesigned to house the fabulous collection of paintings and artefacts.
Once it was done up, entering the house, was like entering another world altogether with enormous glass paintings lining the walls, ancient wooden ceilings, carved doors, furniture, ancient Kerala lamps and other artefacts. Subsequently, he had the paintings carefully opened out from the frames, cleaned, conserved, dated and reframed by a team of expert conservationists. His investment in this was substantial. In December 2017 an exhibition of the collection was held at Kiran Nadar Museum. A book featuring his collection of paintings was also released by Marg Publications around this time. Subsequently, in his generous and large-hearted way, he decided to donate the entire collection to the Chatrapati Shivaji Museum of art in Mumbai, since he felt that it should be on view for the public.
He was involved in various Urban Design Schemes like the preparation of Delhi Master Plan for DUAC, Pedestrianization of Connaught place, which involved the very little disruption of ongoing activities yet solved all the traffic and circulation problems in that area.
In 2006 he started a petition for taking the entire Metro System underground. Though almost all architects agreed to it, it only got partially implemented due to cost considerations. However, it does go underground in important areas like the area around Qutub Around 2010 – 2011 restoration work on of Humayun's tomb had started and he was very disturbed by what he saw during his evening walks at the tomb. He felt it was not being done as it should be and brought it to the attention of the main authorities i.e. ASI, INTACH and his architect friends but it did not lead to any tangible results.
He was well-loved by his family & friends and was kind and considerate to everyone. He would go to any length to help somebody in trouble. Extremely intelligent and sensitive, often outspoken and shocking, he was always full of life. Very hard working, with a passion for beauty which he tried to instil into his work. For every problem, he used to come up with innovative solutions and was able to move people to his way of thinking effortlessly.
He brought out the best in most people and was highly respected amongst employees, consultants and contractors for his knowledge in every field – be it structural, electrical, plumbing or mechanical. Extremely honest and straightforward, he was also very independent and fearless, never giving in to pressure from contractors who normally take a lot of liberties with architects and the design, changing it to suit themselves.
The materials and construction method used in his buildings were exactly as specified and as drawn without any compromise. This was the reason most clients trusted him Implicitly. He was also a financial genius who could advise clients to make their projects financially viable and profitable. Saket District Centre and some of the later development at Cochin are prime examples of this.
In this world of instant gratification and short attention spans his work stands apart- enduring and timeless. With the demise of Kuldip Singh in 2020, the world has lost a wonderful human being and a great architect.
Credits-
All photographs except Flower market, fruit & vegetable market are courtesy Mahatta & Co.
Flower market, Fruit and vegetable market by a local photographer.
Drawings by Kuldip Singh & Associates
Author Shobhana Menon is an architect passed out from SPA Delhi, and former employee and associate of Late Shri Kuldip Singh.