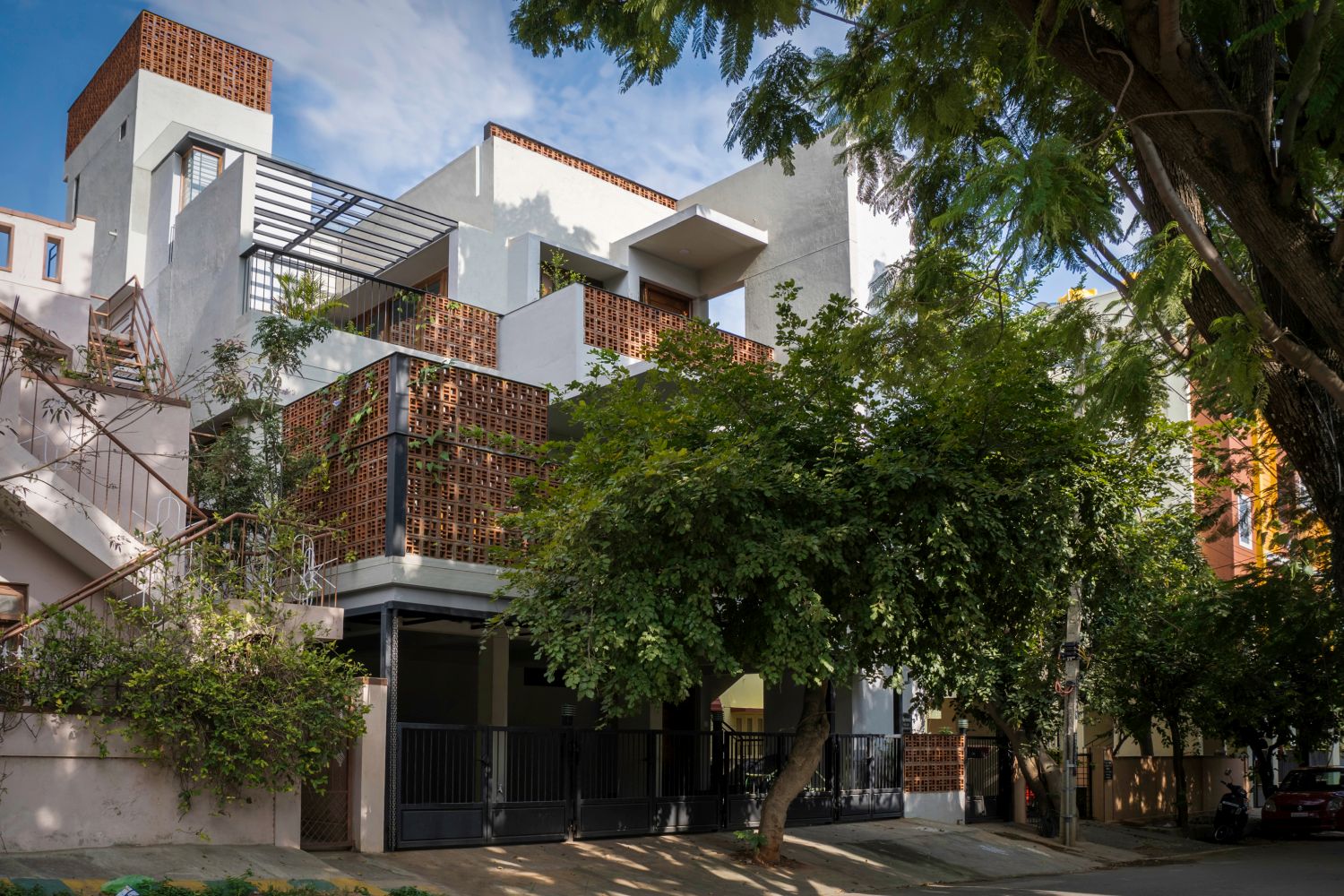 We had the privilege of completing this residence in Bangalore, for a family comprising parents and two adult sons. The family's intention was to build for their growing future and required us to discover the architecture for their home. Our process was initiated by studying the existing context, and programs provided by the client. In the study of the context we found that the prevailing buildings adjacent to the site were showing us possible locations of gardens and light wells, and the study of the brief resulted in treating the house as three independent units with three independent programs.
Our motivation behind the architecture was driven by the notion that independent accesses to gardens be provided for, hence, by using a stacking methodology of permutation and combination we discovered a section that incorporated gardens, terraces, and, courtyards that look into each other, inducing interaction between all the family members from various locations within the house.
The sinking of the slab above the parking lot enabled the first stacked garden, and an unimposing connection of the building to the street. This sinking also resulted in an unobstructed vantage into the street for the living areas of the first and second floor. Privacy was then catered to through the placement of multiple screens adjacent to the stacked gardens using locally available perforated terracotta bricks(also called terracotta Jaali bricks). These screens will eventually influence a constantly evolving face to the building, with the help of plants and creepers using the perforations as a system to grow into dense flora.
The palettes and material requirements for each of the units were very different, but we found a subliminal connection to adjoin all the different notions of aesthetic through the use of natural materials. Burma teak polished with a clear melamine coat, was used for all doors and windows, leather finished steel grey granite was used in all common areas, creating a dark contrast for a light coastal green granite(Ground Floor), a bright yellow sandstone(First Floor), and a dark jet black galaxy granite(Second Floor). We worked the architecture to have very minimal treatments on the vertical surfaces, often confining it to wall plaster and paint, with the terracotta jaalis and metal for railings.
Drawings
Project Facts
Project Name: To Be One House
Architecture Firm: The HULL
Firm Location: Bangalore, India
Completion Year: 2019
Gross Built Area: 4840sft
Project location: OMBR Layout, Bangalore
Lead Architect: Rahul Srikrishna
Photo credits: Ar. Salabh Srivastav of weclick360
Design Team: Aznaz, Wasim, Megana Ravi Kumar, Rahul Srikrishna
Clients: Mantravadis
Engineering: Ashok Associates
Collaborators: Ar. Satyanand Mantravadi