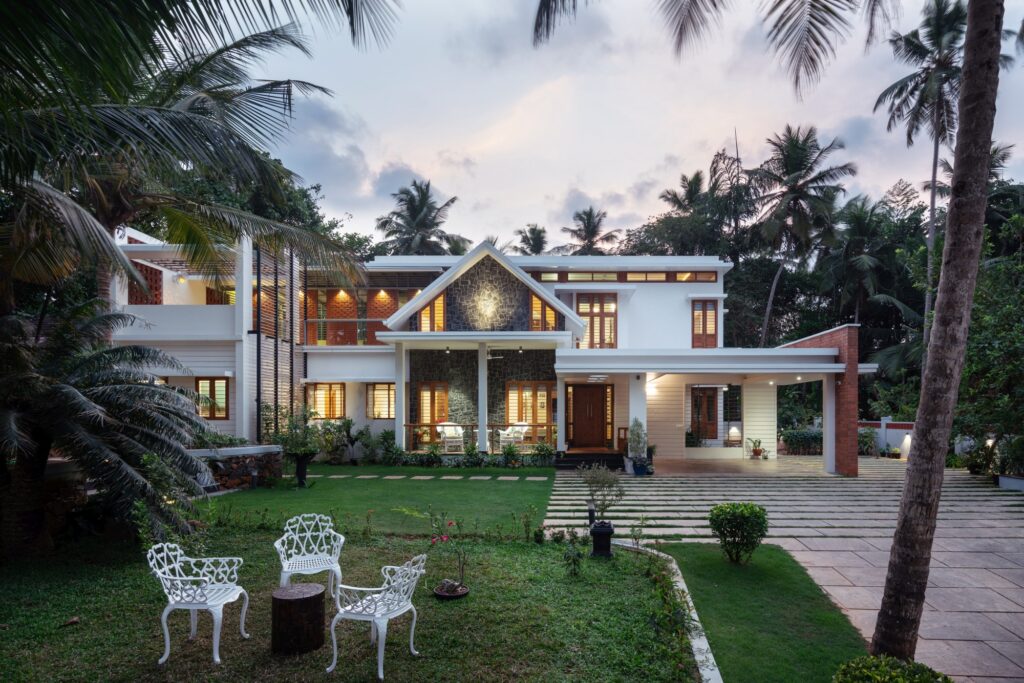 Remarkable forms and proportions inspired from bye-gone Kerala Architecture and minimal-tropical approaches in design are our favourite elements to render a modern Kerala home. Looking a little away from this signature but still within its parameters, our latest residential project of 5ooo sqft. Built on a plot of 1,215 sq. m. is a robust orthogonal design in strong geometrical proportions rendered on concrete along with a gracefully designed landscape all around the building for a Dr. couple in Calicut, Kerala.
The architectural form tends to flow freely, wrapping the four sides of the home in firm straight planes, intercepted boldly and carefully by external courtyards and patios. The ample front yard presents a nice vantage to appreciate the stance of the home; the front yard has zones for multiple car parks and a badminton court too. The front courtyard/yard opens up to the sit-out-living room-family living-kitchen-study space and then to the private backcourt having a platform with inbuilt seating and tropical plants well suited for an evening get-together. The dining space and the study room directly open to this space which welcomes a lot of evening sun and the southwest prevailing winds. This way the design makes the user experience the outdoors is taking a visit to the indoors.
The large entrance door in its exclusive design in teak wood opens to interiors that come alive with a large double-height space, abundant luminosity, simplicity and a staircase in glass and teak wood. While public spaces and two bedrooms are configured on the ground floor with the family living room and kitchen connected to the external courtyard via large French windows, the floors above are reserved for a family TV space, utility area, a semi-open party space, two bedrooms and a kids' bedroom. So there are five bedroom suites with ensuite bathrooms.
Project Facts
Completion Year: 2022
Total Built Area (sq.ft): 2100
Location (City, State): Calicut, Kerala, India
Architecture Firm: Nestcraft Architecture, Kerala
Architect: Rohit Palakkal