My uncle recently moved into a new apartment in Pune. While talking about it, he mentioned what I realized was a pergola over his terrace. I was impressed, even if I did not have the image in front of me. Like most architects, I instantly warm to even the thought of pergolas. But it turned out that the all-RCC pergola my uncle was talking about was actually at least twenty feet above the terrace (the 'terrace' itself was all of six feet deep). Worse, there were no 'pillars' that supported it. My warm feelings turned to horror as I recalled the pergola nightmares you see all over our cities now that Indian architects and their clients are suddenly attentive to the drama of architectural form. But surely nothing beats a cantilevered pergola two storeys above the floor it notionally covers?
Of course, developer architecture is always theatrical. The dramatic gesture sells better in the competitive market. But what makes pergolas interesting is the fact that even modernists in India have tended to be seduced by their charms. They are among the building elements that modern architects often rely on to make a design look better than it is, particularly in India.
I mention modernists (or architects whose formal language is broadly of modernist origin) specifically, for good reason. Modernism opposed formulaic devices that make a building look good, irrespective of its internal coherence or logic. So if such quick-fixes are visible within the current of that tradition today, it is worth noting.
By contrast, commercial architecture which emerged in the 1980s as a populist reaction to modernist aesthetics in India has not had any such qualms and happily borrows many elements from different cultures, periods and styles. It does not set out to produce designs that are 'authentic' conversations between the demands and possibilities of function, construction and form. That burden is assumed only by some architects designing on principles that date back to early 20th Century modernism. An important principle within this system is that elements and designs should ideally be functional- they should either be strictly necessary, or should perform some useful function, and should never be entirely superfluous.
There is much going against the pergola on this count. It keeps out neither the sun nor the rain, the two main forces architecture must oppose in India. And it does not come free. It has its costs especially if it 'covers' a patio. Of course, when used well it can bring a rare delicacy, even majesty, especially to big boned modernist forms.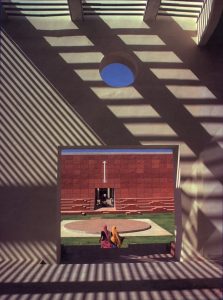 As it happens, only a few architects in India have used pergolas successfully. Charles Correa has been able to assimilate the pergola to his formal language very effectively. His design for Kala Akademi, Panaji is unthinkable without its high, wide pergola. But the patios of the housing he has designed at JNIDB, Hyderabad, are not as successful because of a common problem with pergola design: the space is too small for the thickness of the pergola components, especially the columns holding it up. B. V. Doshi too has used the pergola to dramatic effect at IIM Bangalore, though the logic-driven MBA students there often don't get the point of a roof that does not stop the rain! Perhaps, the most sensible and innovative use of the pergola idea has come from Joseph Allen Stein who has covered the large courtyards at India Habitat Centre, New Delhi, with space frames bearing panels that shade the open space in the scorching summer and let in the sun during cold winter days.
Such intelligence or formal control is, however, usually lacking when architects use pergolas in India. The commonest error is that the architect does not fully acknowledge that the pergola serves no function apart from an aesthetic one. This means that it has to be designed as being essentially 'necessary' only to the form.
Too often, however, the opposite happens. A patio or porch intended to be functional is covered with a pergola and can only be used sensibly once the sun is down and there is no rain. Compositionally, meanwhile, the pergola is proportioned and detailed wrongly so that it is either out of proportion to the main mass or its elements are so thick as to offer a self-parody of its delicate intentions. Worse, it often looks simply like an add-on that the form could have done without. So it fails the stern test of function and the subtle test of composition both at the same time. Such failure is common, but does not seem to weaken the hold of the pergola on the architectural imagination. What does that say about architects?
---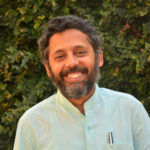 Himanshu Burte, is an architect and an Assistant Professor at the School of Habitat Studies, at Tata  Institute of Social Sciences, Mumbai. A graduate of Sir JJ College of Architecture, Mumbai (B. Arch. 1990), has been actively involved in architectural practice, research, writing and teaching. Himanshu has written extensively on architecture, art and urbanism in the popular and professional press, and has been invited to speak at many national and international conferences in India and abroad. 
His first book, 'Space for Engagement: The Indian Artplace and a Habitational Approach to Architecture' was published in 2008 by Seagull Books, Kolkata