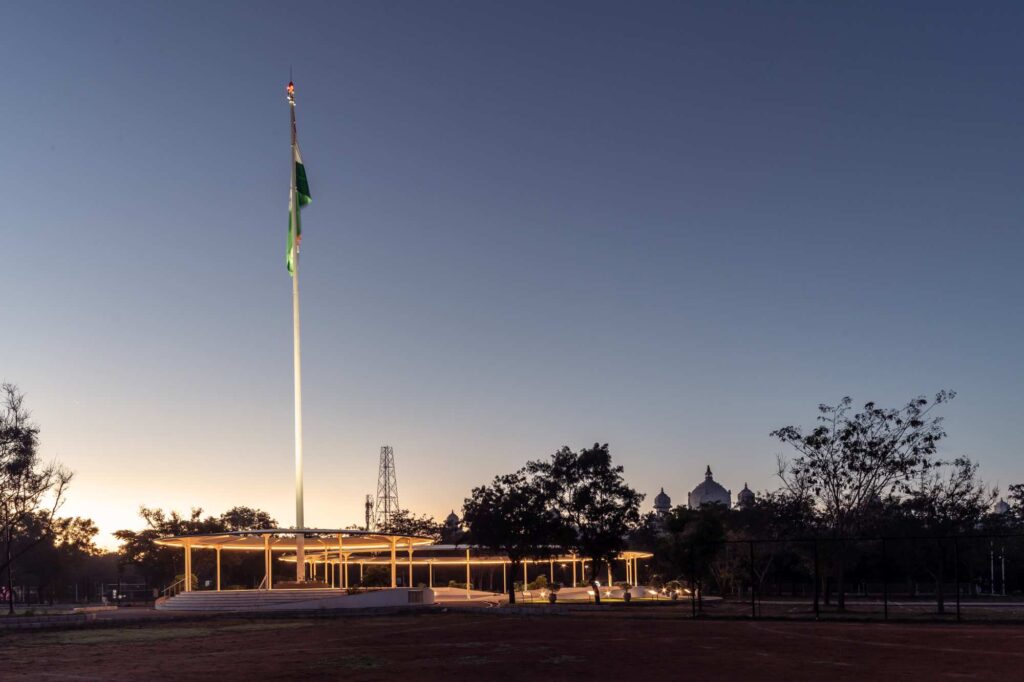 "In the beginning was a vast open space" – undefined, nondescript and ordinary, part of a playfield of the sprawling Kumaraguru College of Technology campus, in Coimbatore, Tamil Nadu, India.
Matched against this priceless asset were the lofty visions of the University – to not only reiterate and redefine its four-decade identity but to motivate its variegated student community to self-propel itself to a higher level of achievements. The baffling question before it was "HOW ?"
The University imposed no limits on the proposal. Its concept was simple. It had no design brief; no space requirements; no specific site, and no budget. It was ambitious yet nebulous.
*The first step in the design process was to anchor the idea to a specific, immutable location in the master plan; in a manner that its position could never be undermined; nor its status ever be reduced. The existence of a prevailing but imperceptible axis served as the spark.
The idea of a vista suggested itself. An iconic flag mast, visible from far and wide, and hosting the Indian Tricolor, was to become a fulcrum around which the rest of the campus would rotate. At 115'0" in height, the mast has a valid claim to be the tallest in the region.
The national flag by its very presence exudes an aura of positive emotions in the onlooker. It was a sanctum marked for veneration. A subdued circular structure, 60'0" in diameter, encasing the mast, was an automatic choice; a subtle, porous and unassuming structure that offered an invitation from any direction.
One part of the University's grand vision of redefining itself was thus conceptualized.
The second part of the University's vision- to stimulate its student community- was to foster interactive usage; to create a welcoming, democratic and encumbrance-free O.A.T space under the benign shadow of the sanctum; a sort of temple of activity through self-realization.
The two spaces fused themselves into each other and took on the mystical form of a loop. An overall duality of usage was sought to be achieved. The smaller loop, the sanctum, represents the Nation through its Tricolor while the larger one, the O.A.T, represents a healthy democracy.
An identical visual and architectural language was adopted for the larger loop, with gentle meandering ramps more or less guiding the visitors to a low podium.
The permanent seating arrangement is calibrated to suit a variety of needs. Designed in two ergonomic levels of varying widths, it encourages varied configurations. The bookends of the seating have been a soothingly tapered landscaped bed. The translucent tensile fabric roof was chosen symbolically as the wings of a bird in flight. While the flooring pattern in the sanctum is truly a work of craftsmanship, in the atrium it is more illusory. In fact, if the vision of intellectual stimulation were to be reduced to physical terms, then this arrangement has fulfilled that dream.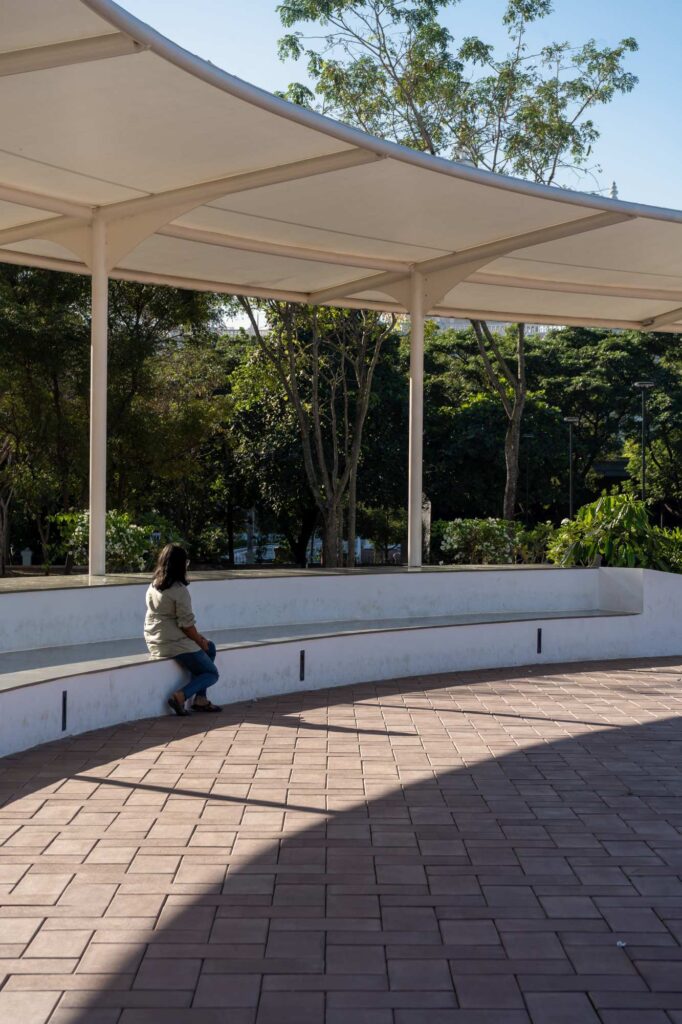 The entire project celebrates subtlety and is marked by architectural simplicity in the usage of its colours, textures, shapes and illumination. It almost reminds one of those famous lines from Tagore's poem: "Where the mind is without fear and the head is held high; Where knowledge is free…….."
Gallery of The Orb
Diagrams
Project Facts
Project Name: The Orb – Flag Pavillion
Location: Coimbatore
Firm: Triple O Studio
Site Area: 2300 SQ.M
Year of commencement and completion: 2022
Structural consultant: DUVO Engineering
Landscape consultant: Vanavarayan Institue of agriculture, Pollachi
Photography Accreditation: Pixel, Mr Binsan Oommen Baby