Welcome 2019, and Social media has gone frenzy with the #10YearChallenge hashtag. The challenge which has become a trending hashtag on Social Media – #TenYearChallenge, is about the transformation that one has gone through over last ten years, where people are sharing their pictures from 2009 and 2019. As expected, soon the challenge went on from being about people to being about anything and everything. People have shared pictures of their pets, buildings, cities, cars, plants, furniture and everything possible and talked about transformation over last ten years.
When it comes to #TenYearChallenge for Indian architects, there is a bigger thing to worry about. The Architects Act 1972. Nothing has changed in the Act since the time it came into force, although the nature of profession and practice has changed drastically. Architects (Amendments) Bill, 2007, was first introduced in the Rajya Sabha, but later in 2017, it was withdrawn as the government wanted to further amendments to the act. Of course, one must not forget that the primary objective of the Act is to protect the interest of common people, and not of architects.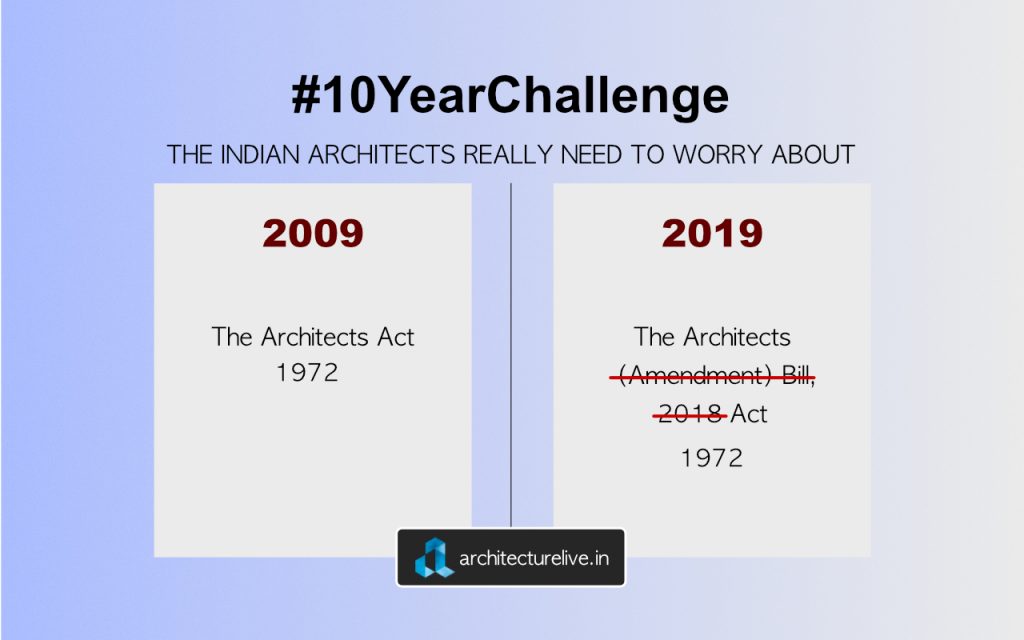 The current ACT is archaic in nature and doesn't give much control to the CoA, and it seems to be doing more harm to the profession than good. Recently, the Council of Architecture invited suggestions from architects across the country in regards to the proposed Architects (Amendments Bill), 2018. You can read more about it HERE. The Bill brings in major changes with respect to the definition of 'Architect' and 'Architectural Practice', along with provisions for Limited Liability Partnerships fro the firms.