India's leading Architecture and Design practice, SpaceMatters has been commissioned to design Nehru Place Bus Terminal, which will be a fine example of people centric infrstructure planning.

Delhi Government has given in-principal approval for redevelopment of seven bus terminals to ensure a world class transit experience to commuters of the State. Department of Transport is now rendering out the redevelopment of 3 bus terminals (Nehru Place, Najafgarh, Azadpur) in Phase – I with four more terminals to be developed in Phase – II in February.
Almost 40% of Delhi commutes by bus quantifying around two million trips per day to be benefitted by these redevelopment projects. DTC maintains 26 bus terminals in Delhi and these terminals are also crucial nodes of interchange where commuters switch from bus to other first and last mile connectivity such as Grameen Sewa, Auto Rickshaws and Metro.
DTC provides facilities such as information center, Bus pass office at these terminals along with public conveniences at these hubs. However, bus terminals in Delhi have not been modernized/redeveloped or upgraded since _. During the development of public transportation in Delhi, previous governments had failed to incorporate basic public amenities such as waiting area, water and toilet facilities, pick-up/drop-off points. And also the spaces are poorly lit and shelters are few and far between which deter women, young and aged passengers and differently abled commuters from using the terminals.
There is a traffic disorder at the terminal entry and exit points and most terminals are inaccessible for para-transit services. Informal shops and kiosks line up along the boundary walls adding to the traffic congestion. But it is also observed that there is a huge demand for eatables and beverages at transit stations.
With a vision to connect Delhi commuters with premium experience, the nodal locations of these terminal sites, their redevelopment and modernization offers an opportunity to convert these underutilized urban voids into vibrant public hubs where commuters can access civic amenities in a well-designed, multifunctional public space.
From the point of view of transport, this terminal is "future ready". The design is modular and can expand to accommodate electric buses in the rear portion of the site. The terminal is designed with provisions for buses with RFID and smart navigation and wayfinding equipment.
Imagine a bus station where you can pay your bills on your way to work. Or a place where families can wait during a long commute while safely parking their luggage in a locker room. Or a place where before you board the shared auto to your house. Or you can walk into a Mohalla Clinic for a quick consultation. Or fill your water bottles at Water ATMs and recharge your ONE common mobility card.
Futuristic Design of Nehru Place Terminal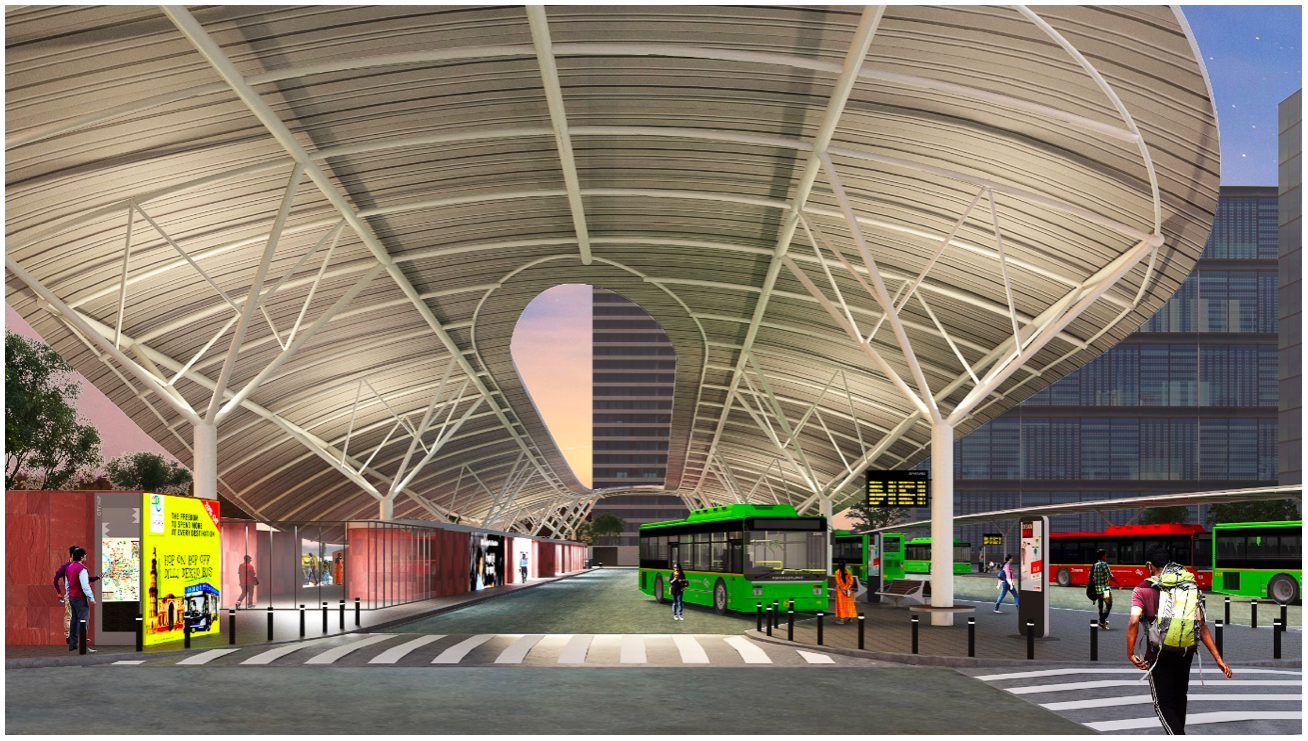 The new Nehru Place Bus Terminal reimagines the site from the point of view of a commuter. Commuters can now flow into the terminals from the Nehru Place commercial hub, from the Kalkaji Metro metro station and from the many temples in the vicinity of the site. It provides a generous public plaza along the Ring Road where commuters can wait and access facilities.


An aerodynamic futuristic canopy with its structure inspired by the tree form covers this public plaza and provides an iconic landmark to this important hub. At night, the canopy that is held up by tree-like columns is lit up through energy efficient LED lights bringing the street alive at night besides creating a safe and "imageable" public space. The canopy is a rain-shelter and also a water collector that directs rainwater into harvesting tanks.


The public plaza is porous and transparent with space for kiosks, small shops and hawkers. A round-the clock anchor store is located in the plaza. The design is also mindful of providing sufficient public toilets for women and differently abled citizens. Ramps and tabletop crossings are provided for safety and ease of access for all. Cycle stands are provided for parking private cycles as well as for bikes-on-rent.


By bringing the Mohalla Clinic, waiting areas integrated with a crèche/play area, e-Kiosk for bill payment into the Bus terminal, we are recreating the transport hub into a civic center.


DTC will be able to garner revenue from outdoors signage and digital media integrated into the architecture of the public amenities on site.


Provision has been made for connectivity to the foot-over-bridge located at a short distance from the site as well as integrating a pedestrian bridge to take the commuters to Nehru place without having to intersect with vehicular traffic.