Kudos!
Martin Filler, a prominent architectural critic had said "Architecture is not a profession for the faint-hearted, the weak-willed, or the short-lived". So welcome aboard the adventurous journey called architecture.
And, just in case you missed the viral post that massaged the already big ego of architects around the world, see the image below.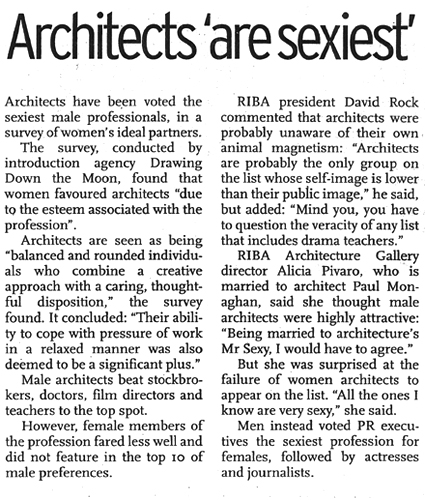 At the same time have a quick glance at the other side of the story, find it here.
It is assumed that you have already gathered necessary information about the profession and the life that architects and architecture students live. No? Set up an appointment with the best architects in your city, go to all colleges in the vicinity, talk to students, talk to teachers, visit their websites and spend some time at the "college canteens" where you will get some 'real' feedback. We have left the job of deciding 'top ten' colleges in India to other magazines, we don't trust. 🙂
See some of the amazing works Indian Architects are doing CLICK HERE.
With increasing number of architecture institutes in India (about 300, many of them are listed HERE), it is evident that architecture is getting to the forefront of the society and the awareness about the 'royal' profession is increasing day by day. The eligibility criteria include clearing an entrance test, NATA (National Aptitude Test in Architecture) or AIEEE (All India Engineering Entrance Exam) (for government aided institutes) with at least 50% marks in XII (or equivalent). The admission criteria may vary from institute to institute. Next comes the tough question, which institute to join? Or which school? Yes, many architecture colleges love to call themselves 'schools', not only that, many behave like schools too. The admission processes vary from University to University and state to state. Depending upon how you fare in your entrance test and HSC (or equivalent); you will have the choices of institutes. We wish you the best with your search and your academic career.
To make it easier for you, we asked three questions (listed below) to some experts, educators, professionals and even students. While answers and feedback are continuing to pour in, we are publishing some of the views and comments that we have received so far:
Questions asked:
1) For students seeking admission to architecture course in India, which three factors shall be considered most important in deciding on the institution?
2) Your advice to students, on what to do when they do not get admission in the institute of their choice?
3) How much does the name or reputation of the institute actually matter?
We have formed our opinion based on the many comments we received from architects and educators in India:
1. The coaches
A good coach makes a good sportsman. "An educational institution is its faculty, not facility", says prominent architect and Prof. Shashi Bhooshan. The Council of Architecture has laid down strict norms on the number and eligibility of faculty. Before moving ahead with the admission procedure, check whether the Institute meets the minimum requirements laid by the CoA. Moreover, architecture education cannot merely depend on the in house faculty. It is a must that the institutes remain connected to the professionals outside. If possible, try finding out the number of times guest lectures were arranged by experts outside the institute, in the previous semester. The more, the better it is.
2. The playing field
The playing field is at times critical to the output of the game. Studios, lecture halls, workshops, sports, library, canteen, computer lab, dining, hostel and others add up to the list of infrastructure that an educational institution should provide. These are only a few, it is recommended that you ensure that these facilities are there and in good (if not excellent) condition, before you even think of getting there. You are going to spend huge time on campus and if the institute is not ready with any of these facilities, strike off its name.
3. The rules of the game
We are not sure if students check curriculum, before they opt for architecture course. There is a myth that architecture is all about drawing. No. It isn't. At times equal or more amount of time is given to theory subjects and this could be nerve-wracking.
4. What's in a name?
It matters. Institutes evolve with time and most of them only get better. If at least one batch has successfully graduated, and is practicing, it means the institute has gotten over all teething troubles. If the institute has grown to have more than one course of study, that's a positive thing. Talk to the alumni of the institute. See what they are up to and ask for their advice.
But, on the other hand, new institutes have some benefits too, especially flexibility and experimentation. New born give more freedom to faculty and students with respect to academics, which allows a good room for explorations and experimentation. How do you decide if the newborn will work? Talk to the Dean, HOD and some faculty about the vision of the institute. Talk about long term plans and future. Background study of the people heading the institute is a must.
5. Money, money, money.
It isn't cheap anymore, unless you are lucky to get into a government aided institution, like School of Planning and Architecture, Sir J.J. College of Architecture and some more. You will spend on sheets (infinite), modelling material, equipment, tours, festivals, fines and many other things. So keep this thing in mind as well.
Following is some advice from experts from the industry. After the advertisement,
Mark Warner, a respected educator:
"In the end what really matters is the portfolio of your work that you carry with you when you graduate. Even the best institutions are not evenly excellent through every year. The mix of staff and students keeps changing as do situations and there are fluctuations – good years and not so good years. Reputed institutions keep these fluctuations down to reasonable levels so at that level it matters. However, keep in mind that unlike other professions, architecture, design and art have hard evidence of your competence in the form of your portfolio."
What if you don't get admission into the choice of your institute?
Here is an advice from Ambrish Arora, Principal Designer at Lotus, New Delhi:
"Take admission in the next best course and try and get a transfer to the institute of your choice (if you can)."
As simple as that or wait for a year, but do not rule out new and upcoming institutions as said earlier in this post.
Prof. Mark Warner advises, "There are two choices – to try for admission again the next year or go to another institution. I'd advise that taking the chance with another institution. I have had many students tell me that they were so glad that they had landed where they were and were happy though they hadn't expected it. Let fate take you where it will – more often than not you will find good friends and experiences."
Prof. Pushkar Kanvinde, Principal at BKPS College of Architecture shared:
"It doesn't really matter even if you do not get into the institute you are looking for if you are keen to learn the things. What matters is your zeal to learn and practice."
Bookmark this post. We will keep updating this post with latest comments and views from the experts. And if you have some advice to share, or have a question, reply to this post. Edited by: Pulkit Soni