The brief of the project:
The project was to design an indoor pre-school for around 60 kids with 3-4 classrooms, play-area, activity room, audio-video room, staff room, counselling room/office, waiting area, pantry and toilets for kids and staff.
The design intent: Lack of well-designed spaces in cities like Delhi is a major urban problem. Where approximately 23% of the city's population lives on only 9% of the city's land (East Delhi), there is no other solution left except the maximum attention to design. We had just 1900 X 14 cubic feet of space adjacent to the road from two sides, where noise was a big problem, so the classrooms were placed inward with enough daylight, keeping the play area wide open which is adjacent to the road that lets the north light come into the deeper parts. There was a lack of space here so everything was made open, transparency was our goal which helps to make children feel safe and also greatly increases the possibility of interaction which improves their ability to observe and communicate. The whole school acts as a unit, strong visual and physical connectivity between different zones and spaces brings functional flexibility that breaks the monotony of routine.
One of the main objectives was to create a child friendly settlement of their scale, which makes them self-sufficient and confident by giving a sense of owning. It creates a growing environment which helps them explore their creativity in a playful manner. A community with playhouses, treehouses and courtyards is created where kids learn to identify different spaces, paths and connections between them.
Minimalism is achieved, by multiple use of furniture, partitions and even structural elements. A subtle and harmonious bright coloured theme highlights important features like geometrical/hut shaped walls while balancing earthy colours of floor, ceiling and other surfaces. Classrooms have a monochromatic yet colourful theme. Minimal use of colours makes it a space that has potential to become a canvas for kids' multi coloured creativity.
The site: It was a renovation project of a small card box making factory converted into a pre-school. The building was a double storied box type structure with no interior walls (only columns) whose ground floor with 14 feet high ceiling was used as a factory. Factory was shifted and pre-school was designed instead with an interior project of 2800 sq ft (including mezzanine) while exterior was renovated in a minimal and cost-effective way.
The spatial configuration/flow: The interior layout contains two courtyards, one at the entrance connected to the office and counselling room is for visitors and parents, leads to other that is the play courtyard surrounded by classrooms, staff room, playhouse and kids' toilet. Both the courtyards are connectable in case of large gatherings just by shifting a couple of loose furniture. The 14 ft high ceiling gave us an opportunity to add a mezzanine level that is easily accessible by kids. Level 1 has counselling room, office, classrooms, audio-video room and working space for mothers that could be used for many events. Elements like bridges, corridors, spiral staircases, built-in seating and storage add a spatial value there.
The material palette: Material has to be safe for kids, sustainable and cost-effective. The mezzanine is a steel grid structure resting on half/ full brick walls and steel columns. This steel structure has been kept exposed (only painted) that guides the ceiling mounted tube lights in a playful way. Soft and sustainable materials like pinewood, rubberwood and polished chipboard (re-used) are used for railings, doors and panelling. Wooden laminated flooring on existing cement floor gives a homelike feel.
Exterior facades were renovated in a minimal, green and cost-effective way. Parapet walls are cladded with GI corrugated sheets without breaking. Vertical steel pipes are used to generate visual connection between the floors whose composition is derived from location of windows. These pipes would be used to support green growing from first floor balcony, that would shade the exterior walls on first floor as well. Bright yet soothing colours on exterior walls are composed in a playful manner.
The challenges: Incorporating all the required functions in such a small area without compromising the rooms sizes was very challenging, that lead to the introduction of a mezzanine level. As many colours have been used in the school, it was very challenging to finalise the colour palette.
The highlights: An exciting and dramatic experience created by various elements of design is a highlighting point in the school. 
The lessons learnt: We got to learn a lot about efficiency in design by optimised use of space. Explored unconventional materials and ways of construction. Learnt about how to manage the sequence of works during a renovation project.
What is your favourite aspect of the project: We gave maximum attention to each and every corner of the school as it was special for us. The joy that is brought by the harmony of space when we are there is my favourite aspect of the project, that is why we call it a happy place.
Has this project been featured in any publication before (Y/N) : Y (India Design World, Archi-Voice)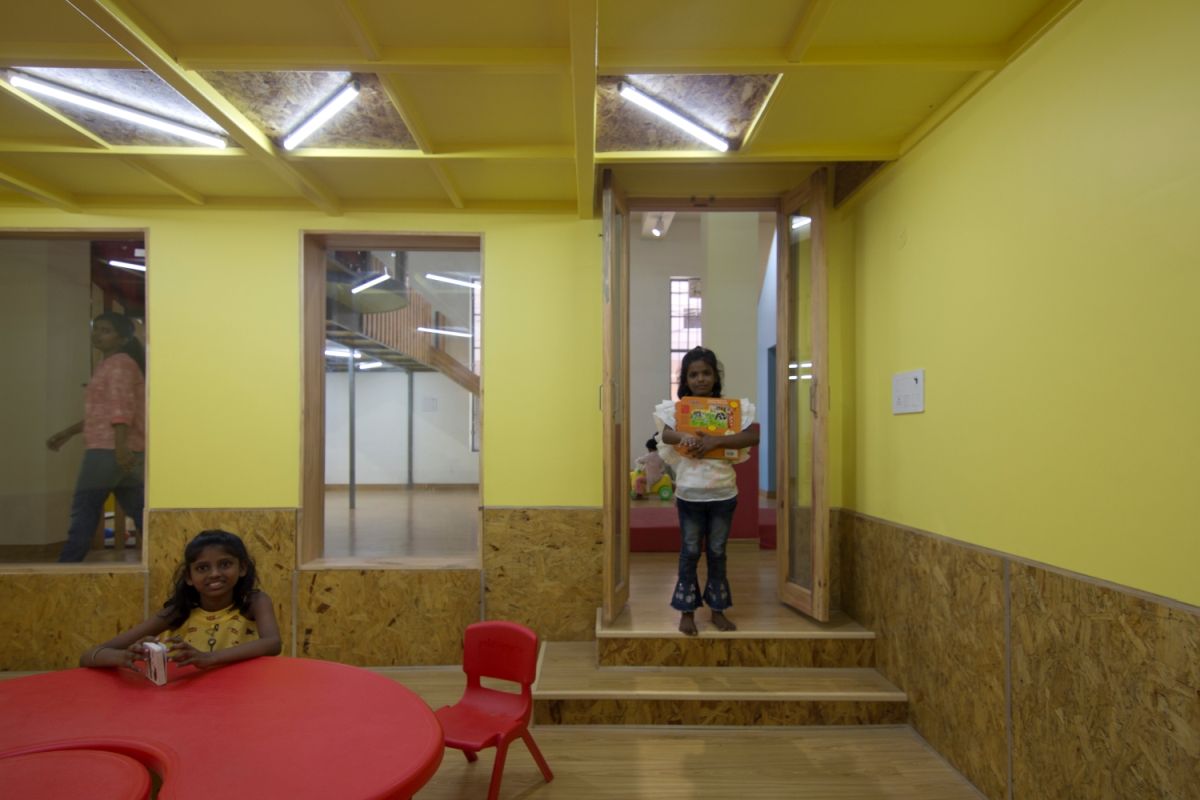 ____________________________________________________________________
Project Facts –
Project Name: Pre-school in East Delhi (Franchise of Canvas International pre-school currently)
Design Firm: Aditya Bhardwaj Design Studio
Size: 2800 Sq. Ft. (Including Mezzanine)
Location: East Azad Nagar, New Delhi
Principal Architects: Aditya Bhardwaj
Client: Sahil Gupta
Photography: Aditya Bhardwaj, Akansha Gautam