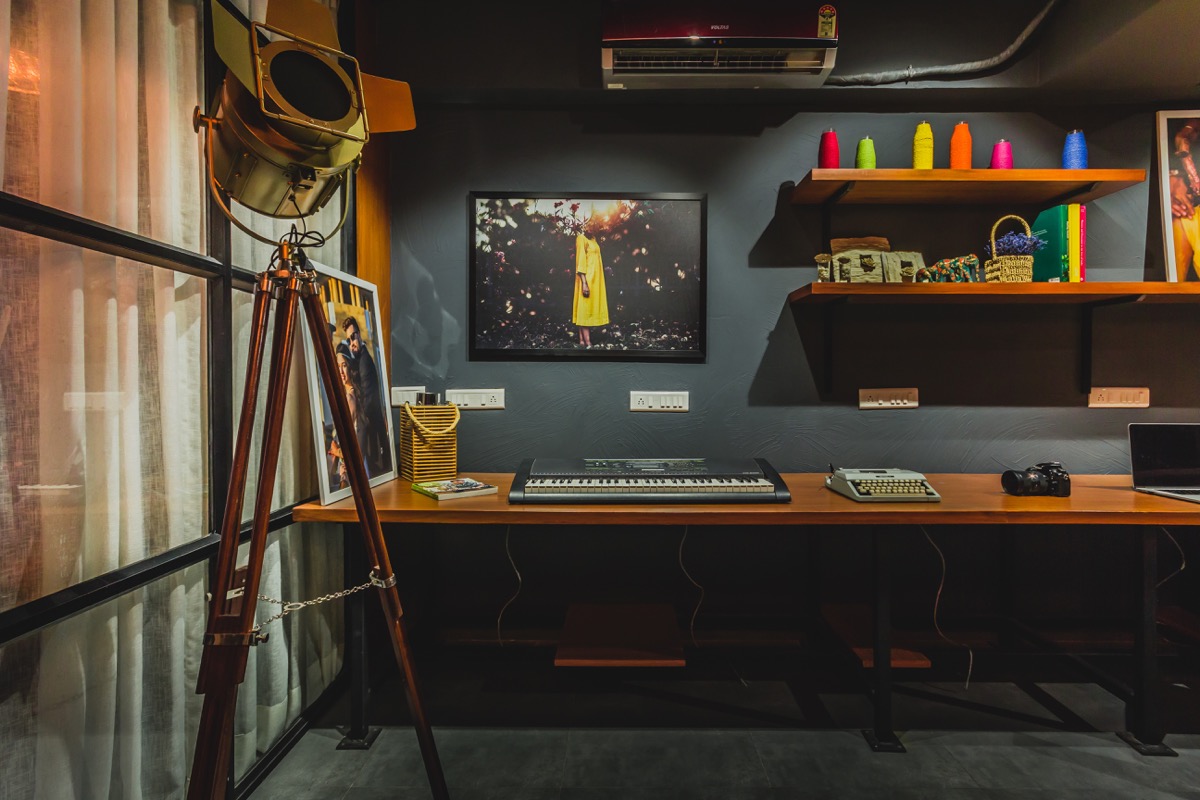 Photography as a profession is very idiomatic, so the space occupied by a photographer needs to be a reflection of ones self to be in sync. This is where a studio space differs from an office.
Our clients are a famous wedding photographer duo from Ahmedabad in their early 20's, with varied nature and taste as compared to one another. Chandni Due on one hand was vivacious, while Aditya Sharma was extremely simple and liked being laid back, both with a common passion for photography.
The project was to give a perfect workspace with an mélange, reflecting the natures of both partners and a space that each could correlate to. At the same time, making a contemporary convertible space with an intention to keep it as adaptive as possible for recreations like parties, movie screenings and experimental photo-shoots. And, it being a start-up, our clients were on a budget and cost was of paramount concern.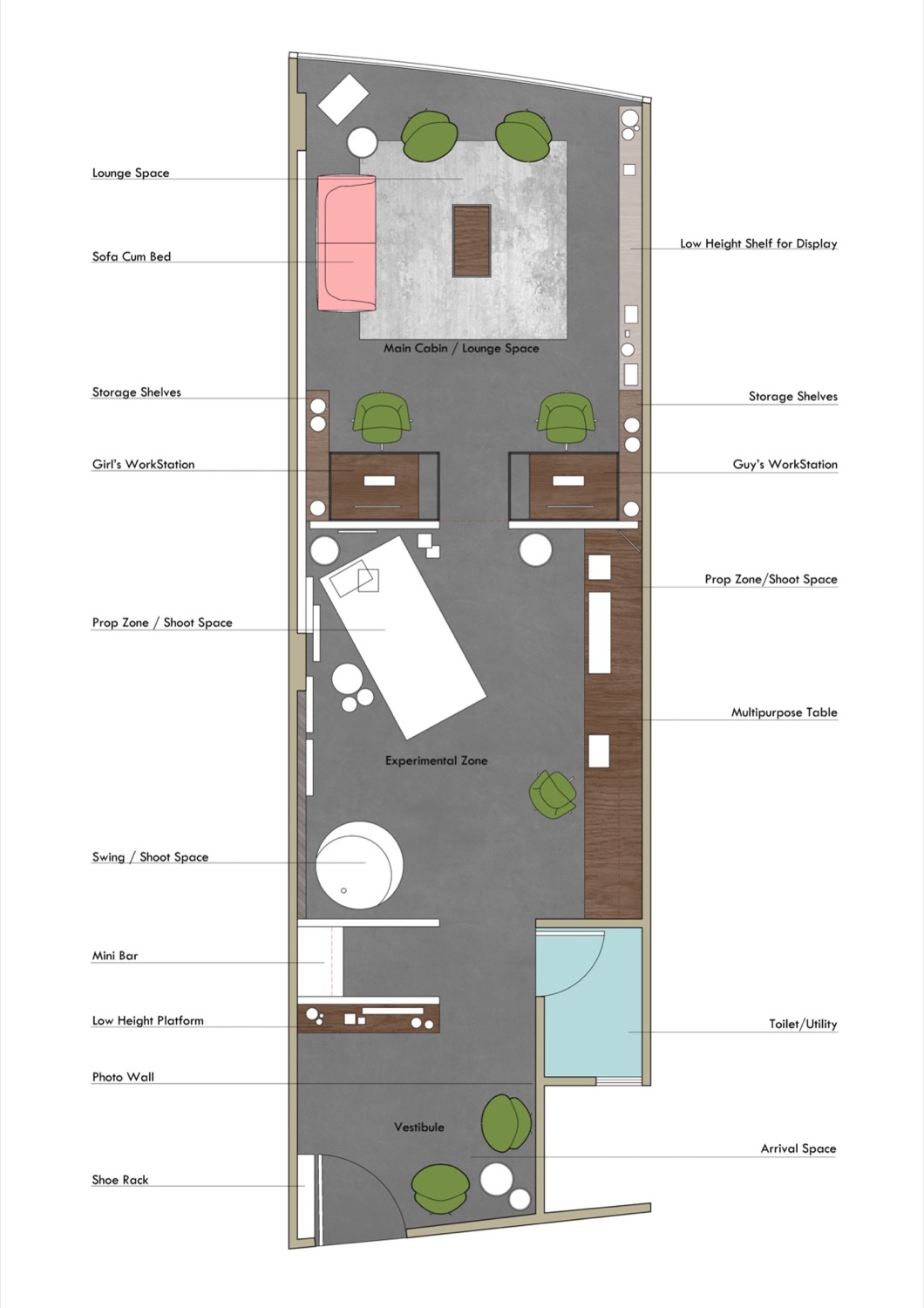 Consequently, the linear 650 sq. ft. area was divided into three spaces, the arrival space, the creativity space and the work lounge linked on the basis of the order from entry to final preview of the duos works. This gives the visiting clients a complete glimpse of their work. The idea for the interior was minimalist, with elements of contemporary and modern order, as to the taste of both partners.
The arrival space designed as an elegant waiting area, gives a subtle pause before it spills into the main studio space. The clients get a peek into some of the award winning works of the duo that have been put up on the alongside walls.
The second zone in the link is the main studio, their creativity space programed to hold informal discussions and experimental photo-shoots. Photography props and loose furniture make it an aesthetically unique set-up for the shoots. The walls inspired from the traditional mud plaster (Lipan), becomes an integral part of the interior feel, giving the photographers a perfectly crisp backdrop for portrait shoots with darker floor and ceiling allowing a focused ambience. The space is planned to function as additional seating for the future crew of the studio.
Further, an aluminum-glass partition defines a visual and spatial connection with the successive space, the work lounge. The space functions as a personal workspace for the duo, as well a meeting area. This is also where they screen their photographs and wedding movies to the clients, on a large projector screen, with a sofa cum bed for the clients to sit back and relax.
The space also serves as an interactive and a flexible area. An array of bright colors likes red, yellow and blue; a subtle touch of wood and a perfect ambient light setup adds to the feel of the space. Post work, the same space transforms to a PlayStation battleground, a party area or a movie lounge!!!
More Images
Project Facts:
Project Name: A Personal Space
Architects: Intrinsic Designs (Shivraj Patel & Shruti Malani)
Website: www.intrinsicdesigns.in
Completion Year: May 2017- July 2017
Area: 650 Sqft
Location: Ahmedabad, Gujarat. India
Photographer: Shivraj Patel
Design Team: Shivraj Patel, Shruti Malani