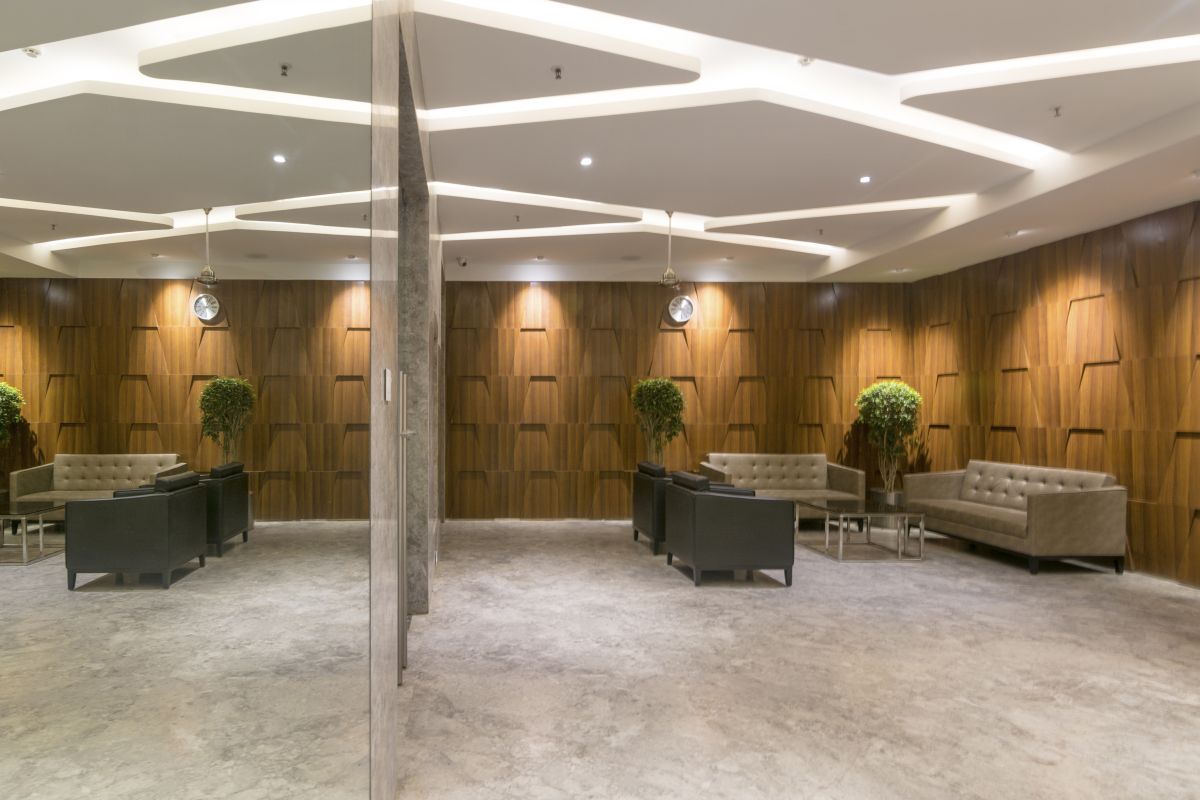 Reflections Club is the center piece of this lovely complex Raheja Reflections at Borivali in Mumbai.
The stylishly designed reception area in Grey Italian marble floor and veneer paneled wall looks warm and inviting. The ceiling is interesting with criss-cross cuts for indirect lighting. The ground floor accommodates a huge gymnasium overlooking the swimming pool, along with spa and shower facilities for men & women separately and a party hall. The design of the gymnasium is modern and funky, targeting young enthusiasts with a grey & orange colour palette. The mirror design in a rectangular frame with rounded corners is complemented by similar shapes in the ceiling with indirect lighting and a deep rust colour. The party hall which is perfect for any social event, has huge sliding doors which open into the lush green lawns. One of the walls forms an interesting backdrop with inserts of mirror panels of differing sizes. The ceiling complements this visual with panel lights of differing sizes. The spa & shower areas have colours that are unanticipated – the gents' with blue tiles and grey marble and ladies' with yellow tiles and grey marble. Both areas have a lovely mural in black & white mosaic tiles in the Jacuzzi sections, exuding energy and positivity.
The first floor houses a large multipurpose hall which opens up to a terrace garden, and a games area on the other side which include carom, chess, table tennis & pool. The interiors of the indoor games area again is lively and spunky to create the energy required to be tuned in to games. An engaging feature of the games area is a visual partition which is a white laser cut screen in a geometric design.
The club house design is stylish and cheerful with a comfortable vibe, a strong colour palette and attention to detail playing an important role right through the design process.
Project facts:
Project Name: Raheja Reflections Club
Location: Raheja Reflections, Borivali, Mumbai
Area: 10,000 sq.ft.
Client: Raheja Universal
Designer: Sachin Goregaoker – Partner
Completion Date: 2017
Photographs: Prasad Sakru