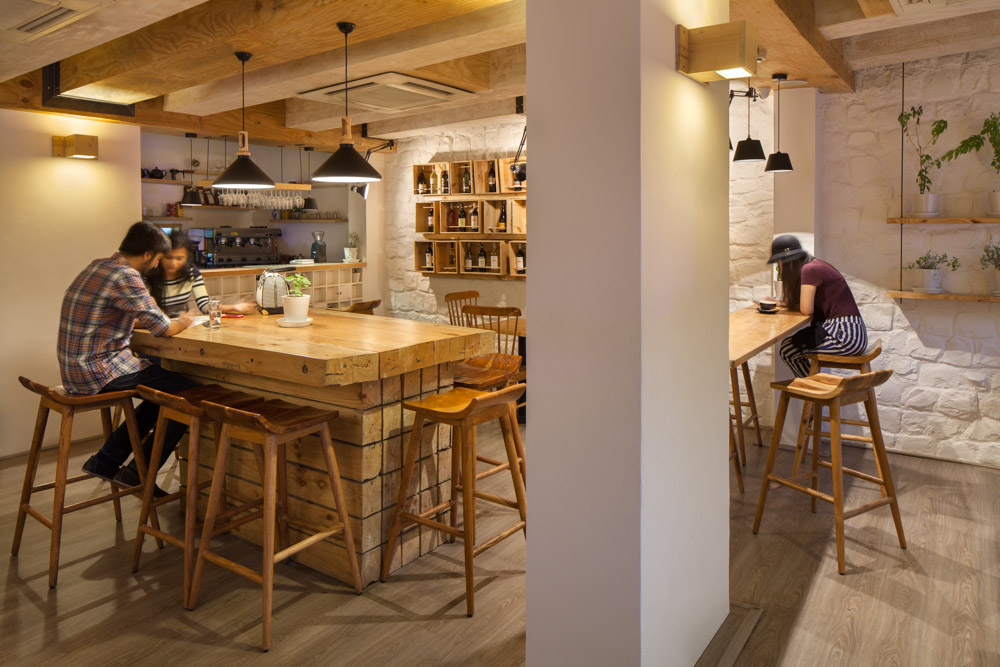 Perch Wine and Coffee Bar was envisaged to be an oasis of delectable tranquility in the bustle of Delhi's iconic Khan Market. Conceived around a large and well-curated selection of both beverages, its culinary offerings emphasise clean flavours, simple techniques and seasonal freshness. Meant to be both a place for idyllic repose as well as one of quick replenishment, the all-day bar makes room for solitude as well as social convivality. The lower floor has high-stool seating along shared ledge counters and a communal log table arranged for a view of the tree-lined storefronts below and to encourage the odd conversation between strangers. The upper floor is populated with couches, wide dining chairs for more intimate dining. Perch's design attempts to create an environment that revives various affinities: between taste and fragrance, craft and nature and amongst people.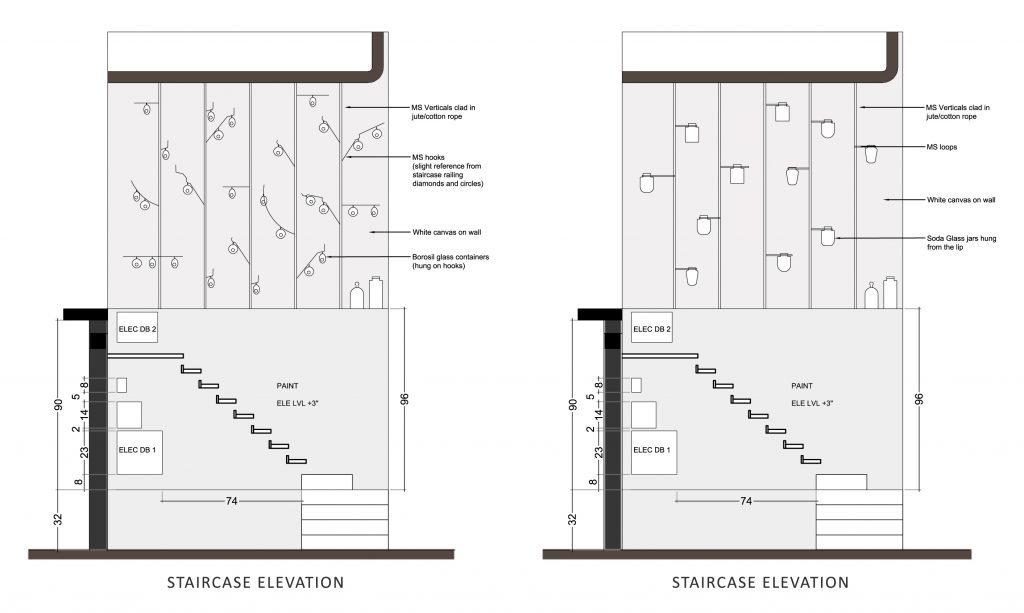 The premises were previously occupied by an Indian cuisine restaurant with tinted windows, mirror-panelled walls and a heavily corniced wooden false ceiling.The renovation focusses on simple articulations and frugal detailing in a minimal rustic pallette of materials and finishes to create a clean and fresh canvas. The first move was to declutter and flood the spaces in natural light. The panelling was stripped and reused, the windows de-tinted and a skylight was introduced above the stair well. The light is amplified by the whitewashed walls while light woods lend warmth to the interiors. The design further reinforces its sensitivity to nature and its commitment to the environment through the scrupulous reuse and upcycling of wood and steel, both from the previous restaurant as well as from industrial packaging waste. The staircase was fashioned with steel girders removed from the ceiling to create the skylight. The staircase treads and the seating are made of jamun (Java Plum) and keekar (Indian Gum Arabic) respectively, both species being native to Delhi.
The front door, retrofitted with planters of vines, angiosperms and succulents, greets the visitor and behind it a narrow flight of wooden treads ascends away from the busy central lane of the market. A large ficus tree is nurtured in the stairwell underscoring the significance of the living world in Perch's culinary philosophy and one enters the upper floor under the cover of its canopy. On the upper floor, french windows part completely to throw open the terrace in clement weather. Terrariums, potted herbs, flower and frut bearing plants dot the tables, nooks and crannies, diffusing vegetation, aroma and colour throughout the premises.