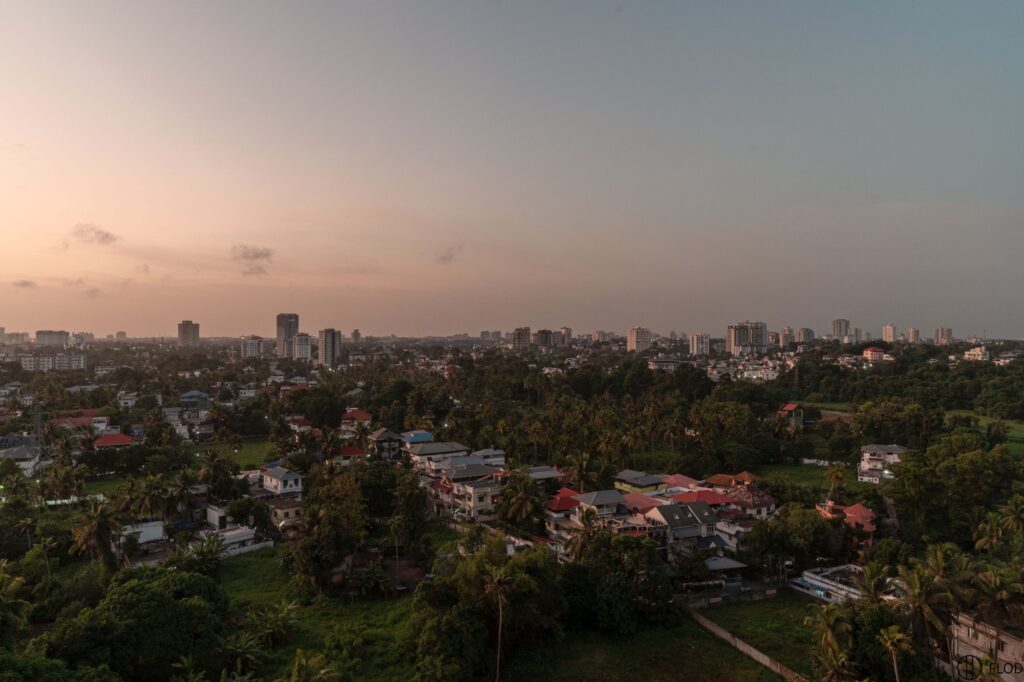 This family, collectors of myriad small artworks, where each piece in their collection whispers anecdotes of moments & memories etched in time, were sure to exhibit these pieces in the house.
Their vision for a home was to be a true reflection of themselves – an ethereal sanctuary, open and airy, bathed in the tropic's warmth & kissed by sultry breeze, with an ethnic charm. A celebration of youthfulness yet bearing a worldly touch. It would be a place where they could exist in their purest forms, devoid of formality, free from restraints of any kind. An ode to their roots, flaunted proudly on foreign shores yet universally relatable.
A vibrant space with a pop of colors bold enough to support the innumerous paintings and caricatures, one that exudes youthfulness seemed to be the best answer.
The architectural canvas unfolds an open layout, where the heart of the home, is the living/dining hall facing a long balcony in the north, merged seamlessly with an open kitchen in the south end, while two bedrooms are positioned beyond the living at the eastern end, facing each other. The entrance ushers one into a formal living room, next to which lays the smaller bedroom.
An ethereal gallery was super-imposed upon the layout, over the entrance lounge and part of dining/living, beckoned with its unique flooring. The free walls spaces of the gallery adorns a mishmash of framed artworks in no particular sequence or rules. Adaptive lighting casts spotlights on the narratives, weaving a rhythm through the open expanse. This subtle insertion of the gallery gives a certain definition to the spaces and adds more clarity in the flow of circulation without sacrificing its openness.
The gallery floor is an earthy tapestry of terracotta tiles, in stark contrast to the polished Kota stone that graces the rest of the home. This derives a dance of contrasts, of warm& cold, of matte and gloss.
This masterpiece was extended into the design by embellishing the Kota floor with chic, flamboyant furniture and bright fabrics. The terracotta plays host to serene neutrals. A delicate balancing act of earth and sky. The interior palette of colour materials & finishes draws inspiration from the picturesque backdrop of the balcony – clusters of terracotta roofs, splashes of conspicuously coloured buildings, billboards, and blue-roof tops interspersing the lush green canvas, all under an ever-changing sky of blue, grey, and orange.
Furniture, an eclectic blend of sleek metal, wicker weaves, and fabric, lends chicness and contributes to the playful nature & spaciousness of the interior. Each piece of furniture was meticulously crafted to become a work of art in its own right, harmonizing seamlessly with the artistic aesthetics of the interior. The petite edgeless chairs and dainty coffee tables with their slender, contemporary forms, bridge the global sensibilities leaving the perception of space.
Wicker weaves and light Ash wood lush indoor, greens, and indigenous materials like terracotta and Kota stone pays homage to the tropical ethnic ethos.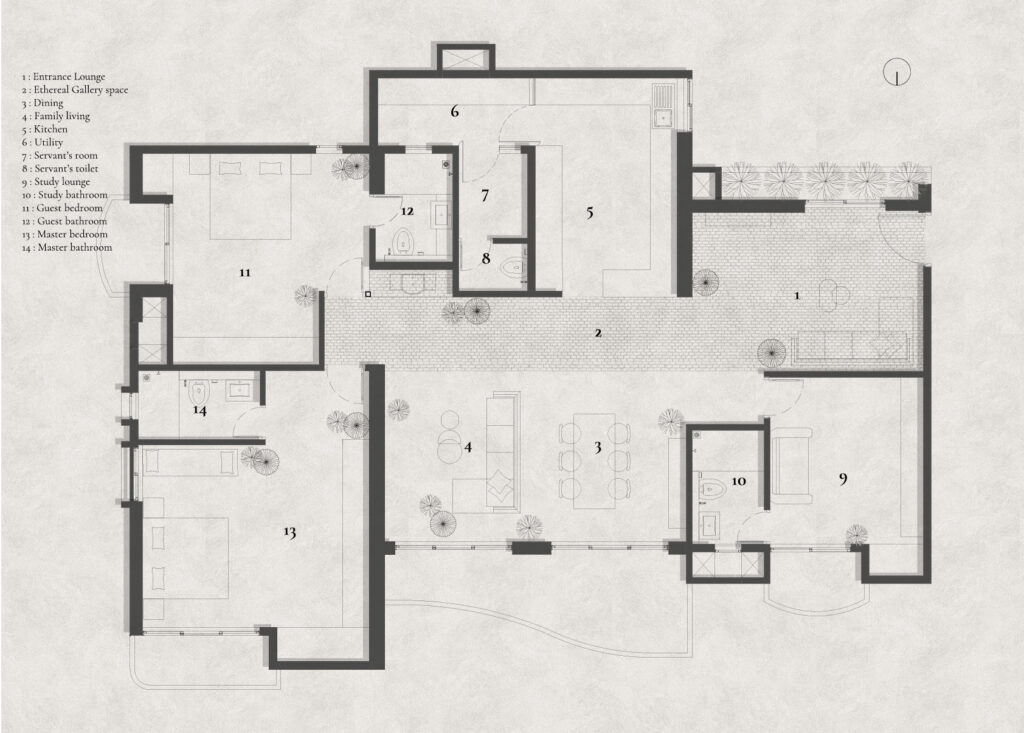 Project Details
Completion Year: 2023
Gross Built Area (m2/ ft2): 2760 sqft
Project Location: Cochin
Program / Use / Building Function: Apartment Interior
Photo Credits: Syam Sreesylam