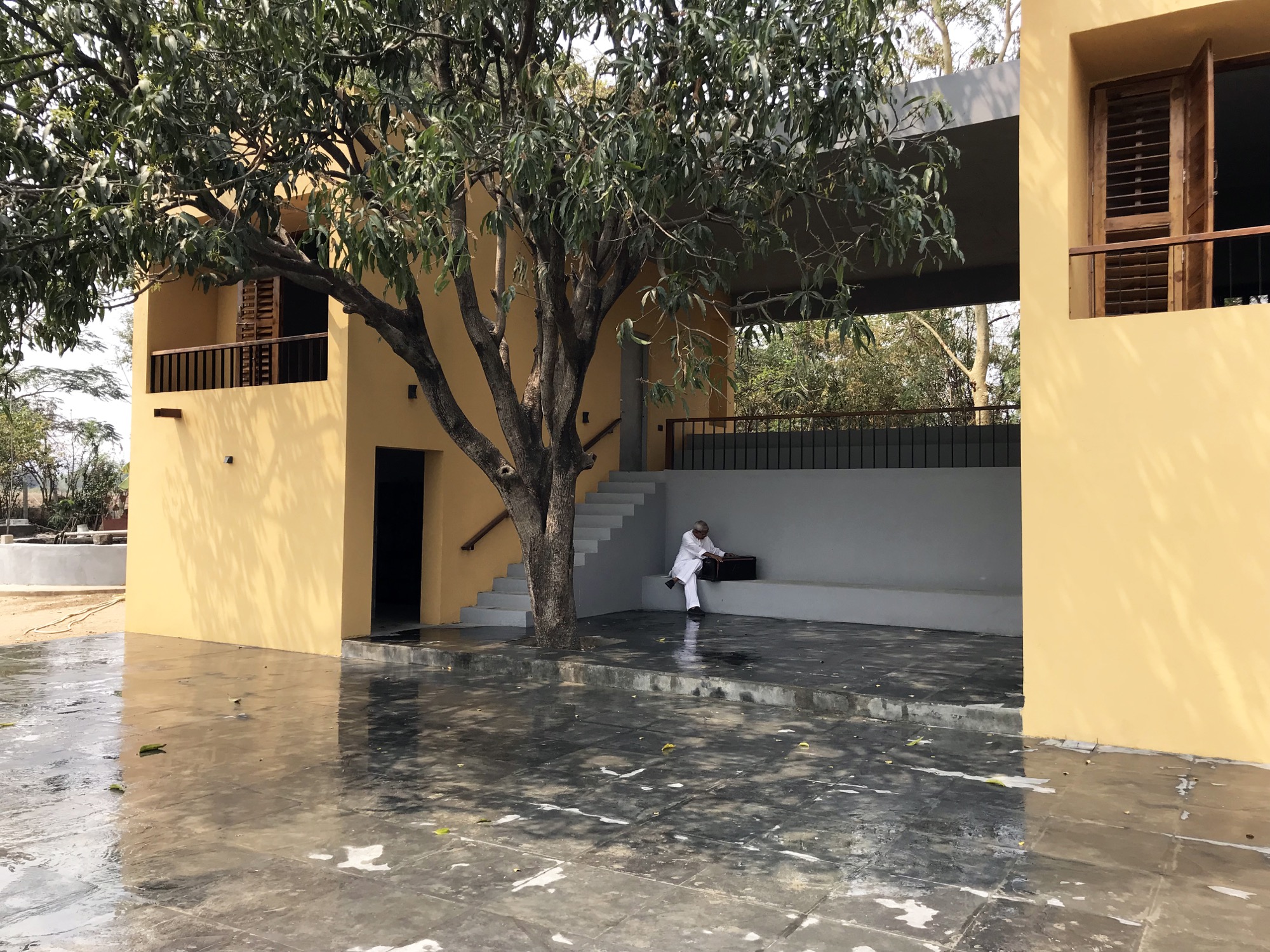 India has witnessed a trend of middle-class families building weekend retreats in rural hinterlands. This shift in prime inhabitant of the farm from a farmer to urbanised families poses a peculiar challenge of re-imagining the 'farm house' – as a secondary home for relaxation by urban users in a rural context.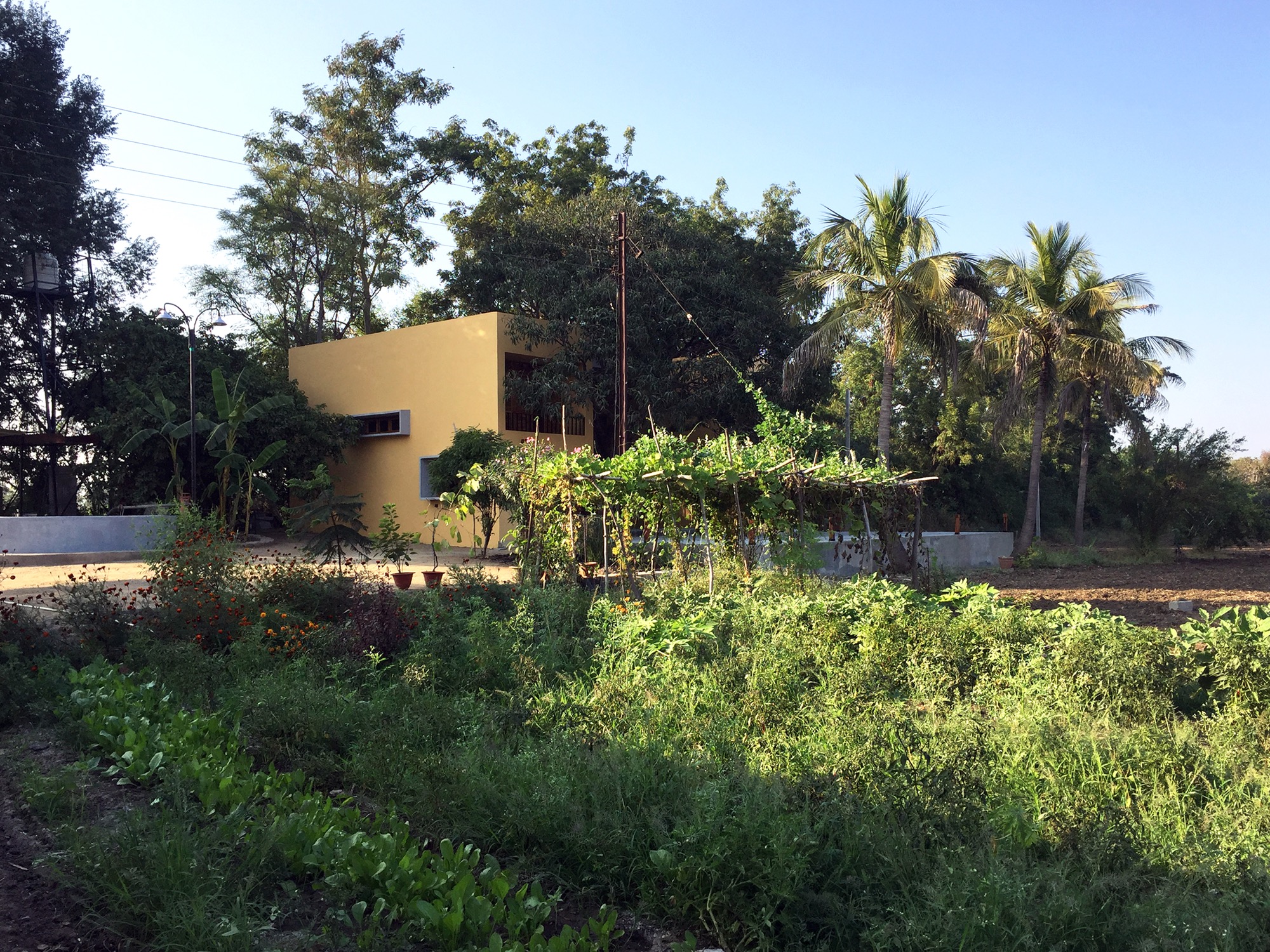 Situated amidst a 16 acre farmland, the house is built on a shoe-string budget of 20 lakhs. The project re-examines notions of 'vernacular' not as a reductive imagery which cloaks architecture (sloping roofs, mud plaster, clay tile etc); but as a performative tool consistent with the hot and dry climate, aspirations of the urban user and maintenance warranted of a secondary home. Sited on an existing plinth, two muscular masses wrap around the mango tree, tied by an elevated bridge, defining a split-level court. Large shade of the tree and a parasol roof cover the entire structure. The aim was to create multi-functional, closed and semi-open volumes rather than rooms. The living spaces are nebulous, with each part of the court being used differently subject to the time of the day, occasion and season. The utilities are situated on ground floor while sleeping areas are on the upper level.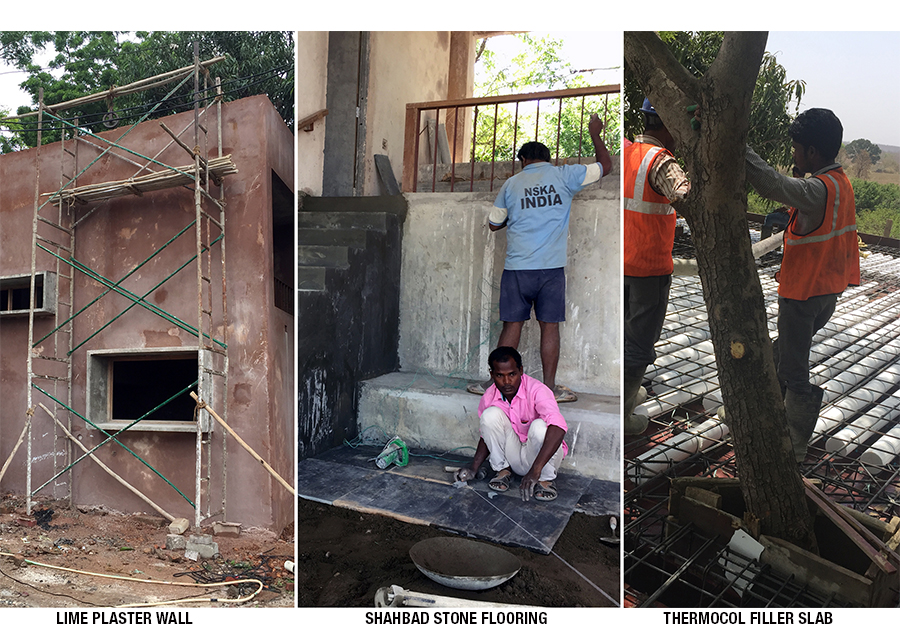 A granary is located under the bridge. The extended plinth imparts a foreground to the court and also doubles up as an open space for informal gatherings.
As a response to climate, the two volumes flanking the mango tree have minimal openings on south and west while the larger openings face east. On the upper level, recessed, adjustable fenestrations limits glare while the use of wood without glass prevents heat from being trapped. The material palette is spartan and locally sourced and crafted – a combination of cement-oxide for internal walls and floors, Shahbad stone, a locally available slate for the exterior floor and Central Province Teak wood for fenestrations. Lime plaster on the external walls, thermocol filler slab roof and shade of large fruit bearing trees abutting the house help reduce heat gain from the scorching summers which can soar up to 48 degree Celsius. All furniture is built-in, including the raised bed. Minimal material palette and design along with glaring absence of upholstered surfaces imparts a primal experience apart from reducing maintenance. The mango tree house thus seeks to negotiate urban family needs in a rural setting.