Built Up Area: 650 Sq. m
Month/Year of commencement-Completion of project: February 2012-June 2014
Photography: Shine Parsana
---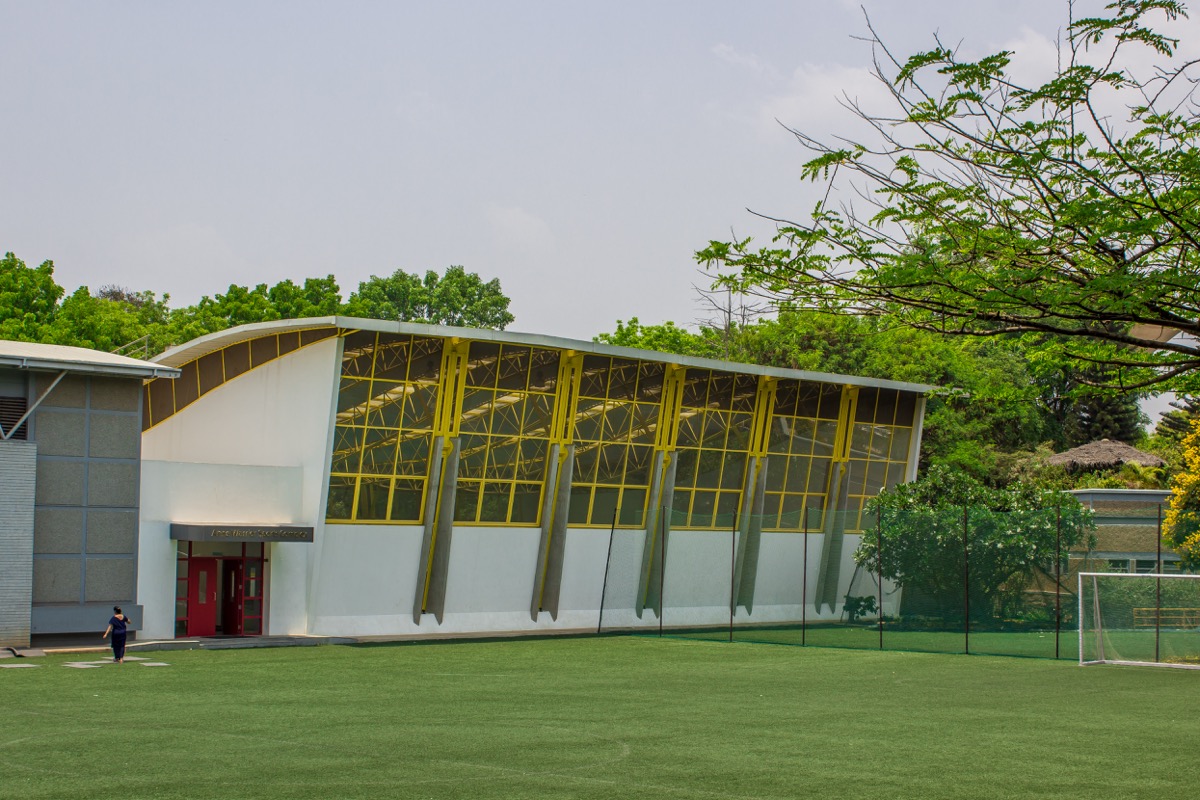 The swimming pool structure to MayaPraxis, commissioned by the Mallya Aditi International School in its campus in Yelahanka, Bangalore, was conceptualised from the form of the swimming-diving body. Starting from this idea, the simple space and functions of the swimming pool were enclosed by an elegant structure, its materials chosen to support and span across concrete columns and steel roof. The 25mx 32 m wide pool structure was spanned using boat shaped trusses, supported at the ends by light steel brackets emerging from in between the two split concrete columns. The beauty of trusses was enhanced by skylights that extend along their length. From this basic requirement, the design brings art and engineering together by folding both into its intent.
The main patron of the pool insisted that Bangalore's year round cool weather necessitated a covered heated pool. The idea of a solar heated pool was suggested as a more sustainable and economical option compared to conventional electric heated pools. The artful curved roof had to be engineered to take the solar panels placed in the right orientation.
A shed can be beautiful architecture. This work of architecture inspired by the swimming / diving body is a beautiful shed. A set of concrete columns holding up steel trusses is designed into an elegant space that is warm and welcoming. From concept to detail, there is a consistency to the design that works towards making it a wonderful space.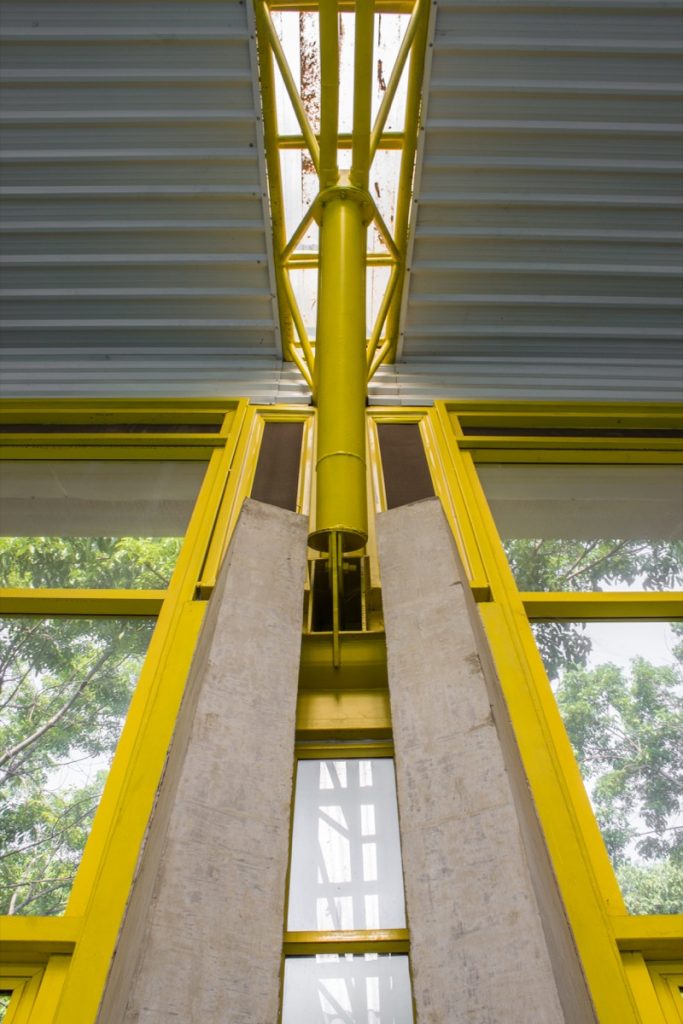 The design takes inspiration from the diver's posture. The upright body, in preparing for a dive, stands extended, ready to jump. This inspires the design of the twin columns. The beautiful curve of the divers body, just as soon as he enters the water, shapes the form of the steel trusses.
The idea of detail lends a deep character to the well-lit space. Exposed concrete columns hold up the trusses in beautiful detail which are carefully crafted in the fabrication yard. The boat shaped trusses curve gently and reveal skylights to let the daylight diffuse in. The sloped walls and sober finishes complement this form and lend character to the space.
The quality of light within the poolhouse makes it seem more open that it is. Privacy is preserved but so is openness. These skylights carefully avoid the solar panels mounted on the roof for heating the water. The large window glazing on either side bring ample light that reflects off the water to cast fluid patterns on the walls.
The utilitarian spaces and equipment are also given care and place. The change rooms and toilets are lively and elegantly designed. The pump room is dug into the ground, over which the coach's room sits neatly. The solar panels are located on the roof but remain unobtrusive yet well oriented.
Drawings