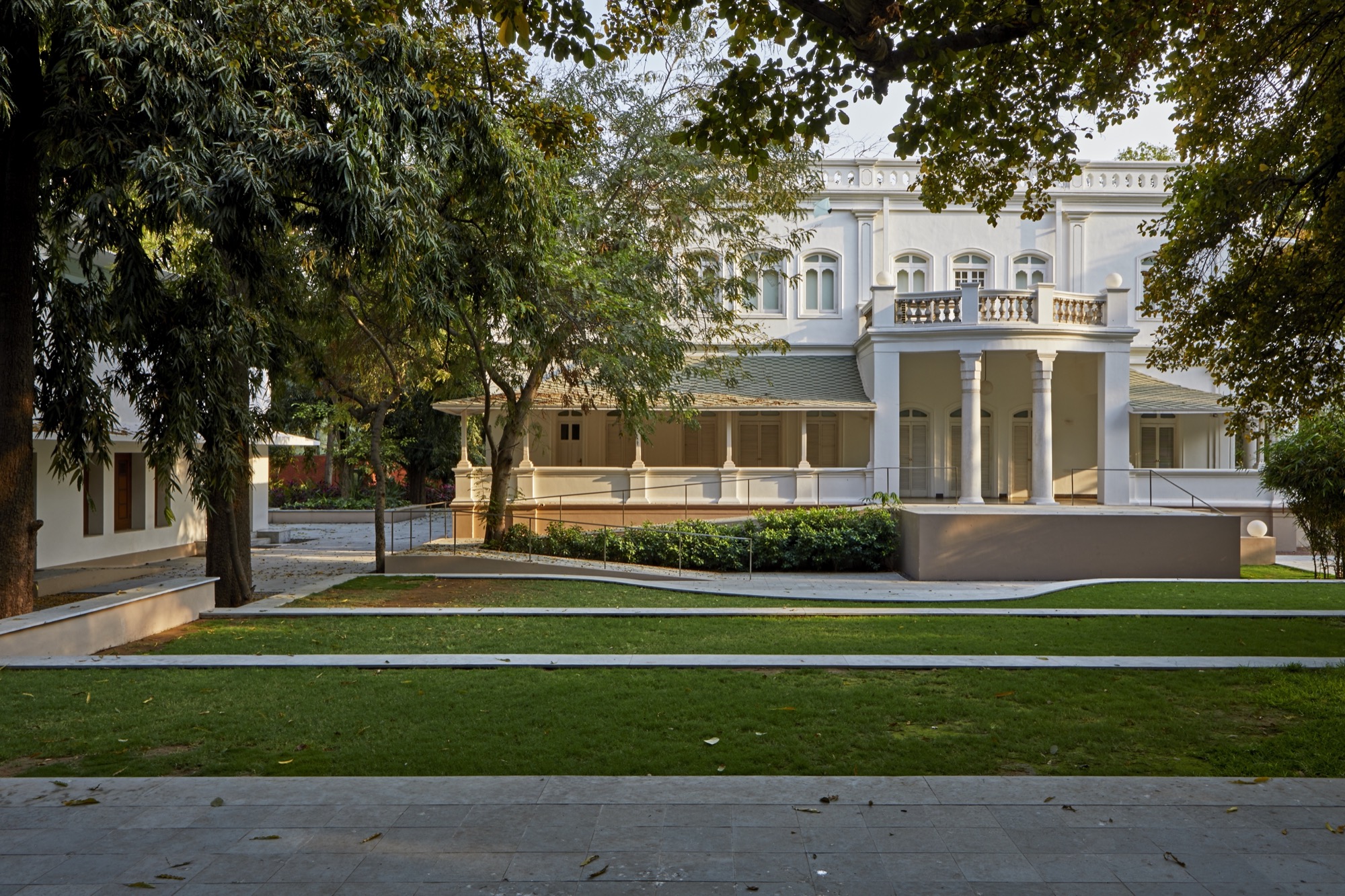 The Kasturbhai Lalbhai Museum is situated on an estate in the historic district of Shahibaug in Ahmedabad. The project is comprised of four components:
First, the historic Kasturbhai Lalbhai Heritage House was restored through an extensive conservation process and converted into a museum to house the family's collection of antiques. The spaces in the house were returned to their original character and configuration so that visitors can enjoy not only the collection but also the ambiance of the house as it had originally been used, with antiques integrated into the everyday decor.
The second component of the project involved readapting the staff quarters and support areas – Batley Block, such as the original kitchen, into galleries to house the contemporary art collection of the Lalbhai family. This involved restoring an annex that was designed by the British architect Claude Batley as well as adding a pavilion in steel and glass – the Batley Gallery to house traveling exhibitions.
The third component involved creating a new 3,000 square feet gallery called the Lalbhai Gallery which is partly subterranean so that it did not visually impinge on the presence of the original house and historic structure. The gallery is flanked by two large courtyards which act as light wells to draw natural light into the spaces. These courtyards also frame views back to the existing historic structure. Architecturally, the gallery is framed by a series of beige walls which align with the beige plinth base of the adjacent house, creating and accentuating a datum which, metaphorically, is consistent for both the original heritage building and this contemporary addition—built a century apart.
The last component of the project involved tying these disparate parts of the museum together through landscape. An amphitheater for performances and lectures as well as a garden area around the original fountain create two very different spatial ambiances, allowing different views of the site. Vines from the garden climb over the subterranean structure, further visually embedding it in the ground while also extending the green space.
Before and After
Images:
Drawings
DATE OF DESIGN AND COMPLETION
Lalbhai House: 2014 – 2016
Batley Gallery: 2014- 2016
Lalbhai Gallery: 2015–2017
AREA
Lalbaug House + Batley Gallery: 25000 sqft
Lalbhai Gallery: 4000 sqft
CLIENT:
Jayshree and Sanjay Lalbhai
PRINCIPAL DESIGNERS:
Rahul Mehrotra, Robert Stephens
CONSULTANTS:
Structural Consultants – Ami Engineers, Consulting Engineers, NK Shah
Electrical Consultants – Antech Consultants
Plumbing Consultants- Avani Enterprise
HVAC Consultant- Mihir Patel
Contractor – Keya Associates, PSP
Photography Credits: Rajesh Vora and Dinesh Mehta