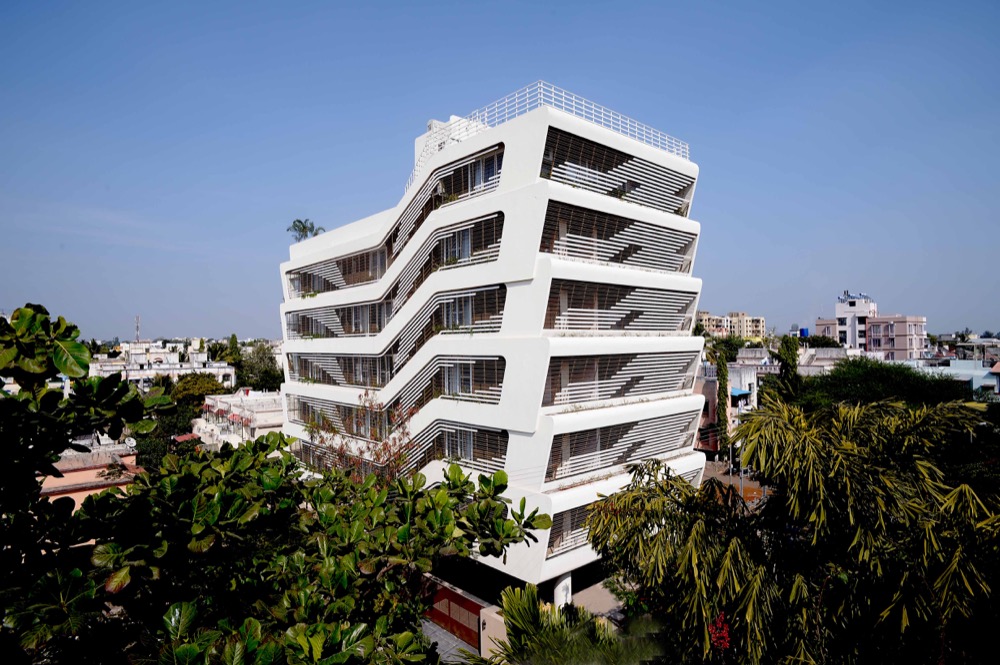 Nashik Architect Vijay Sankhla has reinterpreted the idea of a residence with a more modernist approach. The Architect has designed the five storey Bunglow to accommodate the requirement of Mr. Naresh Karda, Professionally a builder and his four brothers.The site is located at Gulmohor Colony, a lush green area at Nashik road.
The site was a compact rectangular plot with implicit yet ambitious & generous requirements.This was the critical and challenging aspect in which Mr. Sankhla employed a simplistic linear planning design yet with a futuristic look enveloped in a  elevation mass.
He radically transformed the look taking consideration into the natural environment by building a connection between the interior & exterior also keeping in mind the aesthetical as well as functional requirements from micro to macro level we see this very well in the way he has camouflaged the service area like toilet pipes, drip irrigated plants surrounding the buildings.
The ground floor contains landscaped areas articulated with wooden deck, water body, lawn, sit-out, security cabin, waiting lounge, pantry, garbage chute, capsule lift, ten four-wheeler parking, cycle stand, servant quarters, generator room, gas bank. Three bedrooms with attached toilet, living, kitchen, dining area, puja room, utility area at first, second, third floor. Central shaft contains capsule lift and provides transparency from living room to lobby area, turbo ventilator at terrace level in shaft helps air flow. Fourth and fifth duplex contains five bedrooms with attached toilet, formal and informal living with huge floating 6m wide terrace landscape gives feeling of being on ground floor, kitchen, dining area, utility area, puja room, store, study area.
Terrace floor has fully equipped Gymnasium with steam & Souna and  a rubber finish jogging track and remaining covered with lawn & plantation.
The use of well crafted materials like metal grills, concrete enhance the design, maintaining the proportion of the form of the building which rhythmically  allow maximum view & Italian marble tiles flooring giving a clean look, adding a contemporary  character to the house.