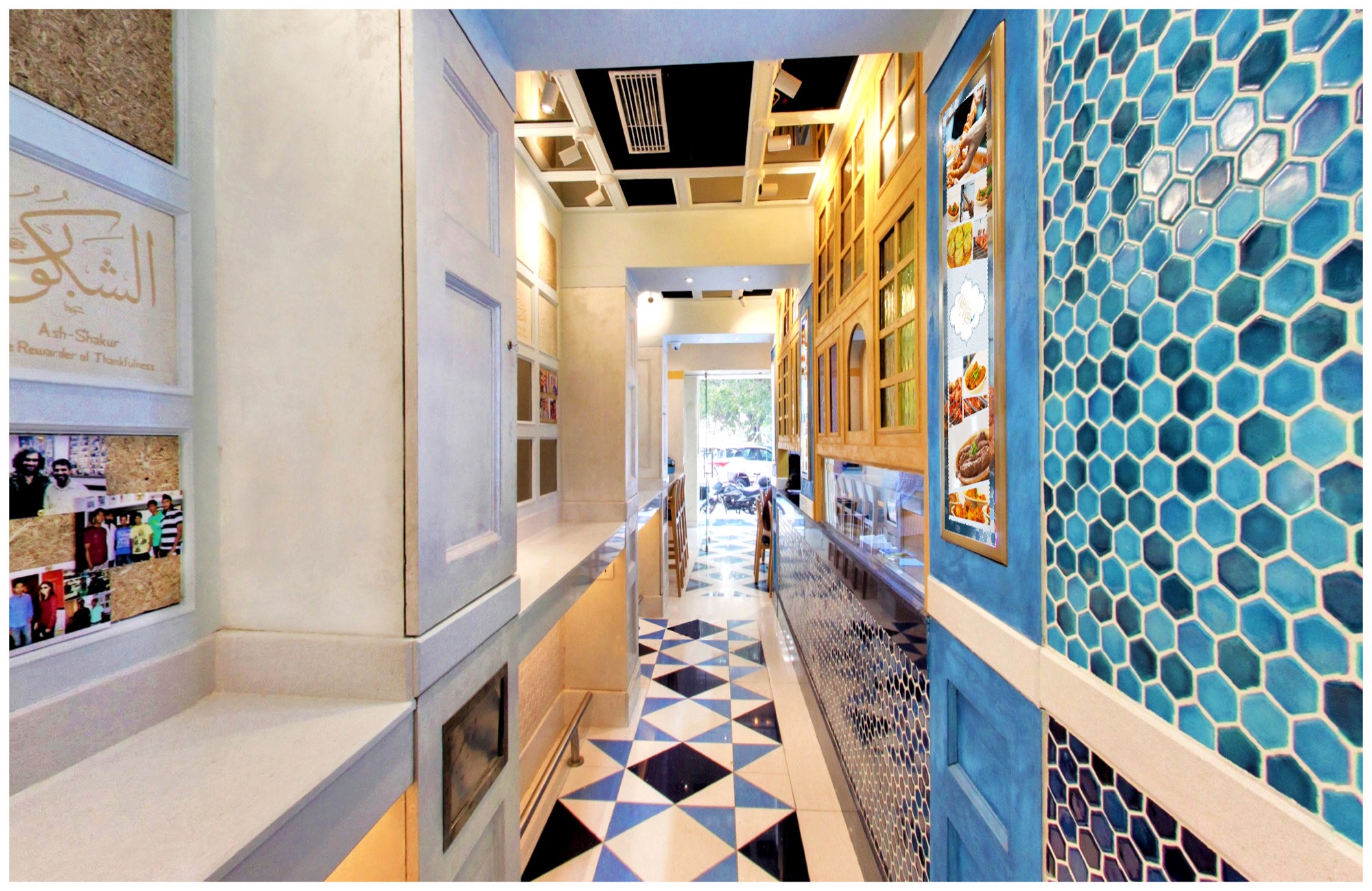 Client brief
The client required a unique design ideology to be evolved to launch their new brand in the market of Indian Mughlai fast food. Due to the fact that the brand was new, the space was limited and it needed to be inviting and striking to create a vibe amongst the younger customer base.
Concept note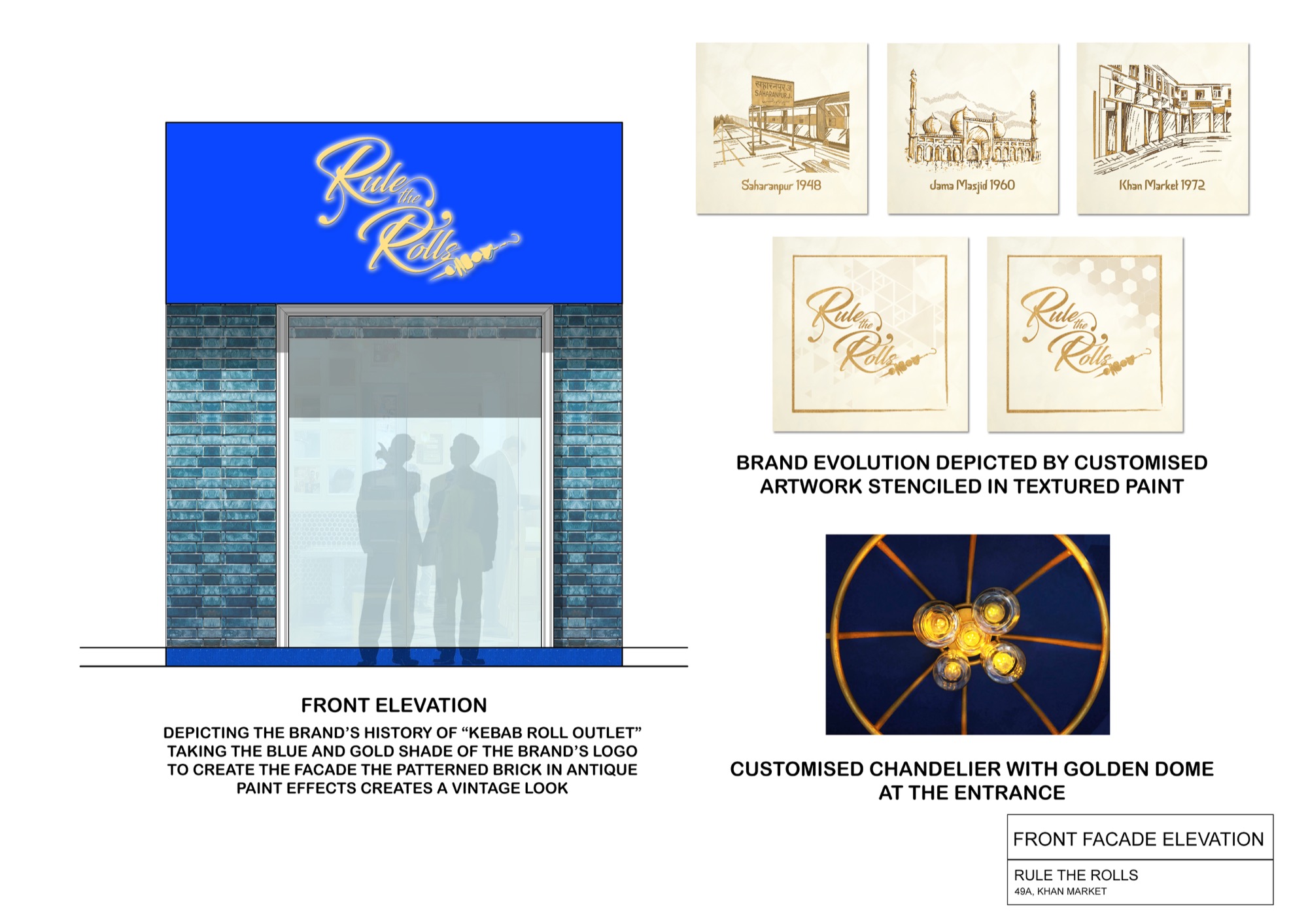 Style starts from the bottom up. Colour being an essential part of the equation, creating the mood and style of the décor. A Bold geometric floor with a shades of blue set in a playful patterned form, create the perfect setting for "Rule the Rolls" a kebab restaurant in Khan Market. Inspired by Mediterranean and Mughal colours, creating a fusion of both to inspire the design.
The play of colours, lines, style, proportion, patterns, and shapes balance everything out, making it a harmonious happy space.
The use of white and gold colours offsets the blue colour creating a warm balance to the cool tones of blue. The Vital aspect of the design is that it engages the five senses, the visual with the use of texture and colour, the softness of the fabric and the woodwork engage the sense of touch. The aroma of the cuisine, engages the taste and smell. And the Sufiana / contemporary Arabic music engage the sense of hearing. Overall creating an experience of all the senses.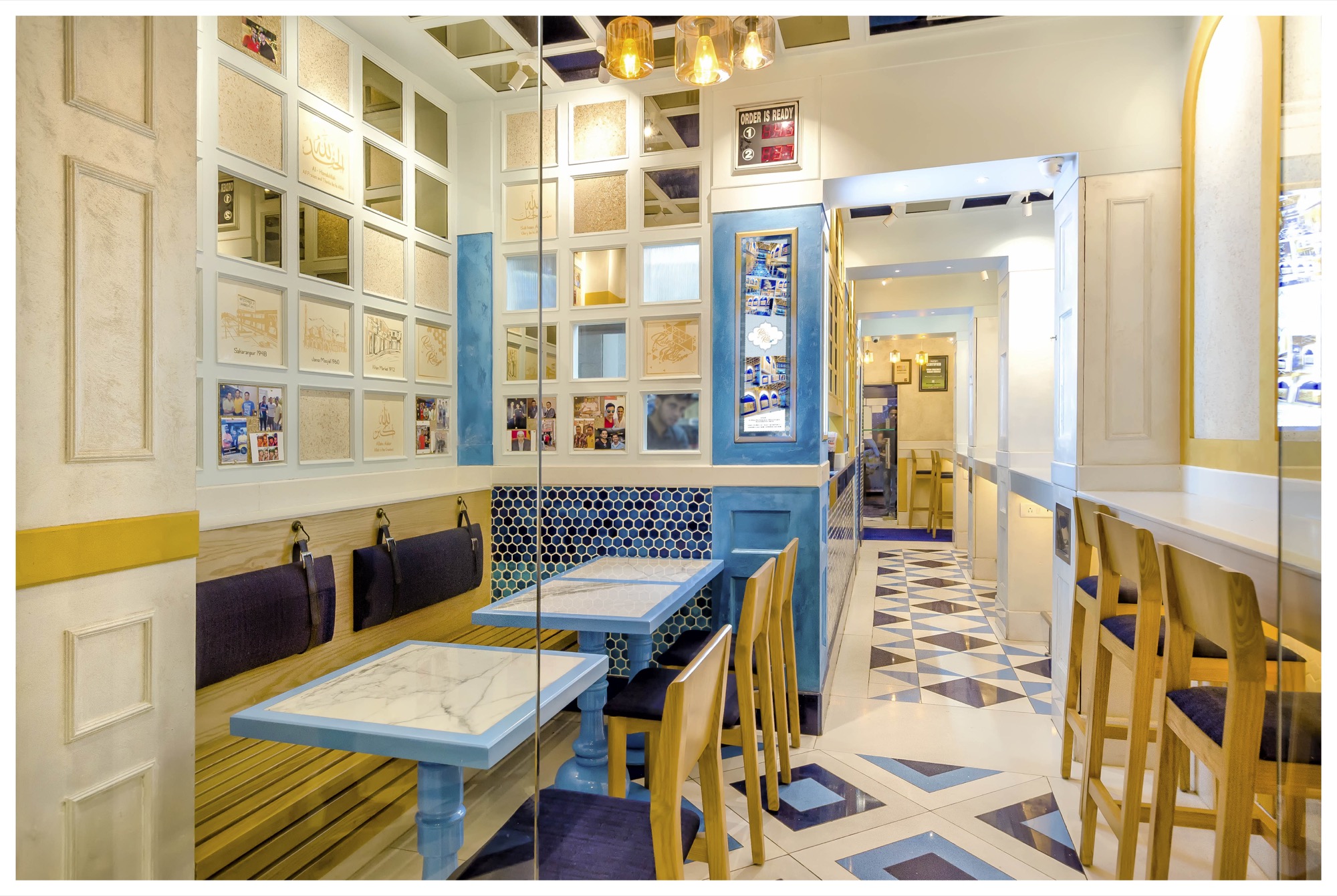 Design Process
Inspired by Mediterranean and Mughal colours, a sense of freshness and coolness is derived from the cool tones of the palette (Light Blue, Dark Blue and white) which create a blend of contemporary with Islamic features. The distribution of dominant colours, the whites and blues, are balanced in this space. There's a play of different lines in this space—vertical, horizontal, arches and diagonal in flooring, which creates a sense of movement and playfulness. They give a sense of busyness to the space, too. The white background balances the colourful décor, and there's a balance between the non-patterned and patterned elements as well.
To add to this, the Square Wall Panelling creates a collage of the brand's story, mixed with customised eclectic sketches, mirror and textured paint work. Hexagonal blue tiles and customised paints, create textural variations and a hue of "Mediterranean joi de vivre". Emphasis is given to the seating area, which comprises of the 6-seater arrangement in a relaxed bench made of ash wood balanced with high seating arrangement on the other side. The blues pattern visually advance, inviting guests to take a seat.
An exploration of the 70's façade of khan market, inspired us to create a collage of windows which overlook the partly open kitchen, set in a series of window patterns with textured glass and gold paint effects.
The customised chandeliers add a pop of gold and sparkle, in the ceiling, all customised for the décor.