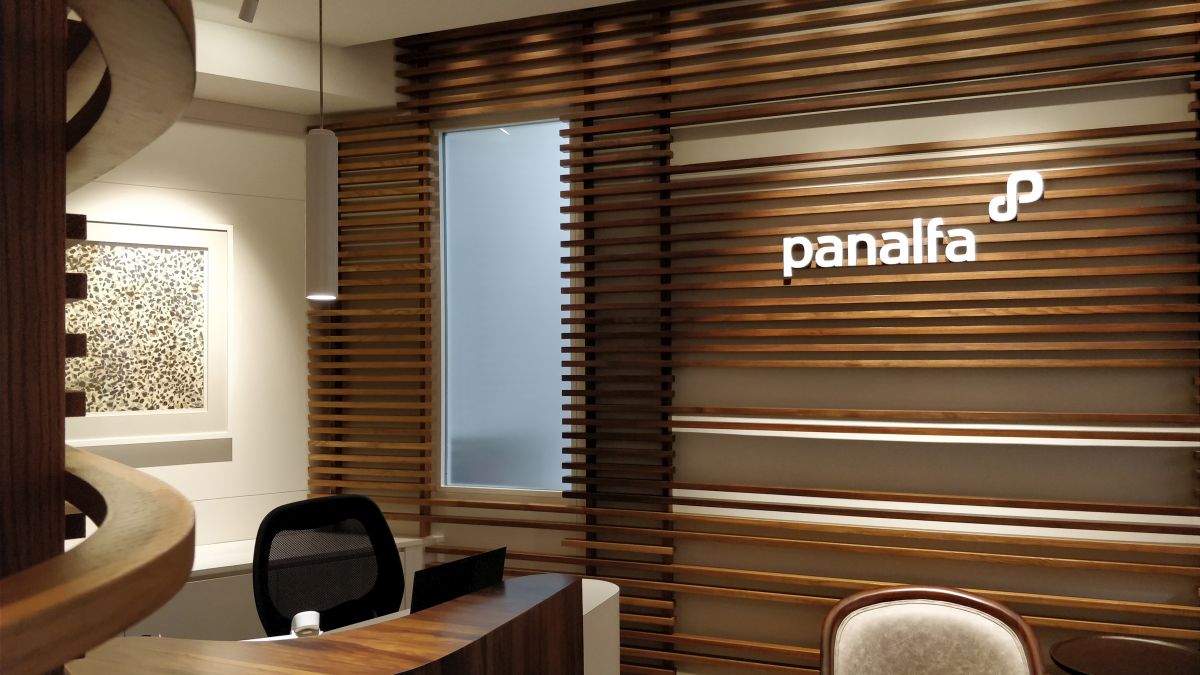 Project Description and Design Philosophy
The clients brief for designing this office was to create a very formal and corporate space for the top staff of the company, limited to the CEO, MD and 6 accounting staff and secretaries. Given such an exclusive program we realised that while each space needed to be elegant and exclusive the reception and the conference room became an image of the company for visiting clients.
Since the company dealt with the automobile sector the concept of 'flow' was generated from the entrance to the various areas of the office both spatially as well as through design elements. The space was linear and narrow so to make it appear less constricted the walls were tilted to create a trapezoidal reception linked to all the other spaces through a dense installation of wooden slats. Both walls of the reception were given a curved corner with the adjacent corner to create a softer feeling to the otherwise tight space. The remaining look was minimal to offset the one highlighting element of wood.
The wooden slats were designed to run horizontally at a constant distance of 4 inches and were given pauses and reliefs to create an interesting pattern that would highlight the walls and create a backdrop for the signage. This would work as a binding element through all the common spaces through its physical presence as well as its visual continuity.
The wooden slats were detailed as a modular system for easy assembly for maintenance and reusability. Curving the wood and glass was an especially interesting part of the design process to create the spatial impact. It involved in situ R&D to arrive at a perfect solution.
Other spaces in the office included an 8 seater conference room, a 6 seater open office, a 4 seater meeting room and exclusive cabins for the CEO, MD and their secretary. The colour palette was kept a subtle white and grey with splashes of wood and veneer thrown in.
The client, being an art collector had sent us an inventory of the art work he wanted to incorporate in the office from his home collection. The placements and themes were kept in mind in the process of designing the office. Each space is embellished by an exclusive piece of art keeping the framing of the work and its location of prime importance while conceptualising the spaces.
Despite its small area and limitations due to the location of structural columns, the office aims to offer an aesthetic and high design experience for both daily users as well as visitors.
Images:
Fact File:
Project name: Panalfa Automotives – Head Office
Architect' Firm: Forum Architecture
Lead Architects: Suparna Ghosh, Jensil John
Project Team : Devashish Mohan, Chiranjeev Singh, Rishi Raj Upadhyay
Execution – Chirmee Interiors Pvt. Ltd.
Lighting Consultants – Design Matrix
Project location: M- Block Market, GK II, New Delhi, India
Completion Year: 2017
Gross Built Area (square meters or square foot): 1500 sq.ft
Photo credits: Forum Architecture