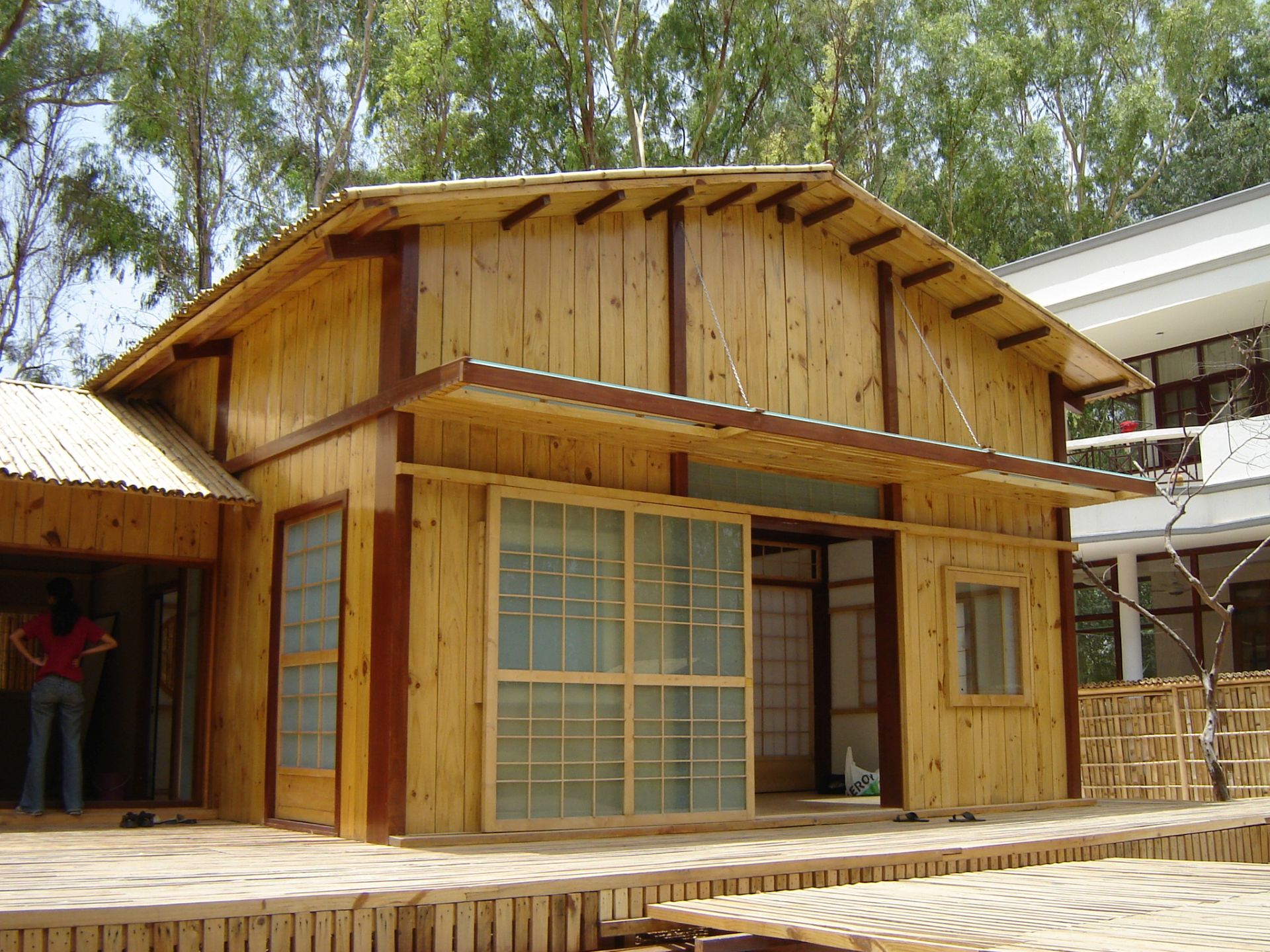 Project name: Indo-Japanese Tea House and Cultural Centre
Architect : SpaceMatters with Sanjeet Wahi
Client : India Center Foundation
Typology : Institutional
Location : Delhi, India
Site area : 10,000  sq.ft.
Status: Built
Year: 2005
Scope:
"The slowness and lingering beauty of small things that a Japanese tea house embodies was forced to come to terms with Indian enterprise and craftsmanship. Architecture had to mediate this difficult marriage."
How does one design and build a Japanese Tea House in New Delhi in 50 days?
One of our first projects, the Tea House was an intense introduction to many things all at once – design as an intercultural dialogue, building with wood, building in general, communicating design to craftsmen, combining modularity with the quirks of hand-made, and working against crazy deadlines.
When we were approached for this project, it was an opportunity for friends to collaborate. At this point in our lives, we were trying out different things without committing to a singular career path. While working on this, we discovered that this collaboration had synergy capable of producing something worthwhile. SpaceMatters was born out of this intense experience.
The India Center foundation, an NGO working on Indo-Japanese cultural relations was the client. We broke ground six weeks away from the diplomatic visit by Prime Minister Shinzō Abe. The strict timeline came with an ambitious brief to build an all-wood structure, true to the refined traditions of Japanese Tea house, with a hint of Indian influence. We had the luck of interfacing with a supportive client who made funds accessible, but also kept a check on quality. This project familiarised us with the ground realities on site, and being challenged in this manner made us reconsider our attitude towards the built environment, to attention to detail, and quality of construction we are satisfied with.
The key to the project was discovering the concept of wabi–sabi, a key that has helped unlock the promise of many projects at SpaceMatters since. Wabi-sabi – finding beauty in the incomplete and imperfect, is a philosophy that deeply influences Japanese aesthetic, notably traditional tea houses. Incomplete and imperfect are values usually negatively associated in India, especially in the design and construction fraternity. It was a surprise to see a concept interpreting these words differently, celebrating seeming imperfections as uniqueness, respectfully recognising that the passage of time imbues every action and object with an inherent incompletion, a story yet to unfold.
It was important to find a common ground between the Indian and Japanese cultural outlook, reconciling functions, site conditions and availability of materials and craftsmanship, with the proportion, aesthetics and essence of tea houses. We chose to import few elements – specifically the shōji paper and tatami mats – and procure the rest locally which became a fundamental determinant of design. Indian timber – pine, sal and deodar or cypress were used extensively in the structure while the sacred alcove or Tokonoma had hints of the rich and unyielding Bubinga. The landscape of the traditional tea house has many thoughtful elements  – every pathway is an opportunity to design a small journey for the visitor – with pauses and paces, elements to playfully distract and elements to focus. A similar approach was needed albeit with Indian plants and shrubs to create a simple walking path with moments of rest – a lit stone lantern or tōrō, a washbasin and carefully placed stones called yaku-ishi – all of which guide and highlight the walking experience.
Days before the inauguration of the Tea House, a tea house builder arrived from Tokyo. Seeing the chaos, he made a fast transition from shocked paralysis to rolling up his sleeves and getting into the swing of things with the rest of us. His beam of gobsmacked pleasure on the day of the inauguration at us having pulled it off is still one of the best moments of the project.
At around midnight the day before the inauguration, as we all settled for a warm chai break around a bonfire, a young apprentice carpenter piped up to ask what all the fuss was about – what was the function being conducted the next day for which we were all up till dawn putting the last pieces into place. There was much laughter on seeing his dumbfounded face, when we tried to explain that there will be a 'tea' ceremony – tea being one of our great levellers, one that is treasured as an ice breaker and dissolver of formalities.
It is also a wonder and elation that has accompanied the closure of many projects – the grind ends, the dust settles, the many worker bees all evacuate and suddenly just like that from being the centre of attention the building becomes a setting as life takes over.
Follow SpaceMatters on:
Website: http://www.spacematters.in/
Facebook: https://www.facebook.com/spacematters.in/
Instagram: https://www.instagram.com/studio_spacematters/